An injured kitty is on the mend and it's all thanks to a brave man who stopped traffic on a Malaysian freeway to engineer a rescue.
The news surfaced this week on Facebook in a pulse-pounding video recorded by a dashcam (embedded below).
According to LoveMeow, the motorist, Masz Masuri, first glimpsed the shellshocked cat huddled next to the center lane divider as he was on his way to Danga Bay, a popular waterfront park.
While he was unable to stop then and there, Masuri — who just happens to be the admin for Kitty Konnexion Community, a Facebook page that posts tips, tricks, and resources for Singapore-based cat lovers — looped back for the stray with striking blue eyes.
"I was driving ... with my Son ... when I spotted this kitty stranded along the center divider of the highway couldn't stop immediately so I had to make a round trip again to rescue this poor baby."
The man and his son promptly took the powder-hued mouser, now dubbed Danga Boy, to a local veterinarian, where the one-year-old animal was diagnosed with a leg fracture and blisters on the paws and chest.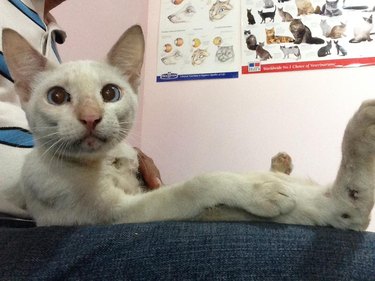 In an update shared to Kitty Konnexion's Facebook feed, Masuri thanked everyone that chipped in donations to defray the costs of Danga's medical care — and even better, announced that a Malaysian family had volunteered to give the cat a much-needed forever home!
"Kitty Konnexion Community would like to take this opportunity to thank each & every beautiful souls for your prayers and thoughts for Danga Boy.

We have good news to share that he is now formally adopted by a good hearted family in Johor Bahru, Malaysia. (Their request to remain anonymous)

They have taken all procedures to take over our case from us which also includes the costs of all necessary treatments from admissions to future appointments. (God Bless their souls)

They have also requested that it remains private as they want to protect the safety and well being of Danga Boy and also all the cats that they have rescued and kept secured in their premises. However, they will provide us with the necessary updates and progress of Danga Boy intermittently."
An adorable photoset shows Danga's condition is already improving.
Have you ever rescued a cat from the side of the road? Tell us about it in the comment section below!