Diabetes is a disease that commonly affects cats and can lead to a slew of health problems, and while there are effective ways to treat diabetic cats, a big part of the treatment includes feeding them the right diet.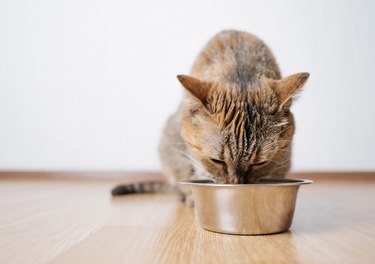 Diabetes mellitus in cats is the inability to produce enough insulin to balance blood sugar or glucose levels, and if left untreated, it can cause weight loss, loss of appetite, severe depression, vomiting, dehydration, issues with motor function, coma, and in the most severe cases, death. Many veterinarians opt to use insulin therapy to manage feline diabetes along with necessary diet changes. A proper diet can help with blood sugar levels and even reverse diabetes in some cats.
Cats rely on meat to survive. Their bodies need animal protein and fat to thrive, and any extra ingredients in cat food aren't needed. In fact, commercial cat foods tend to be too high in carbohydrates and can contribute to diabetes and obesity. Low-carbohydrate diets are important for all cats, but especially for diabetic cats or overweight cats.
What to consider when purchasing diabetic cat food
‌Type of Food:‌ The best type of food to give to a diabetic cat is food that comes in a can or pouch, because they typically have lower carbohydrates than kibble or dry foods. Wet food is also beneficial because it contains water that can help keep cats hydrated and prevent life-threatening urethral obstructions and cystitis, especially those who don't drink enough water on their own. It's important to note that some canned foods (especially ones with gravy or sauce) might contain too many carbohydrates and can be high in sugar, making them detrimental to overall cat health.
‌Calorie Content:‌ The food you buy your diabetic cat should have very few calories. The ingredients should consist of mostly just animal-based protein and fats. The calorie breakdown should consist of around 50% or more calories coming from animal-based protein and 20% to 40% coming from fat. Carbohydrate calories should be under 10%. Check the nutrition label on the cat food you're interested in buying.
‌Flavor:‌ The flavor of diabetic cat food you choose will depend on the type of meat your cat enjoys. If they gobble up salmon and tuna but steer clear of chicken and beef, fish is the way to go. Freeze-dried chicken, salmon, lamb, beef, tuna, and liver are all high in protein and low in carbohydrates.
Scroll on to check out our picks for the best diabetic cat foods.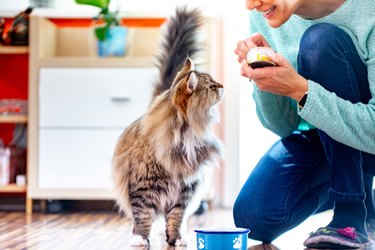 The best overall wet food for diabetic cats
Tiki Cat Grain-Free Canned Wet Food, 2.8-oz. Cans, 12-Count
Tiki Cat's ahi tuna and crab recipe is high in protein and low in carbohydrates, which is the right recipe for feeding a diabetic cat in any life stage. The high moisture content gives your cat the supplemental water she needs, and all of the ingredients are non-GMO and grain-free. The first ingredient in the recipe is real tuna, which is full of nutrition and tasty for your cat. This 12-pack of 2.8-ounce cans is sold in a variety of meaty flavors, so there are several alternatives if your cat isn't fond of the ahi tuna and crab recipe.
The runner-up for best overall wet food for diabetic cats
9Lives Meaty Pate Wet Cat Food, 5.5-oz. Cans, 24-Count
The paté variety of food from 9Lives is a great option for cats with diabetes. Not only is it low-carb, but cats love the flavors. In fact, when they hear the can open, they'll likely come running. It's an affordable option with all the nutritious ingredients your cat needs. The 5.5-ounce cans come in a 24-pack and are available in chicken, beef, chicken and tuna, and a fish and chicken recipe.
The best overall dry food for diabetic cats
Purina Pro Plan Veterinary Diets Feline Formula, 10-lb. Bag
If your cat prefers dry food over wet, Purina's Pro Plan Veterinary Diets 10-pound bag of kibble is an excellent source of protein. The food has low carbohydrates and antioxidant-rich nutrition for your cat's diet. It's a much healthier kibble option than other commercial brands and can help you maintain your cat's weight. The food can even turn a diabetes diagnosis around after continuous use in some cats, which means potentially no more insulin injections.
The runner-up for best overall dry food for diabetic cats
Wellness Complete Health Deboned Cat Food, 11.5-lb. Bag
The Wellness Complete Health kibble is a great grain-free and balanced everyday food option for cats on a high-protein diet and works as an alternative to wet cat food if your cat prefers it. The deboned chicken and chicken meal recipe in this 11.5-pound bag is packed with super nutrients, vitamins, and minerals for a wholesome recipe full of balanced proteins, carbs, and select fats. It has no meat by-products, fillers, artificial preservatives, or flavors, so you can trust that the ingredients are exactly what your cat needs.
The best value food for diabetic cats
WholeHearted All Life Stages Canned Cat Food, 5.5-oz. Cans, 12-Count
The number one ingredient in WholeHearted All Life Stages canned cat food is chicken. It contains omega-3 fatty acids to help maintain healthy skin and coat. The food has a flaked texture in an irresistible, savory gravy. The ingredients are free of meat by-products, artificial coloring, corn, soy, and wheat. The grain-free recipe is ideal for cats with sensitives, while also being a good option for cats who need food with lower carbohydrate content. The 5.5-ounce cans come in a pack of 12 and are a great low-cost way to give your cat the nutrition they need.
The best air-dried food for diabetic cats
Ziwi Peak Air-Dried Lamb Recipe, 14-oz. Bag
Ziwi Peak's Air-Dried Lamb Recipe is a high-quality, high-protein meal option for cats who need to follow a weight management diet. The single-protein recipe is grain-free and has more nutrients than raw food or kibble in a smaller serving size. It includes omega fatty acids for reduced shedding, essential taurine, and no added carbs or fillers. All of Ziwi Peak's recipes include free-range meats and wild-caught fish that are ethically and sustainably sourced without added hormones, antibiotics, or growth promotants. The 14-ounce bag of food is air-dried and ready to serve.
The best freeze-dried food for diabetic cats
Primal Freeze-Dried Cat Food Nuggets, 14-oz. Bag
Primal's Freeze-Dried Cat Food Nuggets are low in carbs and high in protein. Made without antibiotics, steroids, or added hormones, the turkey recipe also doesn't have any corn, wheat, soy, lentils, or legumes. Ingredients include chicken organs and fresh ground bone for calcium supplementation, and the recipe incorporates organic produce, organic minerals, and unrefined vitamins to fortify the complete and balanced nutrition for all life stages. To serve, simply add water. Choose from a 5.5-ounce bag or a 14-ounce bag (pictured here).
The best low-carb food for diabetic cats
Nutro Perfect Portions Grain-Free Salmon and Tuna Paté Recipe, 2.6-oz. Containers, 24-Count (Twin Packs)
If your cat is on a low-carb diet, Nutro's paté recipe will provide all the vitamins, minerals, and protein they need without all the carbs. There are several meat options for cats who are picky or enjoy mixing up the flavors, including salmon and tuna, chicken, chicken and liver, turkey and chicken, and others. The food is packaged in a single-serving meal per twin pack, making it a great option at home or when you're traveling. The 2.6-ounce containers come in a 24-pack.
The best high-protein food for diabetic cats
Weruva Cats in the Kitchen Love Me Tender Chicken and Duck Recipe, 3-oz. Pouches, 12-Count
Cats need food that has high protein content, and that's exactly what you get with Weruva Cats in the Kitchen Chicken and Duck Recipe. The first ingredient in this recipe is the meat itself. Sourced from real chicken and duck meat, the high-quality recipe is loaded with protein and low in carbs. The ingredients are grain-free, carrageenan-free, and gluten-free, and there's a complete and balanced meal in every pouch, with no antibiotics, hormones, GMOs, or MSG. Broth-based gravy gives the food a delicious taste that most cats find irresistible. The 3-ounce pouches come in a case of 12.