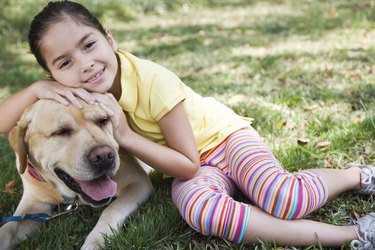 When your dog suffer from arthritis, she moves slowly; she might have a limp, appear stiff, avoid stairs and show reluctance to engage in physical activities she once enjoyed. Human companions can ease their dog's suffering with some common over-the-counter medications and supplements.
Aspirin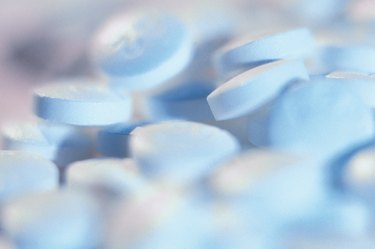 Aspirin is the first drug of choice for easing the pain of arthritis. Dogs can take 81 mg of buffered aspirin daily. Calculate a dosage of 10 mg per pound of body weight, given every 12 hours. Do not administer enteric aspirin to dogs, because they can't metabolize the coating properly. The enteric aspirin remains in their G.I. tracts and can lead to ulcers and overdose as time progresses. Because aspirin is a nonsteroidal anti-inflammatory drug, you shouldn't mix it with other NSAIDs, like prescription Rimadyl.
Glucosamine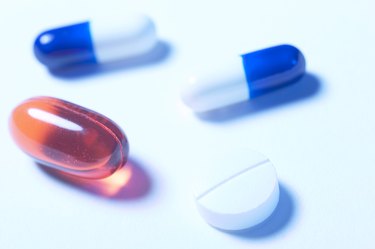 Glucosamine is naturally found in joints and synovial fluid in your dog's body. Glycosaminoglycans are a constituent of glucosamine, and form the basis for cartilage replacement. Supplementing his glucosamine levels can leave him more flexible, with healthier joints. Chondroitin and MSM are also naturally occurring substances he needs to repair aging joints. All three supplements are often sold together in one supplement, available in liquid, capsule, chewable or powder forms. An appropriate dose is 500 mg of glucosamine, 400 mg of chondroitin and 150 mg of MSM, though large dogs can have up to three times those amounts daily. The human supplement sold in your drugstore is acceptable for your dog.
Essential Fatty Acids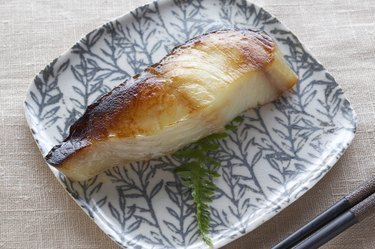 Omega-3 and Omega-6 fatty acids have anti-inflammatory properties and ease joint inflammation. Omega-3s are easy to obtain from fish oil capsules. Omega-6s are in flax seeds and flax oil. Feeding your dog fish is a natural way to boost his levels of both types of fatty acids. In general, you want to supplement about twice the amount of Omega-3s as Omega-6s, so if you give 1,000 mg of fish oil, give 500 mg of flax oil, for example.
Vitamins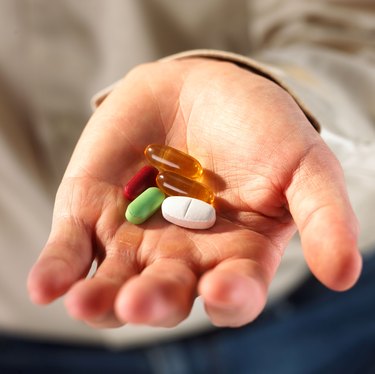 Vitamins A, C and E all support healthy joints and ease pain from arthritis. Vitamin A aids in repair of tissue and bones. Vitamin C is an antioxidant necessary to produce collagen, which is needed to form cartilage, connective tissue and tendons. Vitamin E is also an antioxidant that protects your cells from damage. If you are supplementing with essential fatty acids, you should also give your dog Vitamin E to protect from the oxidation of the fatty acids that turn to free radicals.
Bromelain and Boswellia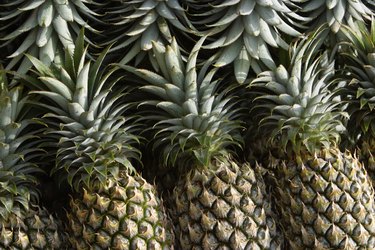 Bromelain is found in pineapples, but also comes in a capsule or liquid. Boswellia originates from Ayurvedic medicine. Both have strong anti-inflammatory properties. Bromelain also aids in digestion, and Boswellia improves blood circulation.
Warning
Never give your dog acetaminophen or ibuprofen for pain. She can't metabolize either drug properly. Even minute quantities can cause permanent liver and kidney damage, stomach ulcers and sometimes death.
Always check with your veterinarian before changing your pet's diet, medication, or physical activity routines. This information is not a substitute for a vet's opinion.