It's a situation many of us never want to think about, but is an unfortunate reality for many pet owners living in coastal areas of the country: what do I do with my four-legged friend if a hurricane hits my town? Whether you need to evacuate the area, decide to stay in your home, or are faced with the tough decision of leaving your pet behind in the event of an emergency, having a plan to care for your pet will give them their best chance at survival.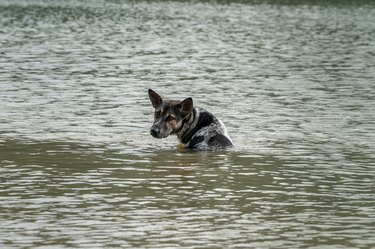 Preparing for a hurricane with your pet
When it comes to navigating an impending natural disaster or heavy storm with your pet, the number one suggestion for keeping you both safe and together is to always be prepared. That's not to say that you should live in constant fear of a hurricane striking your hometown, but, taking a few steps to make a possible evacuation easier on you will be something you'll be glad you did, should that scenario play out. First thing's first, make sure your pet's identification tags are up to date (this goes for microchips too.) Keeping your dog or cat's shot records in a waterproof sandwich baggie may come in handy later if they need to be boarded.
An emergency kit can make traveling with your pet much easier. Many kits include food and water, bowls, extra leashes and collars, a litter box, litter, and any other personal items your dog may need, like a coat or a muzzle. If your dog is on medication, stock up ahead of time so that there is no lapse in doses.
Evacuating with your pet
If you are able to evacuate the area with your pet, the earlier you leave, the better, instructs the Humane Society. This can be especially helpful when evacuating with pets who may be anxious or easily triggered by unpredictable things like loud sirens or intense gusts of wind and rain. If it's possible, keep your pet in a sturdy carrier, which will give you both the best chance of staying together. (In case of separation, however, write all of your contact info on your pet's carrier, including their name and any medical concerns someone should know about, just to be safe.) Traveling with a pet in a crate is especially important when handing cats or other small animals that can easily slip away from your hands or out of a leash.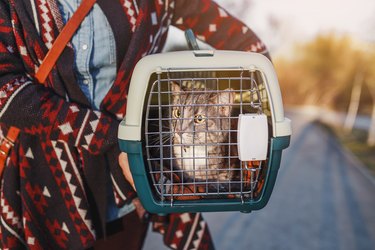 Whether you leave with plenty of time to travel or you're on the road as the result of a forced evacuation, you should plan for a place to stay that takes pets. Not all hotels and emergency shelters will allow animals, so it is advised that you call ahead to find a place that can house both your and your pets. Sites like bringfido.com can help you find pet-friendly hotel rooms in many areas. Additionally, check out our tips for finding a dog-friendly hotel.
If you can find a room but your pet isn't welcome, reach out to nearby veterinary offices, kennels, and even the local animal shelter, which may have room to temporarily help pets in need during times of disaster.
Food and water
In addition to the identifying documents and safe place to stay, your pet will do best if her usual food eating and water drinking routine is as close to undisturbed as possible, so it's always a good idea to pack ahead of time. Assuming that a pet or grocery store will be open to buy food from can put you in a bad spot if shops are shut down, so try to pack about a week or two week's worth of dry and/or wet food, along with several gallons of clean drinking water for your pet. This is an especially important consideration to take if your pet is on a medicated diet.
Large animals
If you have larger animals that you're responsible for, like cows, horses, llamas, or anything else too large to fit in your cat or truck, additional measures will need to be taken to get them to safety. The best thing you can do for your larger animals is to be prepared, especially if you live in a part of the country where hurricanes and flooding are somewhat expected. Reaching out to your large animal veterinarian to talk about a possible evacuation plan may help you find good solutions for transporting and boaring your animals, should the need come up. The American Veterinary Medical Association has written a fantastic guide for navigating a disaster with your livestock or large animals, which includes locating alternative food and water sources, and making sure all of your vehicles are filled with gas in case you need to pull livestock trailers. Keep a current count of all of your animals, and take care to identify them properly with things like halter tags or non-toxic spray paint to mark their sides with.
Leaving pets behind
Being faced with the decision to leave a pet behind in the event of a natural disaster is no different from leaving one of your family members for many people, and it's a situation no pet owner ever wants to find themselves in. Sometimes, and for a multitude of possible reasons, some people are forced to move on without their pets, and it's important to be prepared for that possibility in case it ever happens to you. According to CNN, you should not confine or restrict your pets in the event that they're left at home as they will need to be able to move around and seek safety in case water enters the home. Instead, write that there are animals inside the house so that rescue workers will know to retrieve them, and leave as much food and fresh water outside as possible in case they get out. Leave your pets with as much identification on them as possible, like collars with tags featuring up-to-date contact info, and if they are microchipped, make sure all of that information is current.