Enduring the loss of a beloved pet is one of the hardest things a person can go through. For some, part of the grieving process involves commemorating their pets with a personalized memorial to them. Personalized pet memorials are available in a number of styles, sizes, price points, and types. Some pet owners might love to have an engraved marker to keep in the garden; others may prefer a framed photo of their pet or a hand-painted artwork to keep in the house, and some may like a special place to keep cremated remains. The right pet memorial will speak to you when you see it, and these are just a few ideas of all the different ways you can commemorate your best friend.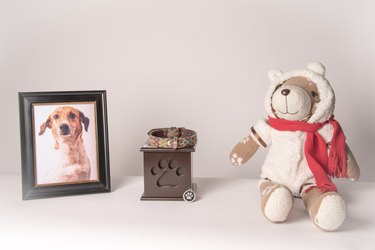 What to consider when purchasing a personalized pet memorial
‌Practicality:‌ Losing a pet is painful, and there really is no wrong way to honor their memory with a keepsake. Depending on the space you're in and the type of memorial you're drawn to, however, some choices will be less practical than others, like a large engraved headstone for an apartment dweller, for example. When shopping for a memorial, consider whether you prefer to see the memorial every day out in the open, or if something smaller and more private helps you feel close to your pet.
‌Your pet's personality:‌ A great way to look back fondly on the relationship you built with your pet is to consider some of their favorite things and shop for a memorial with this info in mind. For example, a suitable memorial for a pet who loved to romp in the backyard might be a plaque to keep under a tree. A cat who loved to lay in the sun might be represented with a framed photo or urn to keep on a windowsill, or a dog who enjoyed rides in the car might be commemorated with a pillow to keep in the back seat or a charm to hang from the mirror.
‌Your style:‌ Finding a keepsake that matches your personal style is a great way to ensure long-lasting use of your pet memorial. Subtle ornaments can include garden stones, keychains, and framed photos, and more obvious home decor options might include pet headstones, pet urns, or wall art.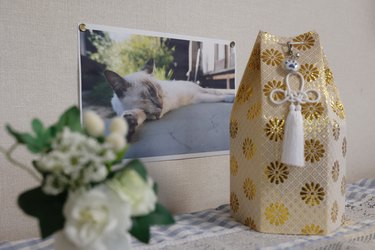 1. Frisco Personalized Memorial #4 Gallery-Wrapped Canvas
Keeping a tastefully made image of your loved one is a common way to memorialize a pet, and this wrapped canvas option does just that. Using a landscape or portrait image of your choosing, this memorial is customizable with text to include your pet's name, and comes ready to hang with installed bumpers and hangers. This comes in a semi-gloss finish and shouldn't be kept in direct sunlight, and is available in three sizes—8 inches by 10 inches, 11 inches by 14 inches, and 16 inches by 20 inches.
2. Pet Loss Sympathy Blanket
If you miss snuggling up with your furry family member, a thoughtful personalized gift to give yourself could be a blanket like this one. Fully customizable to include images of your pet as well as text, this fleece blanket won't pill or wrinkle, and provides a soft and comforting way to remember your pet in bed, on the couch, or while enjoying the outdoors. This blanket is available in three sizes—baby (30 inches by 40 inches,) kids (40 inches by 50 inches), and adult (50 inches by 60 inches or 60 inches by 80 inches).
3. Owner and Pet Custom Acrylic Block Print
Many pet lovers have memories of their beloved dog, cat, horse, bunny or other pet that include the time they shared together, and some people's best memories involve their late pets. This custom pet memorial is adorned with an image of you and your pet to commemorate the sweet time you spent together. The image is not made with a personal photo but instead allows users to choose from an array of hairstyles, clothing styles, and pets to create an illustrated image that represents the two of you. As this is an acrylic block, this pet photo doesn't require a frame and measures 10 centimeters by 10 centimeters by 1 /2 centimeters.
4. GiftAmaz Dog Pet Memorial Wind Chime
For anyone looking for a slightly different way to preserve the loving memory of their dog, wind chimes kept outside of the home make for a great reminder of them every time the wind blows. These chimes are fitted with a laser-cut metal image of a dog connected to weather-resistant aluminum tubes and fitted with a wood pendant striker that's engraved with a sympathy message and can fit a photo of your dog on the opposite side. The chime set measures 24 inches, and comes in a box that includes a care card and a sympathy card, making this a great dog memorial gift for a grieving friend.
5. Perfect Memorials Black Cat in Basket Cremation Urn
Pet urns are the standard way to store cremated remains, and while some people prefer the classic shape, others may lean toward a more understated design aesthetic. This solid black cat memorial urn features a cat sleeping in a basket, signifying a safe, peaceful resting place for your loved one. Made from cold cast resin and hand-painted for detail, this urn is meant for cats weighing less than 25 pounds, and measures 6.37 inches wide, 4.75 inches deep and 6.5 inches tall.
6. Kay Berry A Faithful Friend With Dog Tag Personalized Memorial Stone
If you're looking for an engraved stone to keep indoors, this is a solid option that won't break the bank. Made of cast stone, this is pre-engraved with the phrase "In Memory Of A Faithful Friend And Companion," and can be further personalized with two lines of text, 11 characters per line. This measures 11 inches by 8 inches and weighs 4 pounds, and should only be kept outdoors if it's out of direct, prolonged sunlight, freezing temps, and excessive rain, which is why this is a good option for anyone looking for a stone to keep inside the home or garage, or under a porch.
7. Personalized Forever in Our Hearts Leatherette Pet Memorial Picture Frame
Photos are some of the most effective ways to allow us to remember our companions as they can capture the character and emotion of our pet at the moment. Keeping a favorite photo of your beloved pet in a frame like this one, which is made from vegan leather, is a tasteful and personal way to keep their likeness on display. This 5- by 7-inch frame can be personalized by engraving their name in the leather, and no amount of characters is too long to include—this company will simply adjust the text size if your pet has a long name.
8. Pet Memorial Stone in Gray and Black
For an outdoor option, an engraved pet memorial stone is the go-to for many pet parents. This option is special as each rock is carved into the shape of a heart, it's not manufactured and uses natural stone so every memorial plaque is unique. The stones are small enough to fit in most adult hands, and can be personalized with your choice of only your pet's name, or your pet's name and an image of a paw print. You can also engrave the backside of the stone for an additional cost and can choose any of five message options, including "Always in our hearts," and "Forever loved."
9. Watercolor Pet Portrait From Photo
A pet can be memorialized in a way that's subtle if that's your style, like this watercolor that's rendered from a photo of your pet. This option makes a great gift as there are several options to choose from; you can have a digital file sent to the recipient, a semi-gloss poster print that's ready to frame, an image on stretched, fade-resistant canvas, or a print framed in real wood, depending on the person's preferred style. Up to four pets can be featured in each print, with the price adjusted for every additional pet.
10. A Pet's Life Photo Frame Personalized Dog and Cat Urn
If you're looking for an urn that can offer comfort while navigating the loss of a pet, something that's personalized with text and a favorite photo can do just that. Available in sizes small to extra-large, and offered in wood color options including black, natural, and cherry, this personalized urn can add a soft touch to keeping cremated remains. Sliding panel compartments that loosen with a screwdriver hold your pet's ashes and photo, and personalization includes two lines of text, often used for names and dates.
11. Royal Matter Personalized Pet Memorial With Keepsake Photo on Limestone
For an outdoor pet memorial stone that goes just a little further than stating your pet's name, you can find one that features their image as well, like this one. Made from natural limestone, this memorial can be customized by uploading an image of your pet upon ordering, along with engraved text or embellishment, like paw prints or hearts. This memorial plaque measures 12 inches long, 1 1/4 inches wide and 6 inches tall, and is available in a number of composition options so you can find the most appropriate way to showcase your pet's picture and your desired inscription.
12. Personalized Pet Photo Pillow
Not every pet memorial gift has to be ornamental, you can find functional memorials if that's more your style. This personalized pillow is a nice choice for anyone looking to keep their pet close, decorate their space, or carry with them. To order, simply upload or email your image to the company, then choose whether you'd like just a pillowcase or a stuffed pillow. Cases are offered in heavy canvas and faux burlap, and measure 15 inches square.
13. Personalized Pet Portrait Necklace
Something small and understated is a better fit for some people, and this personalized necklace makes for a sweet, subtle memorial that keeps your pet close to your heart. Made from stainless steel and available in gold, rose gold, and silver colors, this pendant ranges in price depending on the type of script font you choose and the number of letters included. A photo can be engraved on the pendant by uploading an image upon ordering.