You know the old saying "hope for the best, but plan for the worst"? Well, any animal knows that goes double when your pet's safety is involved. We run disaster drills and pack survival kits to make sure we're ready if Mother Nature decides to reign down some terror on us in the form of tornados, hurricanes, earthquakes, fires, and floods. It's important for pet owners to make sure that those plans include taking care of their pets' safety, too.
Here's a guide to preparing for disaster when your pet is involved.
Pack a pet-friendly disaster kit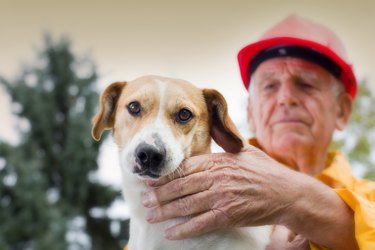 We pack disaster kits for the humans in our house, and it's important to have your pet's needs in mind when packing emergency kits as well. The ASPCA recommends the following pet-focused items for your disaster kit:
Pet first-aid kit and guide book (ask your vet what to include)
3-7 days' worth of canned (pop-top) or dry food (be sure to rotate every two months)
Litter or paper toweling
Liquid dish soap and disinfectant
Disposable garbage bags for clean-up
Pet feeding dishes and water bowls
Extra collar or harness as well as an extra leash
Photocopies and/or USB of medical records and a waterproof container with a two-week supply of any medicine your pet requires (Remember, food and medications need to be rotated out of your emergency kit—otherwise they may go bad or become useless)
Recent photos of your pets (in case you are separated and need to make "Lost" posters)
At least seven days' worth of bottled water for each person and pet (store in a cool, dry place and replace every two months)
A traveling bag, crate or sturdy carrier, ideally one for each pet
For cats: Disposable litter trays (aluminum roasting pans are perfect)
Especially for cats: Pillowcase, toys, scoop-able litter
Especially for dogs: Extra leash, toys and chew toys, a week's worth of cage liner
Tornados
"Tornados typically happen with little or no warning, but pet owners can still take steps to protect their animals," says Nicole Forsyth, the President and CEO of RedRover, an organization dedicated to bringing animals out of crisis during disasters. "Animals left to fend for themselves during disasters suffer terribly, and residents can compound their own stress by worrying about missing pets."
How to prepare your pet before a tornado:
Make sure your pets are microchipped—this is the best way to get reunited if tragedy strikes and you're separated from your furbaby.
Make sure your cell phone number is on your pet's ID tag so you're easy to reach if someone else finds them during an emergency.
Get a rescue alert sticker and place it on or near your front door. This will alert rescue workers that there's a pet (or pets) in the house. If you have to evacuate, write "EVACUATED" on the sticker before leaving.
Make arrangements with a trusted neighbor to check in on or retrieve your pets if disaster strikes when you're not home.
Keep smaller pets indoors—if you live in an area that's vulnerable to tornados, consider making your cat or small dog an indoor-only pet. Since tornados strike so suddenly, it can be hard to round up pets who are allowed to roam outside.
Do practice runs bringing your pet to your safe space. During a tornado, it's important to get to a safe space, like a basement or room without windows. These places are safest during a storm, but can also be scary for animals. Doing practice drills with your furry family will help them get used to these spaces and reduce the chance of additional freak outs during the stress of a real storm.
What to do with your pet during a tornado:
Here's a special consideration for cat owners: Find your cat and secure them in your designated safe space as soon as a tornado watch is issued, since cats are prone to hiding during storms and you don't want to be stuck searching for them during a real emergency.
Move animals to your designated safe space when you and the rest of the humans in your household move (you can move caged and aquarium-based animals early, when the tornado watch is issued, if you prefer).
Hurricanes and floods
How to prepare your pet before a hurricane or flood: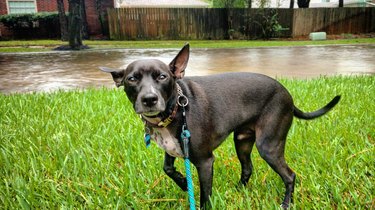 What to do with your pet during a hurricane or flood:
Earthquakes
How to prepare your pet before an earthquake:
What to do with your pet during an earthquake:
Fires
How to prepare your pet before a fire:
What to do with your pet during a fire:
Look up pet-friendly hotels in your area:
If disaster of any kind strikes and your home is left uninhabitable, you may need to find a pet-friendly hotel. It's a good idea to do this research before disaster strikes and to have a plan in place for where you'd like to stay so you don't have to deal with any extra stress during your emergency.
What to do with your pet after any disaster: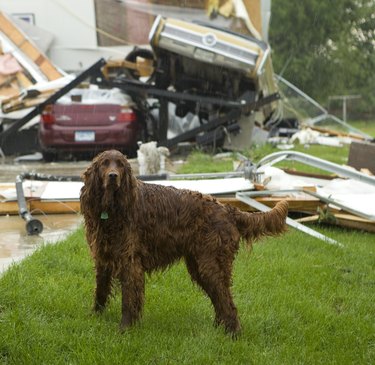 Don't let your pet roam outside after a disaster, even if they used to be an "outside" dog or cat—the disaster may have changed the landscape, moved or destroyed landmarks, or otherwise alter the surroundings in a way to make them unfamiliar to your pet, who could get lost even if they previously knew their way around .
Be prepared for changes in your pet's behavior. The trauma of living through a disaster can cause pets to become anxious and, in some cases, can even make animals become aggressive or defensive.
For any disaster that's possible in your area, it's crucial to be prepared ahead of time. Make sure you have a pet emergency kit packed, and do your best to stay calm if a natural disaster strikes.