Every year, countless people attempt to make or break world records. Be it for a worthy cause, or simply for the satisfaction of knowing that no one else in the world has done that particular thing, the title of Guinness World Record holder is a coveted one, and it's not just held by humans. Several dogs have also set and broken records over the years, and new boundaries are being pushed by determined dogs and dog owners every year.
As The Dogington Post originally reported, four dogs have made a name for themselves as some of the newest canine Guinness World Record holders in the last few years. Loughran Christmas Star, otherwise known as Toby, set the fastest time to pop 100 balloons in 2014, accomplishing the feat in a record 28.22 seconds. In 2017, a rescued Greyhound named Feather set a record for the highest jump by a dog after reaching an impressive 75.5 inches.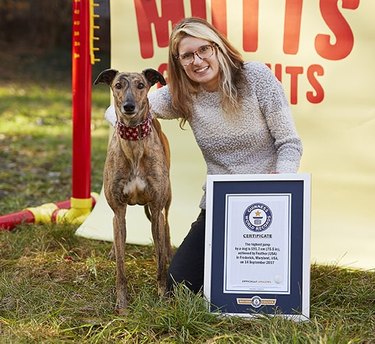 A few more dogs set records with the help of their human friends, including Geronimo, a Border Collie-mix who took the title in twice — once for the most amount of jump rope skips in one minute (she made it to 91,) and another for the most amount of double dutch skips in one minute, of which she completed 128. In a related record, the most skips by a dog jumping rope with a person went to a Jack Russell Terrier named Jessica, who completed 59 jumps in 60 seconds.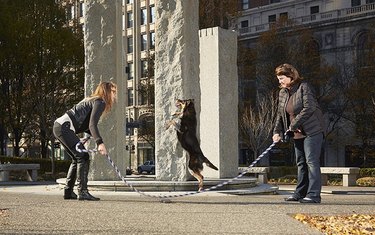 Some dogs relied on other canines to break records, like the 108 dogs who showed up to be part of the record for world's largest dog photo shoot, according to Guinness. The event, which included 58 breeds of dog, took place in Los Angeles earlier this year and was arranged as part of a film called Superpower Dogs. The record-breaking photo served as a celebratory moment for the final scene of the film, and doubled as a community event, featuring dog-friendly activities and giveaways.
While some do it just to set and break records, other dogs and their owners attempt to make it into the Guinness book to raise awareness for certain causes, like Daifuku and her owner Hiroaki Uchida, who both hail from Japan. In honor of the Lunar New Year back in February, Daifuku was one of the dogs featured in the Super Wan Circus invited to appear in a dog show in Hong Kong for the Wonderful World of Whampoa. While all of the Super Wan clan knocked their performance out of the park, Guinness reportd that Daifuku set a record that day for the most jumps over a human leg in 30 seconds. This beat the former record of 34, which was held by a different Super Wan star, Daifuku completed 37 jumps, which landed her a spot in the record book. Super Wan has been around for over 50 years, and nearly ⅓ of the dogs featured in the circus are rescues, and the show, along with this particular stunt, is done to raise awareness around abandoned animals.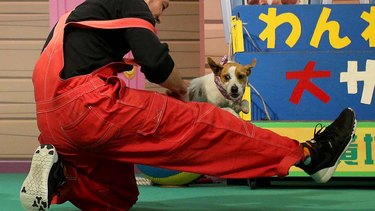 Finally, what would a world record rundown be without mention of the world's oldest dog? While the record isn't one that's been set anytime in recent years, or even this century, it's worth mentioning the long life of Australian cattle dog, Bluey, from Victoria, Australia. Bluey lived to be 29 years and 5 months old before he finally passed, and reportedly spent his younger years herding cattle. Bluey was finally laid to rest in 1939, which is when the record for the oldest dog in the world was set and remains yet to be broken.