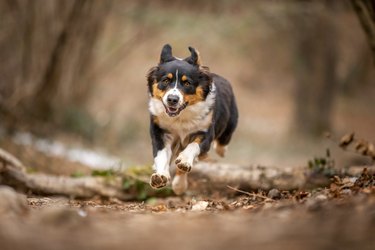 Dogs come in all shapes and sizes, with some of them being happy to cuddle on the couch and others practically bouncing off the walls. If you're looking for a dog to be your new jogging or hiking buddy, these 10 breeds are the ones for you.
Known for their affinity for the outdoors and their endless supply of energy, active dog breeds are the perfect companions for those who love everything from hiking to skiing. Consider the top 10 most active dog breeds that will need lots of love and exercise each day.
The Catahoula leopard dog is an active pup sometimes mistaken for an appaloosa dog breed due to its resemblance to the famed spotted appaloosa horse. These dogs have boundless energy, are known for their endurance, and excel at agility. Plus, they are extremely loyal and brave, making them excellent watchdogs and guard dogs.
Australian shepherds are hard-working herders with a need for speed. They love to run and are highly intelligent learners who thrive on an active lifestyle. Needing at least an hour or two of exercise each day, these energetic pups make great jogging buddies and excel at everything from agility to dock diving.
Some of the best active dog breeds are medium to large in size. For those with an active lifestyle, the German shepherd is ideal. These dogs are working dogs for a reason because without something to do, they can get destructive. If you provide them with plenty of exercise and keep them occupied with activities, they will become the most loyal and well-behaved companions for life.
Another dog known for being active is the Siberian husky. These friendly pack dogs get along well with both people and other dogs. They love the cold and are known for their endurance and distance running skills that make them excellent sled dogs. In fact, a husky may just be your next skiing or skijoring companion.
Not all of the best active dog breeds are large. In fact, some of them are quite small and appropriate for apartment living. One of the most active breeds is the Pembroke Welsh corgi. Small but mighty, corgis are herding dogs with big dog energy, a deep chest, and a fearless personality.
Originally bred for fox hunting, the Russell terrier is an energetic little dog with a playful personality and a high prey drive who loves to play everything from fetch to flyball. If you live in an apartment but live an active lifestyle, the Russell terrier is a great pick.
Speaking of dogs with boundless energy, the miniature pinscher has the personality of a big dog packed in a small body. Long walks will please this pint-size pup known for a galloping, horselike gait.
Popular active dog breeds
The beagle is the most popular hunting hound for a reason. This active little dog with an excellent sense of smell was originally bred to hunt in packs with their owners. Even if you don't love hunting, your beagle will be happy to tag along by your side for any outdoor adventure.
Originally bred as gun dogs, the golden retriever is one of the most popular dog breeds in the United States for a reason. These muscular dogs love nothing more than to accompany you on jogs and hikes and are always eager to please. They also make great service and therapy dogs.