As much as we may adore them, whether it's their smelly dog breath, litter box odor, or muddy paw prints, we might as well admit it: animals stink--literally! While your pet may be your greatest companion, that doesn't negate the fact that a human's best friend can accumulate and attract all sorts of unpleasant and unwanted odors around the house. Fortunately, there are plenty of solutions for unwanted odors in your home, including odor-eliminating candles and diffusers.
Burning a candle can help keep pet odors under control by eliminating surrounding stink molecules in the air and replacing them with a preferred scent. A diffuser is another popular option that can help cover up a bad smell in the air. This buying guide for odor-eliminating candles and diffusers may be the ticket to a whole new, fresh-smelling universe for you and your pet.
What to Consider When Purchasing a Pet Odor-Eliminating Candle or Diffuser
It's great to have options, but with so many scents, styles, materials, and price points, it can be overwhelming to pick out an odor-eliminating solution for your home. Before purchasing an odor-eliminating candle or diffuser, you may want to take some of these factors into consideration:
​Scents:​ When it comes to odor-eliminating candles or diffusers, choosing the right scent to fill your home is a highly personal decision. Certain scents may be unpleasant to some, especially those who have sensitivity to smells. Be mindful of the types of scents that you like (or have sensitivities to) when purchasing an odor-eliminating candle or diffuser.
​Material:​ Candles can come in a variety of materials, from synthetic wax to soy wax and everything in between. Diffusers can take reeds, or simply require a source of electricity and a few drops of your favorite essential oils to change the scent of the space you are in. Depending on your lifestyle, the habits and behaviors of your pet, and allergies and sensitivities within your home, you should certainly take into account your preference of material when purchasing an odor-eliminating candle or diffuser.
​Burn Time:​ Burn time is the approximate amount of time that it takes for a candle to burn through its wick. Not all candles have the same burn time, and this can be due to wick size, materials, and even the container size. Depending on what you are using your candles for, be it everyday use or an event, you will want to check the burn time of the candle to see what you can expect from your candle's lifespan and if you are getting the most out of your purchase.
​Budget:​ Depending on the quality and type of materials used, size of the product, and burn time, your odor-eliminating products can vary greatly in price. If you're on a budget, you'll want to factor in how much use you are getting out of your new purchase, and assess the different options that can fulfill your needs and get the job done without breaking the bank.
​Size:​ Some candles and diffusers are larger than others. Depending on the size of your space (and the strength of your stench), you will want to consider adjusting the size (or amount) of your purchase accordingly so that you can keep pet odor under control. If you are decorating your space and would like your candle to also function as decor, the design of the container is yet another factor to consider.
Once you have taken all of this into consideration and decided which elements are important to you, you should be able to pick out the perfect pet odor-eliminating candle or diffuser that suits your needs.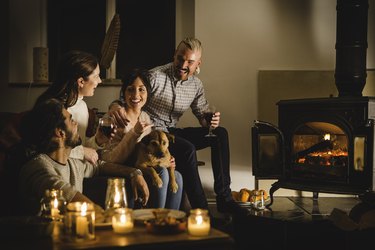 Mrs. Meyer's Clean Day Scented Candle, 2-Pack
This candle from Mrs. Meyer's made of soy and vegetable wax comes in a simple, elegant, ribbed glass holder that's a pretty piece of decor as well as an odor-elimination solution. It's even sold in a set of two, in case you would like to have multiple candles of the same scent in different places around your home. A lemon verbena scent is sure to restore balance and keep your household feeling energized and fresh. It's also available in garden-fresh basil if you prefer a lighter scent.
Size: 7.2 oz. (2-pack)
Material: Soy wax
Burn Time: 35 hours
Culture and Nature "Summer Peach" Scented Reed Diffuser Set
A reed diffuser doesn't require any power or matches but it can provide the pleasant scent you are looking for within your home. This diffuser from Culture and Nature not only smells like summer peaches but also functions as a beautiful piece of home decor. The oil is housed in an elegant glass container and is paired with five reed diffuser sticks and three handmade flower reed sticks. It's a safer pet odor-eliminating solution (you don't have to worry about leaving it unattended) and there are a whopping 17 scents to choose from.
Size: 6.7 oz.
Materials: Scented oil, glass, fiber reeds
Lifespan: 3-4 months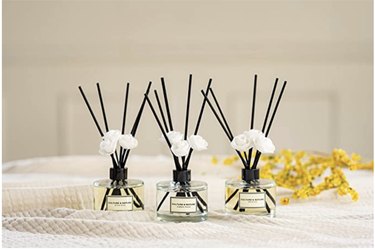 The Best Essential Oil Diffuser
DAROMA Upgraded 6-in-1 Aromatherapy Diffuser
Cool mist diffusers are a great way to infuse your living space with a preferred scent. Simply add a few drops of your favorite essential oil to the water-filled base of this diffuser and you are ready to take on your pet's stench. This six-in-one aromatherapy diffuser has a humidifier function and an 18.6-ounce tank, LED mood lighting in seven different colors, and a remote control so you can control the smell of your environment from across the room! The wood-look finish blends well with most decor styles.
Size: 18.6 oz. (550 ml)
Material: BPA-free plastic
Run Time: Up to 10 hours
The Best Long-Lasting Candle
Voluspa Panjore Lychee Candle
If you are willing to spend a bit more, look no further than a Voluspa candle. Although admittedly more expensive than other options on this list, if you prefer a candle with a luxurious fragrance that is also long-lasting, this coconut wax blend and lychee-scented candle boasts an impressive burn time of 100 hours. There are six other scents to choose from if you prefer floral over fruity. As an added bonus, the candle comes in an eye-catching glass jar, making it a great gift for pet and candle lovers alike.
Size: 18 oz.
Material: Coconut wax blend
Burn Time: 100 hours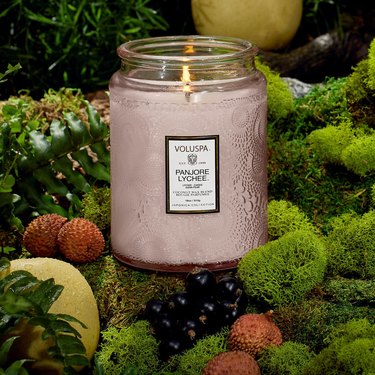 The Best Subtly-Scented Candle
IgniteYourPeace "BREATHE QUEEN" Soy Candle
These hand-poured candles from the Etsy store IgniteYourPeace are a go-to for any pet parent or candle lover. Not only are the scents unique, but they're subtle enough for customers who are sensitive to strong smells. Not to mention the fragrances are phthalate-free. Touting a 50-hour burn time, these soy candles maintain a strong, high-quality, delicate, and lingering aroma to stop pet odor in its track.
Size: 8 oz.
Material: Soy wax, phthalate-free fragrance
Burn Time: 50 hours
The Best Budget-Friendly Candle
Glade Candle Jar Air Freshener 2-in-1
If you are looking for a quick, easy, and budget-friendly solution, this set of odor-eliminating candles from Glade comes with two vibrantly-hued candles in small glass holders. Be advised that although budget-friendly, this candle is made out of synthetic wax and fragrances, and is best kept away from pets and off any surfaces where they could knock it over.
Size: 3.4 oz. (2-pack)
Material: Synthetic wax
Burn Time: Not listed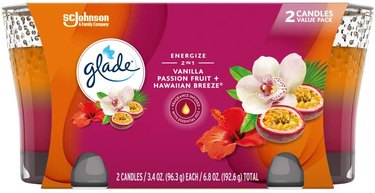 The Best "Pet Friendly" Candle
Pet House Lavender Green Tea Natural Soy Candle, 9-oz jar
This natural soy wax candle from Pet House is specifically catered to pet odor elimination. Infused with essential oils and complete with a cotton wick, this candle comes in a generous 8.5-ounce size. It's hand-poured in the U.S. and is sold in a variety of scents if 'lavender green tea' is not your cup of tea. The candle contains no dyes or paraffin, which can sometimes create black smoke or soot. It's technically "pet friendly," though you are best advised to keep any candle out of your pet's reach when lit.
Size: 8.5 oz.
Material: Soy wax, cotton wick
Burn Time: 70 hours
There are many pet-odor-eliminating options out there. If you are looking to use candles and diffusers to control pet odor within your home, you will certainly find one that best suits your needs and preferences. Be sure to keep a watchful eye on your pet if you are lighting open flames or utilizing diffusers in your home.