Litter boxes—you can't really live without them when you share a home with an indoor cat. While convenient, litter boxes do come with their own set of bothersome issues, namely, the smell. Fortunately, there are a wide variety of litter boxes out there that are designed to keep unpleasant odors under control, be that through a lid, a door, automatic cleanings, or odor-control filters. This list of boxes designed to control litter box odors showcases models in numerous price ranges, sizes, and privacy levels.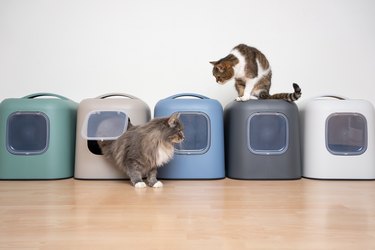 What to consider when purchasing an odor-control litter box
‌Size:‌ Even if controlling odors is your number one concern when shopping for a litter box, you should still keep the size in mind. A box too large for your space or too small for your cat may ultimately result in misuse or just plain old inconvenience, which can render the benefits worthless.
‌Litter Type:‌ Most odor-controlling litter boxes will work with standard cat litter, so there's likely no need to buy special litter just to go with your new litter box. One major exception to that rule, however, is self-cleaning litter boxes. Some of these automatic litter boxes may call for crystal cat litter, which does help deodorize, so it's best to double-check before purchasing if you have a litter that you like and wish to keep using.
‌Litter Box Filters:‌ One way that may litter boxes deodorize the space is through the use of filters. Commonly used litter box filters include charcoal filters, carbon filters, zeolite filters, and even air filters. Some boxes may even use more than one type of filter to keep bad smells under control.
‌Cleaning:‌ Of course, the best way to keep any litter box clean, whether it's an odor-controlling robot litter box or your standard coverless tray, is to keep the pan clean. Regular scooping and litter replacement will always be your best bet at keeping bad smells at bay, although certain types of litter boxes, like the ones listed here, can allow you to go a little longer between cleanings.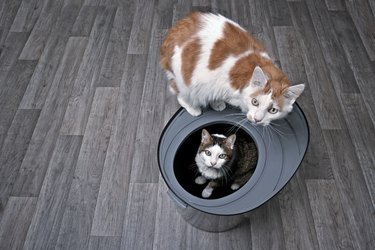 The best overall odor-control litter box
If you're looking for a no-frills litter box that will control odors without breaking the bank, this option from the authority in pet odor elimination, Nature's Miracle, is a good place to start. This triangular box is designed to fit snuggly in corners to save space and comes with a hood for privacy, odor control, and reducing litter scatter. It's designed with a nonstick surface for easy cleaning and is fitted with a charcoal filter to keep things smelling fresh and clean. This box is made of plastic and measures 26 inches long, 24 inches wide, and 11.5 inches high and snaps together in seconds.
The best budget odor-control litter box
For an odor-controlling litter box on a budget, this classic, covered litter box by Van Ness costs less than $20 and contains a built-in replaceable zeolite filter for deodorizing. It measures 19.5 inches long, 15.25 inches wide, and 17 inches high after it's assembled, and is made of BPA-free plastic that's nonstick for a nontoxic litter box that cleans up quickly and easily. This box snaps together in seconds for easy assembly and easy cleaning and includes a swinging door in the front of the box to keep odors further concealed.
The best splurge-worthy odor-control litter box
On the other hand, if you're looking for the gold standard in litter boxes, then a Litter Robot might be for you. This litter box does pretty much everything for you, from removing waste to storing waste to reducing odors, all with the touch of a button. It's WiFi-enabled and works with a smartphone app to time cleanings and measure waste levels, leaving a clean box that only requires work from you when it's time to empty the pan or refill litter. It's constructed with a carbon filter to manage odors and claims to use 50% less litter than a standard litter box thanks to its waste-sifting process. This box is completely covered and measures 24.25 inches long, 27 inches wide, and 29.5 inches high with a 10.25-inch opening. Because the waste-removal feature is weight activated, it's only intended for use among cats weighing more than five pounds.
The best self-cleaning odor-control litter box
Controlling odors is generally done one of two ways—with the help of a deodorizing filter, and through the immediate elimination of pet waste in the litter pan. This self-cleaning litter box works by removing waste quickly with the help of one other design element: crystal cat litter. This litter controls cat odors as soon as waste material touches it by dehydrating solids and absorbing liquids. Crystal litter is mostly dust-free so lingering odors will not be kicked up while the kitty litter box is in use, and this particular litter box uses disposable crystal litter trays for easy removal and replacement. This model is covered and measures 20.375 inches long, 7.125 inches wide, and 28 inches high.
The best WiFi-enabled odor-control litter box
While some people prefer covered litter boxes for the privacy and odor-controlling aspects they can provide, others need an uncovered litter box for various reasons, including easy accessibility for older or limited cats, and easy cleaning when it is time to use a cat litter scoop. Fortunately, you can find uncovered boxes that still offer odor control like this one, which cleans itself, removing waste immediately. This is the same type of self-cleaning litter box as the one mentioned above, only this model is WiFi-enabled so you can program more frequent cleanings through the associated app. A single crystal litter tray can last for weeks before replacing, and waste is raked into a compartment underneath the box to keep smelly materials out of sight. This box measures 19.1 inches long, 27.6 inches wide, and 6 inches high, and waste is only removed once the machine senses that your feline has left the cat litter pan.
The best top-entry odor-control litter box
Another design for keeping odors from permeating a room is to keep a lid on the box and have your cat enter from the top. This top-entry litter box comes with a lid that can support cats weighing up to 20 pounds and is designed with grooves on the surface that work as a built-in cat litter mat that wipes litter from paws to reduce tracking throughout the home. It's compatible with most clumping cat litter, as well as other odor-absorbing varieties including clay, corn, and wood litter. This box comes in an oval shape, and measures 20.47 inches long, 16.14 inches wide, and 14.56 inches high.
The best uncovered odor-control litter box
Another uncovered box for easy accessibility, this self-cleaning variety automatically sifts solid waste every 30 minutes to keep things clean and fresh almost immediately. Using a slow-moving conveyer and the clumping cat litter of your choice, this box removes waste and places it in a waste trap that you can fit with a litter box liner for easy removal. In addition to frequent cleaning, this box also uses an activated carbon filter to keep stored waste odors under control. This litter box system is best used among cats under 15 pounds, and measures 20.32 inches long, 10 inches wide, and 21 inches high.
The best odor-control litter box for multi-cat households
If you have multiple cats in the home it is generally recommended that you provide one litter box per cat, plus one extra, to ensure proper use and fewer messy accidents. If you do have cats who will use the same litter box, however, this self-cleaning model is designed to support multi-cat homes thanks, in part, to its sizeable 7-liter waste-holding compartment. This box is WiFi-enabled and equipped with sensors to ensure safe use and prompt cleaning. The box is made of TPE rubber to prevent stools from sticking, and measures 21.18 inches long, 24.4 inches wide, and 21.73 inches high. Rather than using cat litter box filters to eliminate odors, this model comes with a detachable air filter to prevent odors around the litter box.
The best litter box enclosure for odor control
If you're a pet parent who has a litter box that you and your feline friend already love but still wish for a bit more functionality, a litter box enclosure is a great option to consider. Litter box enclosures like this one simply rest over your litter box to provide a bit of privacy, prevent litter scattering, control odors, and even create a bit more space by adding a new surface to your room. This enclosure is built with a side-facing entryway that's discreet and comes with an interior panel that's removable and staggered from the entrance to prevent litter tracking. Made of engineered wood, this enclosure measures 29.9 inches long, 24.6 inches wide, and 23.2 inches high. It can support large cat litter trays sized up to 18.5 inches long, 15.25 inches wide, and 5.25 inches high, as well as high-backed litter boxes measuring 18.6 inches long, 14.7 inches wide, and 9.8 inches high or smaller.
The best ammonia-control litter box
One of the toughest feline odors to contend with is urine, which is so strong because of the ammonia levels found in it. This litter system works to eliminate ammonia odors for up to seven days by using absorbent pads and moisture-wicking pellets. The pads are disposable and easy to replace thanks to a slide-out tray that sits just below the cat litter pan. From there, just add the absorbent pellets, which last for about one month, and remove waste as it accrues. This pan comes with a cat litter scoop for cleaning, and measures 20.5 inches long, 15.8 inches wide, and 10.1 inches high. It should be noted that these pellets will not clump because liquid waste filters through them and rests on the absorbent pad underneath.