Pets bring a number of wonderful things into our lives, like love, companionship, exercise, and accountability, to name a few. Another thing that comes with pets, unfortunately, is pet hair, which can collect around our homes, bedding, cars, and flooring. Finding a quality vacuum that falls within your budget is essential when living with a furry friend, as it can reduce allergens like dander around the home, protect carpeting and upholstery, and create a cleaner space for pet owners to enjoy. Vacuums are available in a wide range of prices, sizes, and capabilities, and come with or without cords, bags, and handles to provide an effective clean for every need.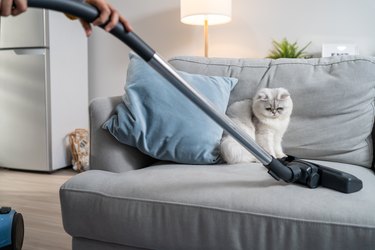 What to consider when purchasing a vacuum cleaner
‌Size:‌ One of the most important things to consider when shopping for a vacuum is how practical it will be to use in the space you're looking to clean. A large vacuum in a small apartment or studio might be constantly in the way, so a thinner wall-mounted option may be a better choice in that situation. Alternatively, it may be daunting to constantly be plugging in a vacuum in a large home with multiple rooms, so a cordless stick might be better for you. In any case, always think about what will make vacuuming your space easy as well as effective.
‌Cannister type:‌ These days, most vacuums are the bagless kind, which doesn't require replacement bags that attach to the vacuum's hose to collect dirt and debris. Bagless vacuums come with canisters in different sizes, and some with smaller containers require constant emptying, as often as every use. If you have a large space or a space with a lot of pet hair buildup, it may be more practical to shop for a vacuum with a larger container.
‌Flooring:‌ Most vacuums will work on carpeted and non-carpeted surfaces, like hardwood, linoleum, or tile, though some are designed to be better suited for certain surfaces. When shopping for a vacuum that you hope will tackle the pet hair and dander buildup in your home, always consider the depth of your carpets, the fabric of your rugs, and whether you hope to use the vacuum on hard surfaces in the kitchen, bathroom, and other non-carpeted areas.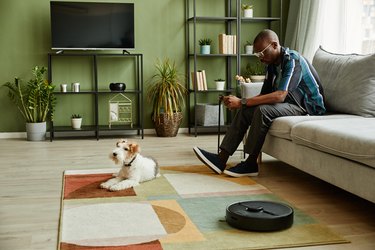 The best overall vacuum for pet hair
If you're shopping for a vacuum but aren't sure where to start, a bagless, upright vacuum with powerful suction is a great place to start, and will likely meet most people's needs. This option features an easy-to-empty canister that opens at the bottom for spill-free disposal into the trash, and is designed to prevent debris scatter on hard surfaces like hardwood. It swivels to steer so it's super easy to move, is designed to fit into corners to clean edges easily, and comes with an attachment tool to make cleaning stairs and surfaces off the floor quickly and effectively.
The best vacuum for pet hair on a budget
It is absolutely possible to find a quality vacuum for under $100 these days, like this one from Bissell, which comes with a pre-tax price tag of less than $60. Made by one of the most trusted and popular names in vacuuming, the Powerforce model is lightweight, bagless, and very powerful (it's an updated version of one of their most popular vacuums.) Helix performance technology separates dirt from fine dust for a deep clean to create a more allergen-free home.
This vacuum has five height adjustments to clean pretty much any floor surface, and comes with a 23-foot cord for easy maneuvering throughout the house. Additionally, this filter is washable so there's no need to purchase replacements, and comes with additional attachments including a dusting brush, a crevice tool, and an extension wand.
The best upright vacuum for pet hair
The standard vacuum cleaner is your classic upright model that's attached to a cord and comes with a variety of accessories, like this one by Eureka. This is a fantastic option for anyone with pet allergies as it picks up large and small debris, as well as microscopic dust that tends to linger in carpet fibers, corners, and shelving.
The attachments that come with it include a crevice tool, a dusting brush, and a tool for cleaning pet hair off of upholstery like couches and car seats. This vacuum is designed with a wide head for faster cleaning; however, as this vacuum brush is a roller brush style, it is recommended that the brush is cleaned every two weeks for the best performance.
The best robot vacuum for pet hair
Sometimes, we need a little help from our household appliances, and a robotic vacuum can be extremely helpful for anyone who may not have the time or means to clean as much as their pet's shedding requires. This is certainly pricey, even for a robot vacuum cleaner, but truly delivers thanks to its self-cleaning brush and self-emptying base, which can hold a month's worth of dirt and pet hair collected around the house. This little vacuum works in rows first, then navigates the room to clean the entire space on its own. It weighs only 13 pounds, and cleanings can even be scheduled using the SharkClean app, Amazon Alexa, or Google Assistant.
The best cordless stick vacuum
When it comes to cordless vacuums, Dyson is the first name most people think of. Equipped with a wall mount for easy reaching and storage, this cordless stick is light, easy to carry, and deep cleans carpets with a spinning brush head. The included attachments include a soft roller, which is engineered with nylon bristles and anti-static carbon fiber for sweeping and cleaning hard floors, a crevice tool, a combo tool with a wide brush, a mini tool for tight spaces, and a dusting brush to create the ultimate cordless handheld vacuum. When fully charged, this runs for 40 minutes, and uses an easy-open canister for quick emptying.
The best bagless vacuum for pet hair
It's not uncommon to find bagless vacuums these days, and this one is designed to pick up pet hair thanks to it's strong suction capability, and the Turboclaw attachment for cleaning fur off of upholstery and stairs. This comes with a washable carbon filter which makes it not only ideal for homes with heavy shedders or multiple pets, but is also built for long-term use in a way that's economical and environmentally responsible. Not only is this an effecive deep cleaning vacuum, the advanced filtration system keeps pet odors under control.
The best vacuum for hard floors
Cleaning hard floors requires certain specifics from a vacuum in order to get the deepest clean. This multi-surface cordless stick design works wonders on non-carpeted surfaces thanks to its stainless steel filter, made to tackle hardwood floors.
Weighing only 3.3 pounds, this vacuum is made with an ergonomic handle for easy maneuvering, has a 35-minute run time when charged, and comes with two HEPA filters along with a number of other attachments. Like many cordless vacuum cleaners, this runs best when the canister and filter are cleaned regularly, and although this is especially great on hard surfaces, this is great for cleaning carpets as well.
The best vacuum for carpet
For anyone with carpets, rugs, or even upholstery to contend with, this stick vacuum gets the job done easily and without much manpower required. Unlike other stick vacuums, this one does attach to a cord, which is 15 feet in length. This is lightweight at under four pounds, with clean-up capability comparable to other upright varieties.
Additionally, this vacuum easily converts to a handheld vacuum thanks to a detachable handle. The canister on this one is smaller than some other canister vacuum varieties but easily opens for quick disposal. Perhaps the biggest selling point for this one is that is costs less than $25, making it an excellent option for anyone with a small space, a small budget, or who just likes saving when and where they can without compromising on function.
The best handheld vacuum for pet hair
For hard-to-access stairs, car seats, furniture, or other areas where a full-sized vacuum might not easily reach, a handheld vacuum is the answer to your problems. While most products offer pet hair removal as an added bonus to their vacuuming abilities, this handheld vacuum is made for it, and delivers with suction power and multi-layer cyclonic filtration.
The best part? It's designed with two nozzles to get every last hair—one, a rubber nose with built-in bristles to collect cat and dog hair, and the other a flat attachment great for cleaning large debris like litter. This is a corded vacuum with a 16-foot cord, and a dust collecting cup with a 0.78-liter holding capacity.
When shopping for a vacuum for pets, cleaning up the hair and dander is the first thing most people think of, however, pets can sometimes come with wet messes as well. A vacuum with wet/dry capability like this one, which removes debris from flooring while washing offers multi-surface cleaning that's next level. The wet vac comes with two tanks, one for dirty water and one for clean water. The dry function features a brush roll that won't cause hair to tangle up to eight inches. This vacuum is recommended for flat surfaces and low pile carpets and rugs, and does rely on a cord for use.