Remember the Flowbee? It was, and still is, a vacuum cleaner attachment that people use to cut their hair by using suction. It makes hair-cutting easy, and clean-up efficient and keeps grooming costs low after the initial purchase is made. If you've ever wished you could vacuum your dog or cat (who hasn't?) and then end up with an even, smooth groom without having to buy a half dozen grooming tools, you're in luck! There are a handful of grooming kits for dogs that use this same concept and design, which range in price, size, and attachment options to make at-home grooming a breeze.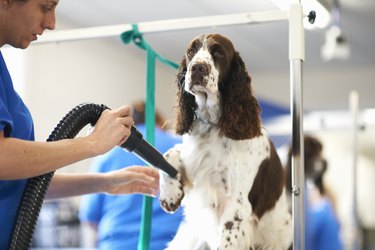 What to consider when purchasing a pet grooming vacuum
‌Vacuums Are Scary:‌ If there's one thing that pets hate more than peeing in the rain, it's the look and sound of a running vacuum. Some pets, especially dogs, can become really distraught around them and can end up barking, biting at the machine, or running and hiding in fear. Pet grooming vacuums are designed to be low-noise, however, they still make some noise due to the suction function. So, if your pet is deathly afraid of vacuums, it might be wise to stick to a traditional groom.
‌Size:‌ The size of the vacuum you choose should ultimately work for your dog—you don't want something so big it's scary or just physically heavy, and you don't want something so small that you'll have to sit there and vacuum for an hour just to give your dog a trim. All vacuums should come with a bunch of attachments to choose from, so be sure to check attachment head sizes when shopping.
‌Model:‌ Pet grooming vacuums are sold in handheld and upright varieties. Handheld vacuums are easier to use on the go, may allow for more maneuvering, and are often wireless. Upright vacuums usually offer more power, but often plug into a wall.
‌Cleanliness:‌ Quality grooming is only as good as its equipment, even with the priciest model on the market. One big appeal of a vacuum grooming tool is that it not only holds trimmed pet hair inside of its attached canister, but it can also suck up loose hair after the haircut is over. Pet hair can clog hoses, dirty filters, and stuff canisters if it's left unattended for too long. For the best effects, it's important to keep the vacuum canisters, hoses, and attachments clean with regular emptying and rinsing, as needed.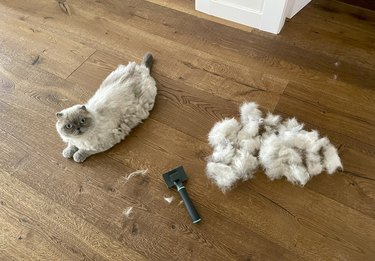 1. neabot P1 Pro Pet Grooming Kit and Vacuum
For an all-in-one grooming kit that's great for dogs and cats, this pet grooming tool by neabot has pretty much everything anyone would need to give their pet a great cut at home. Included in this kit are five grooming tools, including a grooming brush to get your pet's hair in good shape for grooming, a deshedding brush to prevent fur damage, an electric clipper with four attachments to accommodate many hair lengths, and a nozzle head and cleaning brush to keep your grooming space clean. The attached vacuum collects 99% of pet hair for an easy cut and is designed to produce a low noise level to keep pets comfortable and safe during their haircut, which is especially helpful for pets who are typically afraid of vacuums and other loud noises, or of being groomed in general.
2. Neakasa P2 Pro Dog Grooming Kit
Another grooming kit (heads up, these are all grooming kits), this model is great for working with a variety of pet hair types, including extra long hair and curly hair. It comes with five guard combs to help you get the perfect length for your pet, and a detachable hose so you can groom away, one-handed, while you keep your pet from running away with the other one. This groomer also features a 2-liter bin that holds pet hair and dust and quick releases for super easy cleaning when you're ready to empty it. One very appealing thing about this kit is that the vacuum is super quiet at 52 dB, and has three fan speeds that are easy to control with an adjustable knob. It's also built with a storage dock design so everything can stay in one place for neat and easy keeping.
3. Oneisall Professional Pet Grooming Kit and Vacuum Cleaner
This option is fairly similar to the other two we've already listed, and falls right in the middle of the two price points. It does have a 1.4-liter dustbin, so it's a little smaller in size than the Neakasa model, which might be perfect for anyone with limited space, or who just doesn't need to hold that much hair, dust, and dander or other allergens in between cleanings. A great feature of this kit is the clippers, which are detachable from the rest of the vacuum and can be used cordless for easy maneuvering and hair or paw trimming inside or outside of the home. It's a low-noise model of 60 dB and comes with three power levels that you can adjust to your needs and your dog's tolerance level for noises.
4. XPOWER B-2 "Pro-At-Home" Pet Dryer and Vacuum
Remember when we said these were all going to be kits? Well, we forgot about this one (and the next one) before we wrote that! We did want to include them, however, for anyone who's just looking to dry and style their pet's fur without going to a groomer. This vacuum is a cleaning tool/hair dryer, so there are no clippers or trimmers that go along with it, although it does come with six styling attachment brushes and combs to help you achieve the perfect look for your dog. The big appeal of this device is the power—it's five times stronger than human hair dryers, which makes it ideal for dogs with undercoats and/or thick fur that takes a long time to dry. It uses a 2 HP motor for quiet running, and a two-level switch to help you control the airflow and switch it to vacuum mode when you're ready to clean up.
5. DAMAIJOY Cordless Dog Vacuum Cleaner
For anyone with a heavy-shedding dog or cat, you might just need to collect the loose hair that they shed from their bodies. Sometimes this hair can get stuck on their own fur, and almost all of the time, that loose hair ends up all over your floors, furniture upholstery, clothes, and any other surface imaginable. This vacuum is designed to only collect hair—it doesn't cut it, it doesn't clip it, and it is quite literally just a dog vacuum (it does come with a comb attachment, however.) It's handheld to make reaching around your dog quick and easy and allows you to take it to collect fallen fur from other areas of your life, like the couch or your car. This runs on a rechargeable lithium battery to create 200-watt vacuum suction that's safe for dogs and quiet as well at 68 dB and is built with a five-stage filter system that includes removable and washable filters.
6. INSE P20 Pro Dog Grooming Kit
A grooming vac that's a five-in-one tool, this option has everything you need to groom dogs and cats with silky, wiry, curly, long, or short hair, and pick up the mess in one convenient fell swoop. This comes with a self-cleaning pet brush that you can use every day if you like, as well as four other attachments including hair clippers with four detachable guard combs, a deshedding brush, a crevice tool for cleaning, and a cleaning brush to hit up any dirty upholstery, all of which connect easily to the extension hose provided. It's built with a 1.2-liter dust bin, so it's on the smaller side, and is easy to store and carry around thanks to a retractable power cord, and a handle at the top.
7. HOPET Pet Grooming Vacuum Kit
Finally, for a handheld option that won't break the bank, this grooming tool brushes pets while collecting that loose fur at the same time. It comes with four attachments, including the grooming brush for your pet, a floor brush, a cleaning brush for upholstery and carpet, and a crevice tool, so it's ideal for anyone looking for a quick and clean groom that offers cleaning capacity afterward. This does run a little louder than some of the other vacuums on this list at 70 dB, so keep that in mind if your pet is afraid of vacuums or loud noises. It does run on a rechargeable battery that reaches a full charge in three hours and can run for up to 20 minutes once it's fully charged.