Surely, dogs (and cats) are a human's best friend—but pet hair is most definitely the enemy. Pet hair and dander can be an absolute nightmare for people suffering from allergies, since it can get everywhere— on the floor, couch, chairs, and even on kitchen counters. You may try to convince yourself to look the other way, but then your eyes start to water, you begin sneezing uncontrollably, and the pet hair and dander becomes very hard to ignore. So, if you're a pet owner with allergies, you may wish to find the best ways to eliminate pet hair within your home. And getting the right duster can be a big help.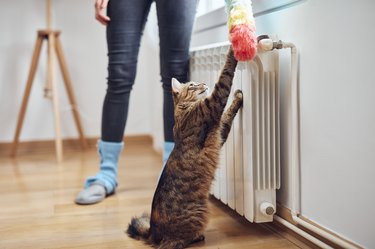 A duster can be a great solution for cleaning up allergens such as dust, dander, and pet hair on hard surfaces within the home. Pet hair can linger on hard surfaces, and a regular feather duster may not do the trick if you are looking to eliminate your pet hair quickly without bringing out your vacuum from the hall closet. A regular feather duster may not lock in hair, simply spreading it around surfaces and throughout the air. You may need to find a more suitable solution, such as a duster specifically for pet hair.
The best dusters for pet hair trap pet hair and dander within a certain material so that it stays in one place, allowing you to quickly and easily clean hair from your surfaces without continuing to spread it around while dusting. This material is usually microfiber, a fiber that is split several times smaller than a human hair, and generates an electric charge when moved across a surface, without causing damage to that surface. This charge allows it to pick up smaller particles that other materials may not be able to.
Just as animals are our everything, it is not lost on us at Cuteness that pet hair gets on absolutely everything. So, we've brushed up a list of the best dusters for pet hair so you can spend more time with your lovable ball of fur, and less time cleaning your home.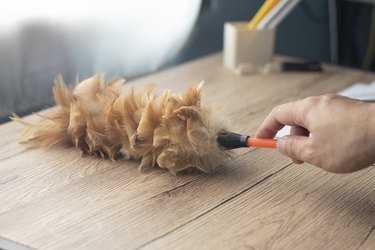 What to Consider When Purchasing Dusters for Pet Hair
When looking to buy a pet hair cleaning solution like a duster, you will want to factor in your cleaning routine, the material you are looking to clean, and your home space in general. Different spaces and routines will require a different size, type of duster, and even form of material in order to efficiently and effectively clean up your mess. Be sure to take these elements into consideration before purchasing a new duster for pet hair:
​Type:​ Even if you're just looking to clean up your pet's hair, there are many different types of dusters that you can choose from. This includes dusting cloths, telescoping dusters, washable dusters, dusters with disposable dusting pads, and dusters for your floors. Consider what type of duster you may want to use in your home before making your purchase.
​Size/Length:​ The size and length of your duster can vary and your decision will depend on the task at hand. Remember that the length of your duster can impact where you can reach and dust within your home. Consider a telescoping duster for harder to reach areas, or a simple dusting cloth for smaller surface areas.
​Material:​ Generally, the best material to dust away pet hair is microfiber. However, there can be many variations of this material available in the form of a duster for pet hair. This can include machine washable dusters, as well as disposable dusters. Microfiber cloths can also prove useful for smaller surface areas, or spaces that are harder to clean and require more flexibility.
​Cleaning Surface:​ Before purchasing a duster, you will want to factor in the surface type that you are cleaning and consider where you will be dusting. Will you be dusting in crevices and cracks, hard-to-reach areas, large floors, or even way up high? Are the surfaces you are dusting hard and flat, or have curves and edges? This will all impact your purchasing decision.
The Best Overall Pet Hair Duster
Frjjthchy Cartoon Dog Mop Slippers
Who says you can't clean while you go about your day (and stay cozy doing it)? These chenille dog mop slippers are a super fun, efficient, and meta way to clean up the dust, dander and pet hair around your home. The scrub pad bottom soles are removable for cleaning either by hand-wash or in the washing machine. The pads are constructed with superfine fibers to provide a non-slippery material that absorbs water and can pick up dust, dirt, and pet hair while also remaining gentle on surfaces and floors. Plus, who doesn't love wearing dog slippers?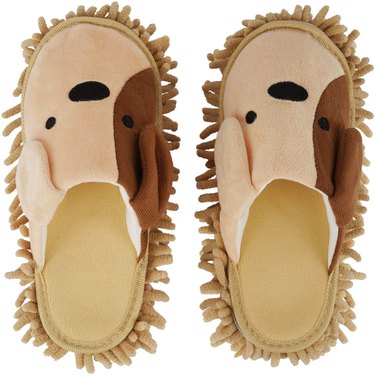 MR. SIGA Microfiber Washable Duster
We sure love an eco-friendly duster! Sometimes, you just want to do a quick wipe down, so if you're looking for a very effective and efficient option, check out this washable duster from MR. SIGA. It features a large microfiber head which locks in dirt, dust, and pet hair like a magnet. This thing is a total dust trap! It also has a non-slip rubber handle for added comfort. The microfiber head unsnaps for convenient machine-washable cleaning and reuse.
The Best Duster for Floors
O-Cedar Dual-Action Microfiber Sweeper Dust Mop
If you have pet hair all over your floors, you may want to consider a dust mop! This microfiber mop from O-Cedar features chenille and microfiber technology that makes cleaning dust, dander and pet hair off floors, under furniture, and out of tight corners super easy, efficient, and convenient. The mop head is flexible and rotatable to make movement (and dancing while mopping) a bit easier. Plus, as an added bonus: The mop head is machine-washable!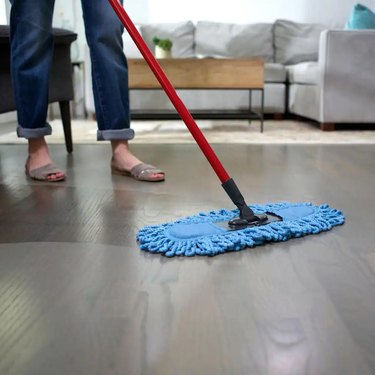 The Best Telescoping Duster
Swiffer 360 Dusters Heavy Duty Starter Kit
The Swiffer 360: a total throwback classic, but it's definitely a classic for a reason! The Swiffer 360 traps three times more dust and allergens versus a feather duster and it is uniquely designed to do so from every direction. Plus, its extendable handle makes it a go-to tool for harder-to-reach places. When not extended, the handle measures approximately 11 inches long, but when fully extended, has a reach of roughly 3 feet. The duster head is also angled in such a way that makes the duster more ergonomic and comfortable to use.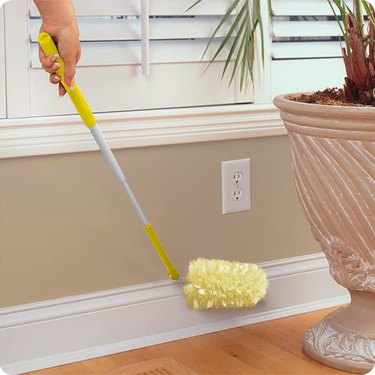 Hypermotion Microfiber Cleaning Cloth, Pack of 12
These machine-washable microfiber cleaning cloths are lint-free, and ultra-fine, making them extra soft, quick-drying, extra absorbent, and non-abrasive. They can be reused repeatedly by hand and in the washing machine, and are ideal for wiping glass or mirrors, washing and drying dishes, dusting, and polishing! Their small size make them a great tool for getting in little cracks and crevices. Plus, we love all the cheerful colors and patterns they come in!