For Dan Weese and his family, this Holiday has been an emotional roller coaster. A few weeks ago, Weese and his English Bulldog Indy returned home from the vet's office after Indy's caesarian. Indy, the family's beloved bulldog dog, gave birth to a new litter of seven puppies.
But when the family returned to their home in North Ridgeville, Ohio to celebrate, Indy stopped breathing.
Weese and his wife Katie tried to resuscitate Indy giving her CPR and rushing her to the animal hospital, but to no avail. She was gone, and there was an entire litter of newborn puppies at home that would need round-the-clock care.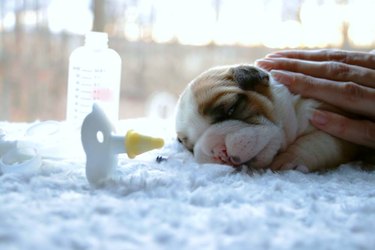 While Weese and his family are no strangers to the care of puppies, Weese explains in his blog that "they would need to be hand fed every 2 hours, 24/7," and that they would have to get used to "man-made bottles and syringes." Setting aside their grief, Dan and Katie directed their full attention toward the health of their puppies.
Macy offered his condolences to the Weese family for their loss, and then made an offer that seemed almost too good to be true. His dog Pixie, a labrador, had given birth on the same day as Indy, but had lost her pups. They had been attacked and killed by another dog. Since she was grieving terribly and producing quite a lot of milk, maybe the two families could help each other.
Weese and Grubbs decided to get Pixie and the bulldog puppies together to see if they would take to each other. After a 7-hour car ride, Grubbs and Pixie arrived in Ohio. Everyone waited to see if she would accept the puppies, but "it couldn't have been 5 minutes before Pixie was laying on [the] living room floor feeding and cleaning her new babies!"
Now, the puppies and Pixie are doing well. "One of the first things Macy said to us was what he believed, which was the part of scripture that says 'Love thy neighbor.' And that's what he did, he showed us love in a way we can't repay,'" Dan said in an interview. Both families endured heartbreaking tragedy, but in finding each other, Pixie and the puppies got exactly what they needed this Christmas.
Check out Weese's Facebook page for more photos and updates on Pixie and the puppies!