If you've ever glanced over at your pet and been overcome with a strong feeling of love that made you emotional, you're not alone. Many pet owners describe the mutual feelings between themselves and their dog or cat as "love." The special bond people experience with their pets is one of the main reasons nearly 64 percent of Americans share their home with a fluffy friend. But do animals fall in love with each other or with humans?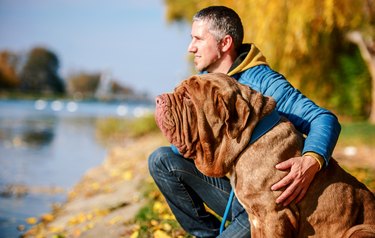 To find out if animals fall in love, it helps to define what "love" actually is. In the human world, we experience different types of love: love for our families, love for our romantic partners, and love for our friends.
When it comes to animals, there isn't much clear evidence to gauge what kinds of love they can experience. Dogs and cats are both social creatures (dogs more so overall) and express physical affection, happiness, and excitement with other animals as well as their human friends, but do animals fall in love like humans do? In wild animals, most of the bonding behavior that is observed is largely driven by the instinct to reproduce and care for young. Our pets have these same instincts despite being spayed or neutered, but it's not known if animals experience romantic love.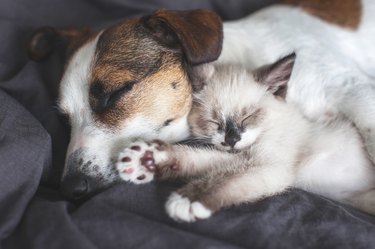 The feelings of love that you experience are largely the result of brain chemicals and hormones produced by your body. Oxytocin, also known as the love hormone, is produced in response to physical affection and emotional bonding. The hormones dopamine and norepinephrine are released by the brain when we do things that make us feel good and are responsible for feelings of giddiness, excitement, and euphoria.
Can a dog fall in love with a human? Multiple studies have shown that dogs also produce oxytocin and particularly in response to human interaction. When your dog is lovingly gazing into your eyes, his brain is releasing oxytocin, which plays a role in his loving feelings toward you.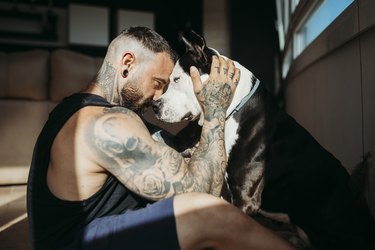 Are cats and dogs animals that fall in love? Cats also produce oxytocin (though at levels about five times lower than dogs) in response to eye contact with their humans. This lines up with our understanding of cats being more solitary, but it doesn't mean that they don't experience love.
When asking whether cats fall in love, we can look to their behaviors and interactions with other cats as well as their human companions. Both dogs and cats show love through physical affection, excitedly greeting us, spending time with us, and showing that they feel safe with us. They do the same with members of their own species. Two cats who started out as unsure acquaintances may over time develop a cuddly relationship, showing that they trust each other enough to be physically close. They may also enjoy the affection or maybe just the body heat.
Dr. Marc Bekoff, a researcher and professor of animal behavior, believes that animals can love in their own way. He says if we define love as a long-term commitment in which individuals protect each other, seek each other when they're apart, and are happy when they're reunited, then our pets do experience love.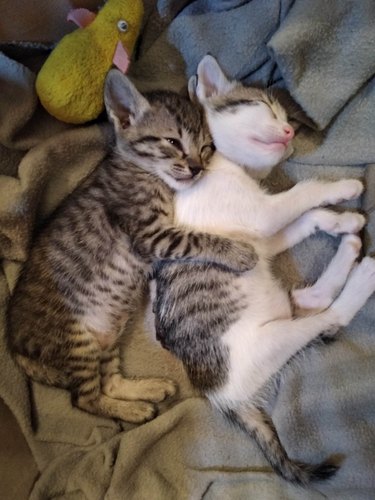 If you share your home with an animal companion, you've likely asked yourself, "Can dogs fall in love? Can cats fall in love?" Research has shown that both dogs and cats produce oxytocin, a bonding hormone, in response to eye contact with humans. Observations in the lab and at home show the ways that pets express their love: trust, physical affection, and quality time.
Whether or not they experience romantic love in the way that humans do is unclear. Your pets may not be able to use words to express their love, but they display it in their body language and behaviors, and their brains reflect this.