If you need to female cat names for your feline friend but aren't sure where to start, you've landed in the right place. Considering an abundance of names can help you land on the perfect fit, or may inspire you to find the right one for your cat. You're about to make a big decision — let us help you with this list of 300 names for female cats!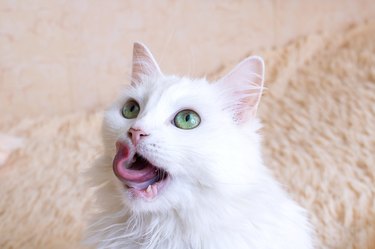 Whether you've just adopted the kitten of your dreams or you're considering adding a cat to your family's lineup, the name you give your cat is very important. Not only does research show that cats can recognize their own names, but the same studies also reveal that cats totally ignore you when you call them, which means you'll be saying their names a lot! When it comes to choosing girl cat names, the possibilities are endless, which can be overwhelming. To make things a little easier and more fun for you, we broke things up a bit so you can navigate your way to the right name for your female cat!
Abigail
Alexa

Alexandra

Alice

Amaya

Amazon

Amber

Amelia

Amy

Ana

Anastasia

Anise

Annabelle

Ariana

Ariel

Artemis

Arya

Ash
Augusta

Aurora

Ava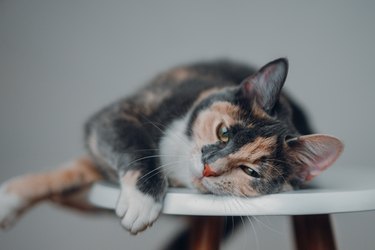 Babe

Bailey
Banshee

Baroness
Batty
Beauty

Bella

Belle
Bertha
Birdie

Bitsie

Blossom

Boots
Bridget Jones

Brooklyn

Bug

Cairo
Caroline

Cashew

Cersei

Chai

Chanel

Charlotte

Cherry

Cheshire

Chesnut
Cinder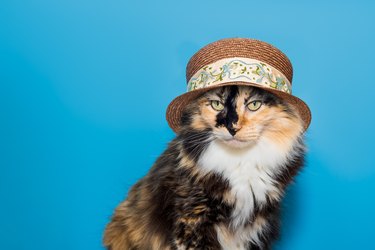 Crystal
Cups

Daisy

Dandelion

Darkness

Diamond

Diana

Diva

Domino

Dot

Duchess
Earrings

Echo

Eclipse

Eleanor

Electra

Elizabeth

Ella
Emily

Emma

Erin Brockovich
Eunice

Eureka

Eve

Evelyn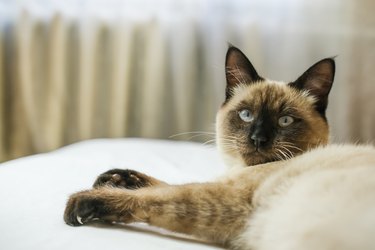 Unique female cat names: F–O
Didn't see what you were looking for in the first part? Here's a long list of more girl cat names where you might find the perfect fit!
Faith
Felicity

Fergi
Florence

Freya

Frida
Gaia

Galactica

Gemini

Ghost

Gigi

Gillian
Gorgeous

Grace

Gretel

Gwyndolyn

Harley
Helena

Hera

Hermione
Hope

Imogen

Isabelle

Isla
Jane

January
Jemima

Joy

Juno
Kate

Keesha

Khaleesi
Laces

Lady Bug

Lakota

Leia

Leila
Lesley
Lil' Kim

Lily

Lipstick

Liv

Lolita
Lottie

Louisa

Lulu
Mabel
Madison

Maisie

Majesty

Malibu

Manhattan

Maple

Marbles

Margaret

Marge Gunderson
Mary

Mary-Kate

Mathilde

Maud

May

Maya
Medusa

Mia

Millie

Missy

Misty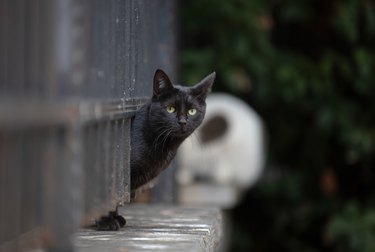 Mittens

Mona
Nakita

Nala

Nicola
Oatmeal

Octavia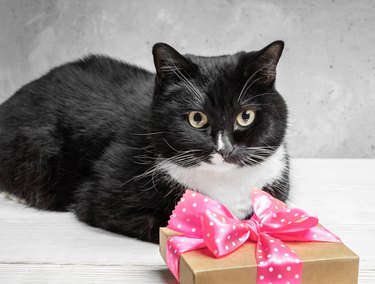 Cute and creative female cat names: P–Z
Finally, the end of the alphabet holds some super strong, silly, and playful female cat names for female felines.
Page

Pandora

Paris

Patricia
Pearl

Pebble
Pennies

Persephone
Petals

Phoebe
Pico

Pippa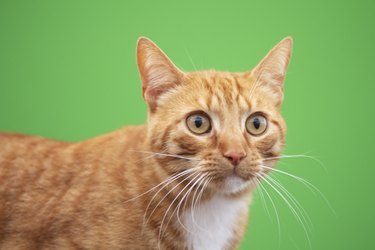 Pixie
Porsche

Princess

Prunella
Puma
Queen
Rayne

Reese

Regina

Ripley

Roo

Rosamund

Rose

Roxy

Royal

Ruby

Sable
Sahara

Sassy
Scrappy

Sequoia

Shimmer

Shiva

Sierra

Silhouette
Slippers

Socks

Sophie
Star

Starling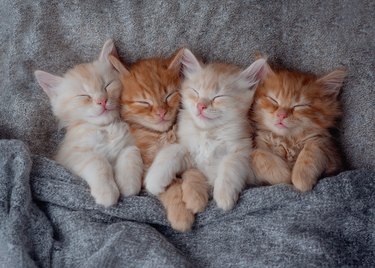 Stella

Stitch

Storm

Sue
Sweetie
Swift

Sylph

Taffy

Taka
Tiger

Tinkerbelle

Tiny
Tootsie

Tulip

Twiggy
Valkyrie

Velvet

Venus

Victoria

Violet

Vixen

Wednesday

Whiskers
Xena
Zara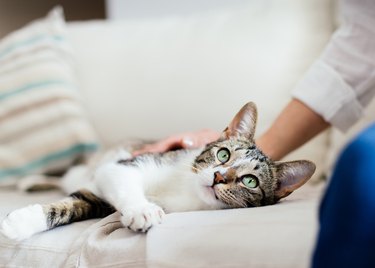 Top female cat names and their meanings
Part of finding the right name for your cat includes knowing what the name means! Matching the traits associated with these girl cat names with your cat's unique personality might inspire the right fit.
Adele: Noble
Agatha: Good, honorable
Athena: The Greek goddess of wisdom
Beatrice: Voyager
Bertie: Noble, famous, bright raven
Betsy: Daughter, a worshipper of God
Chloe: Blooming
Cleo: To praise, acclaim
Dana: God is my judge
Darcy: Dark-haired
Ellie: Light
Elvira: Truth
Fern: A plant that represents the humility of solitude
Fifi: God gives
Ginger: Pure, chaste
Glenda: Pure, clean, holy
Hazel: A fruit from the hazel tree
Ivy: Vine
Jasmine: Gift from God
Kiera: Lord
Luna: Moon
Marie: Star of the sea
Marnie: From the sea, sparkling and shining
Natasha: Birthday of the Lord
Olive: Fruit from the olive tree
Penelope: Weaver
Raven: Dark-haired
Sabrina: Legendary princess
Sadie: Princess
Scarlett: Red
Scout: To listen
Tess: Late summer
Valerie: Healthy, strong
Zoe: Life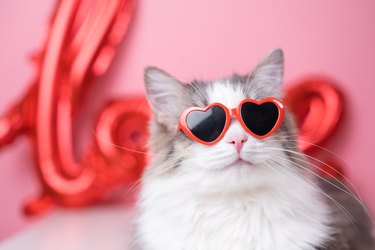 Female cat names that are inspired by food
Sweet, savory, and everything in between, these food-inspired female cat names are delicious and delightful.
Banana

Basil
Berries
Brandy
Candy
Cashew
Chai
Cherry
Chesnut
Clementine
Clove
Coco
Coconut
Coffee
Cola
Cookie
Crackers
Cupcake
Dumpling
Espresso
Falafel
Fudgie
Hershey
Honey
Jellybean
Kahlua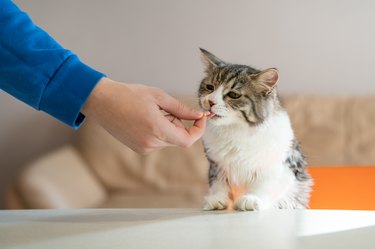 Lemon
Licorice
Macaroni
Marshmallow
Meatball
Muffin
Noodle
Nutella
Oatmeal
Oreo
Peach
Peanut
Pesto
Pickle
Pita
Plum
Popcorn
Poppy
Pudding
Pumpkin
Raisin
Sage
Sprinkles
Sugar
Sushi
Sweetpea
Taffy
Tofu
Twinkie
Wonton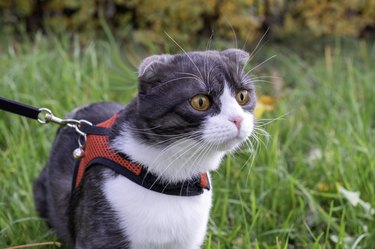 Do you need more inspiration for your new pet's name?
Pets are like our children. We love them, care for them, and we get to dress them up in adorable outfits — if that's a thing we feel like doing! So it's extra important that we take time to find the perfect name that reflects our new pet's personality and potential. Naming can be hard, which is why we've gathered nine pet-naming techniques to find the perfect fit, as well as assembled a handful of our most beloved lists of pet names!