In late 2013, Annie adopted a 3-year-old greyhound named Manny when she was looking for a "brave" male who was safe around smaller dogs, and this greyhound rescue fit the bill perfectly.
After a few years of happy pet parenthood, Annie noticed a small lump behind Manny's front bottom teeth. "I remember thinking it could be an infection or cut, [so I made] an appointment for my primary vet in two days. He was eating and drinking fine… nothing urgent. Skip to two days later and the lump had tripled in size!"
The vet recommended surgery immediately. Manny was licking, drooling, and dropping food, plus he was in a great deal of pain. The mandibulectomy was scheduled just a week later, with a follow-up treatment for 18 days thereafter. "He was such an absolute champion throughout the whole ordeal," Annie remembers. The surgery was successful and Manny returned to his playful, lovable self.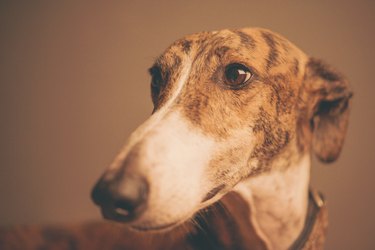 Unfortunately, it wasn't even a year after that initial mandibulectomy that Manny had to return to the vet due to lethargic behavior, coughing, and vomiting. "An x-ray showed a tumor in Manny's lung near his esophagus, causing his coughing, exhaustion, and refusal to eat."
A primary lung tumor was present in Manny's lungs (so rare it accounts for only 1 percent of all canine tumors) and had been forming for a couple months. A sonogram showed other large tumors throughout his lungs. Manny had about a week to live. "He was put to sleep at home, head on my lap, a week after diagnosis."
"I think my favorite memories of him involve me coming home from work — I often thought he'd literally explode from happiness — or at least hurt himself spinning 360 degrees and doing zoomies around the yard and house. My greatest pleasure was taking him to the dog park, letting him wander to the far end and then awing people as he raced full speed at me, barely stopping in time when I recalled him."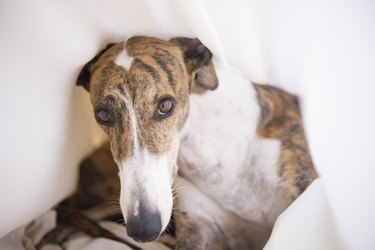 The best way to be prepared for potentially serious health concerns in your pup is to sign up for dog and puppy insurance. You'll be able to give them the best care possible without worrying about the cost. Healthy Paws covered $16,023 of the total $18,358 in vet bills for Manny.
Growths, lumps, and tumors are among the most common vet visits for dogs, and not too many pet parents are aware of the signs. "Any lumps or bumps should be checked, no matter the size," says Annie. Also, know your dog's breed (or breeds) and make sure your vet knows too. "When it comes to greyhounds, the breed can be even more stoic than others. Find a greyhound-savvy vet that understands that the has different diagnostic readings than other breeds."