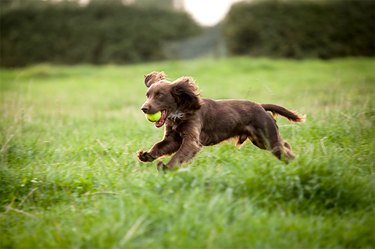 Ever since Whit Boykin bred the Boykin spaniel in the early 1900s, in an effort to create a smaller, lighter hunting dog to fit in their boats better than a retriever, South Carolinians have prized the breed as determined hunting dogs, yet sweet, active family dogs, too. In fact, the Boykin spaniel is the state dog of South Carolina. Boykins require minimal grooming, are easily trained, and can live a long, healthy life if given proper care.
Boykin spaniel characteristics
Male Boykin spaniels are medium-size dogs ranging from 15.5-18 inches tall at the shoulders and weighing 30-40 pounds, while females range from 14-16.5 inches tall and weigh 25-35 pounds. They are known for their medium length, solid coat colors ranging from liver (reddish brown) colored to dark chocolate brown, with a possible small, white spot on the chest but no other markings. Boykins also have an undercoat that keeps them warm, especially when retrieving in water, and light feathering on their ears, chest, belly, and legs.
Solid and sturdy, Boykins are sometimes affectionately called "little brown dogs." They are good swimmers and excellent retrievers, both in the field and the water. American water spaniels, Chesapeake Bay spaniels, cocker spaniels and springer spaniels are all Boykin spaniel ancestors.
Boykin spaniels have a lifespan of 10 to 15 years if fed a nutritious diet, given daily exercise, and regular veterinary care. The American Kennel Club (AKC) recognized the breed in 2009 in the sporting group.
Boykin spaniel temperament and training
It is important to remember that every dog is an individual, and breed is not a reliable indicator of personality. Overall, however, Boykin spaniels have a pleasant temperament and are affectionate and loyal to their family members, including children. And, if you are looking for a hunting partner, you can expect a determined, tenacious worker eager to flush out whatever you are looking for, from waterfowl to wild turkeys.
The Boykin spaniel breed is intelligent and eager to please, and is therefore fairly easy to train as long as positive training methods are used. For example, never punish a dog, but rather, give rewards such as praise or small treats for successfully completing each training task. Training sessions should be short, yet fun and rewarding for both of you. It is best to begin training at the young puppy stage before any bad habits can take hold. Early socialization will ensure that Boykin spaniels are comfortable with other dogs.
You might expect that dog breeds with such beautiful coats would require extensive grooming to keep it that way, but Boykin spaniels need just a good, weekly brushing. This will remove loose hair and most dirt, and keep their wavy hair from matting. A monthly bath is good for releasing all the dirt and keeping the dog fresh. If the two of you have been hunting, however, you may find a bath is needed afterward.
Boykin spaniel exercise and health
Before breeding, responsible breeders test dogs to be sure they do not have the health issues associated with Boykins, like hip dysplasia, juvenile cataracts, the collie eye anomaly, exercise induced collapse, patellar luxation, and degenerative myelopathy, which is fatal. If you adopt a rescue, however, you may not know their history, so your vet will examine them for signs of these serious diseases. Boykin spaniels generally have good health, but you can keep them healthy by cleaning their teeth and ears regularly, checking for signs of ear infection such as redness or odor, and taking them for regular checkups.
Daily exercise is important for active dog breeds with high energy levels like the Boykin spaniel. A long walk or run plus some play time is ideal. Perhaps an adult can take the dog on a run, and later, the kids will play fetch with their loveable pet.
In their first two weeks of life, Boykin spaniel puppies will get nourishment from their mothers, but it's important to be sure she is making enough milk at this stage to feed all of the puppies adequately. If not, you will need to supplement with a high puppy formula.
It's a good idea to begin training when puppies are around six weeks old. They are curious at this point, and eager to try whatever you ask. Start with one basic command like sit. When they sit on command, give them a treat. Positive reinforcement training like this works much better than punishment. It is also important to begin socialization so they will be comfortable around other dogs.
When their adult coats come in, at around five months, this signals the adolescent stage where they will be more daring and a bit willful, which can be controlled with training. Boykin spaniels are sexually mature at 8 to 9 months, and become adult dogs at 14 to 16 months old.