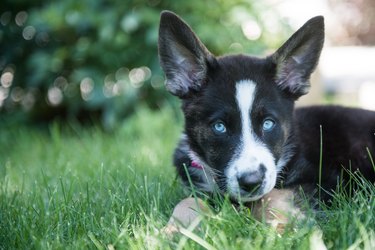 The gerberian shepsky, also known as the Siberian shepherd and the German husky, is the combination of the German shepherd and Siberian husky breeds. While it isn't recognized as a breed by the American Kennel Club, it is recognized by the Dog Registry of America and the American Canine Hybrid Club. These breeds are similar in several ways, and the ways in which they're different often work well together. Shepsky characteristics emulate both breeds, and their similarities and differences come together to make a highly intelligent and lovable dog.
Gerberian shepsky physical appearance
Shepskies are large, muscular dogs with an average height between 20 and 24 inches tall when measured from the withers (shoulders) and typically weigh 50 to 90 pounds. They're medium to large dogs with thick, fluffy fur that can be any combination of gray, white, brown, tan, black, and cream, in a variety of patches and patterns. Their eyes are typically brown or blue. Once in a while, a shepsky is born with two different-colored eyes, which is called heterochromia.
Gerberian shepsky temperament and behavior
Shepskies are intelligent and full of energy, so don't expect them to lounge around the house all day. They seek adventure and need a lot of mental stimulation. The hard-working nature of the German shepherd is complemented by the fun-loving nature of the Siberian husky. Together, you have a dog who loves to play and enjoy life but becomes a diligent worker when the situation calls for it.
They enjoy following directions, which makes them typically easy to train. Since these dogs are loyal and become very attached to the humans in their household, it could lead to some separation anxiety if they're alone during the day.
These dogs have thick coats and shed quite a lot, especially when warmer weather comes. Brush them at least a few times a week to help control shedding. A comb is the best option because it will grab the hair that has already fallen out, while some other types of brushes, like a rubberized brush, might pull out more hair than is necessary. Don't bathe your shepsky too frequently, as it can strip his skin of its natural oils. A bath once a month should do the trick.
Dogs need their teeth brushed (just like the rest of us) to prevent plaque buildup and infection, so remember to brush your shepsky's teeth daily. Cut his nails once a month or more frequently if they're getting long. Long nails can be uncomfortable for your dog, and there's a potential for injury if they get caught on something.
Potential health issues and recommended tests
All breeds have certain health issues to which they're genetically predisposed. For the gerberian shepsky, potential health concerns include juvenile cataracts, hip and elbow dysplasia, gastric dilatation-volvulus (also known as bloat), patellar luxation, epilepsy, progressive retinal atrophy, skin allergies, and blood disorders.
Your gerberian shepsky should undergo some health tests so you'll know what to expect and better prepare for any specialized care your dog may require. These tests include hip evaluation, elbow evaluation, and ophthalmologist evaluation.