I'm Mimi, and as a representative of the Cat Committee, it's my honor to present to you this year's top contenders for the best hallway to run up and down in the middle of the night! No two hallways are alike, so it's hard to compare, but these 21 examples are truly noteworthy.
1. Frankie's hallway has the best bounce! Very plush!
2. This hallway is the purrfect width for Oreo to stretch her legs.
3. Zoe and Stella have the best hallway for playing hide-and-sneak.
4. Day or night, Ozzy and Gus find that this is the best hallway for racing, especially when they can rope their human into the fun.
5. Gordo uses this stairwell to rest and reflect between mad dashes up and down the hallway.
6. We've seen Tipper reach some record setting speeds in this hallway!
7. It's the flight of stairs that lead into Tigger's hallway that really make it pop.
8. This hallway is full of fun handles for Sophia to jiggle, preferably about ten minutes before her peoples' alarm clock goes off.
9. The slippery floor in this hallway raises the stakes for Isis and Pepper to practice sparring!
10. When they're not running around, Zelda and Yoshi like to lay down in the dark and wait for people to trip over them. What fun!
11. The traction on the carpet in this hallway allows Pickles unprecedented speediness!
12. This cream and ecru hallway is Stormy and Rascal's preferred stalking grounds.
13. At night, Lucky uses this hallway for running, but during the day it's for getting nipped out and having a dance party.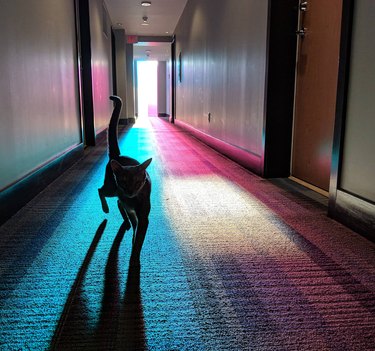 14. We adore this hallway's shadowy corners, which make the perfect hiding spot for Bubba to stash his toys.
15. Toby pulls some pretty sick stunts in this hallway! Sometimes.
16. This lovely, minimalist hallway has corners that are ideal for Kody to practice parkour.
17. This is Juanita, the feline pioneer of floor swimming, demonstrating her skills in the hallway where it all began!
18. Socks found a hallway with a built-in mechanism for driving humans crazy!
19. The addition of a balloon took Draco and Luna's hallway from average to top-of-the-line.
20. This hallway's tiled floor lends some interesting acoustic complexity to Mojo's two am excursions!
21. Sushi likens this hallway to having a water-free Slip 'N Slide. Whee!