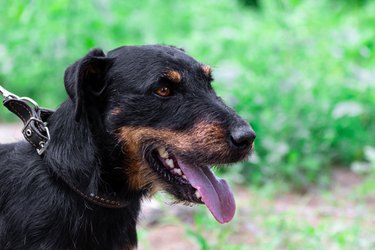 The jagdterrier (pronounced YAHK-terrier), also sometimes called the German hunt terrier, German jagdterrier, or Deutscher jagdterrier, is a small but tenacious hunting and sporting dog. Jagdterriers also make good family dogs for active owners. However, they should not be kept only as pets because they are happiest when given a job to do, such as hunting.
Modern-day jagdterriers all originate from four hunting dogs that were descendants of purebred fox terriers. After World War I, breeders in Germany crossed an old English fox terrier with a black and tan hunting terrier to create supreme, hard-working hunting dogs with natural hunting instincts who are also highly trainable.
Jagdterrier dog characteristics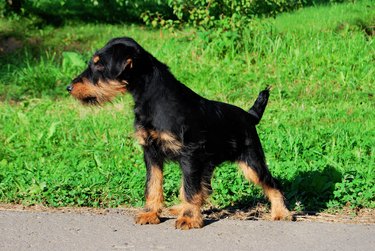 Just 13 to 16 inches tall at the shoulders, typical male jagdterriers weigh between 20 and 22 pounds, while females weigh 17 to 19 pounds. They have an elongated head, pronounced jaw muscles, V-shaped ears, and a slightly raised tail that may be docked or not but should be long enough for hunters to pull the dog out of a den.
The jagdterrier breed has a short, wiry coat that is either hard and rough to the touch or coarse and smooth, and it sheds minimally. The wiry coat offers protection when digging underground or in thorny areas. Coat colors are usually black and tan but can be black, black and gray, or dark brown. Tan markings show on the muzzle, eyebrows, chest, legs, and base of the tail, with yellow-red on the legs, chest, muzzle, and eyebrows. Some have white markings on the toes and chest.
Jagdterrier dog temperament & training
As sporting dogs, jagdterriers are very active, athletic, alert, clever, and brave. Their terrier breed gives them a strong prey drive coupled with a strong will. While hunting, jagdterriers never back down to even the most dangerous wild game, from raccoons to wild boar, bobcats, and bears.
Due to being naturally fearless and having a high activity level, jagdterriers require supervision around very small children but are suitably playful around bigger children. This breed can get aggressive with other dogs and is not intimidated by larger breeds, so they do best as the only household pet.
Being eager to please also means they are fairly easy to train, responding best to firm, consistent, and positive training methods as all dogs do. It only makes sense that dogs would want to repeat an action when they are rewarded for it with a treat or praise.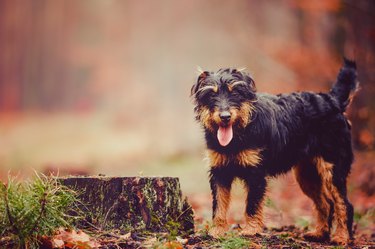 Jagdterriers should be bathed occasionally but groomed weekly with a bristled brush and a damp cloth to wipe away loose hair. Their nails are strong and grow quickly and therefore should be examined often for trimming. Brush their teeth and clean their ears regularly, examining them for signs of infection.
Jagdterrier dog exercise & health
Jagdterriers require lots of exercise, whether they are out hunting or on long daily walks. With their high energy level, they are most compatible with very active owners. Jagdterriers need a job to do and should not be kept only as pets. Due to their small size, they are suitable for apartment living and do not require a large yard. They will, however, be quite energetic in that apartment and will need to go outside for exercise.
Generally a hardy breed, some may experience eye diseases, such as glaucoma or cataracts, hip dysplasia, hypothyroidism, Legg-Calve-Perthes disease, or deafness. Make sure breeders tested the parents for these health issues or if the dog is a rescue, talk to your vet at checkups. Feed him a healthy diet of dog food appropriate to his stage of puppy, adult, or senior and take care not to overfeed with meals or treats. With ample exercise and regular vet checkups, jagdterriers have a life expectancy of 10 to 12 years.
Jagdterrier puppies do not get their adult coat until they are at least 1 year old, so their puppy coat is not an accurate indication of their coat type. Early socialization with people of all ages, including strangers, and dogs of all types and sizes is important for jagdterriers to be comfortable in all situations and to learn that not everything is to be hunted. Jagdterriers can be aggressive toward other dogs if not properly socialized.