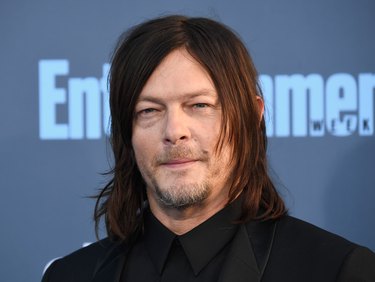 Last weekend, AMC's massively popular horror serial The Walking Dead returned to TV with its 100th episode, which also happened to kickoff its eighth season.
To promote this impressive milestone, the show's cast gathered in Los Angeles, where the season premiere was screened for fans and members of the media at the famed Greek Theater.
Among the actors walking the red carpet was Norman Reedus, 48, who plays Daryl, a badass redneck that likes to ride choppers and peg zombies — excuse me, walkers — through the head with his signature weapon, a crossbow.
Though it's easy to confuse Reedus for the tough-as-nails character he portrays, The Boondock Saints star is actually a HUGE cat dude, so much so that he actually brought his internet-famous fur baby, Eye In The Dark, along for the trip, something he revealed on Instagram, where he has more than 5.8 million (!!!) followers.
When he returned to his hotel room later that night, Reedus found Eye In The Dark chilling under a pile of pillows — and an adorable note from housecleaning, explaining why the bed was still unmade.
"We have acknowledged your request not to be disturbed," it read. "Cat on bed," it continued.
In an interview with US Magazine, the native Floridian and erstwhile model joked that while he was working the crowd, the inky domestic shorthair was feasting on hotel food at his expense:
"He comes everywhere with me. He doesn't like to be left alone. He racks up a major room service bill."
My kingdom for video of that phone call: "I WANT A PILE OF TUNA STUFFED WITH CHICKEN AND I WANT IT RIGHT MEOW."
Until such a day that it surfaces, let's content ourselves with additional snaps of this very good boy from Norman's timeline.
Would you slay a zombie to protect your pets? Share your thoughts in the comments below!