Create a sweet little hideaway where your furry friends can camp (er, glamp) out when they need a little "me" time. Tuck some fluffy pillows and soft blankets inside, as well as some of their favorite toys, and this tent doubles as a fun spot for rest and play. Oh, did we mention there's no sewing and it costs less than $20 to make?
Things You'll Need:
5 wooden dowels, 36 inches long

Canvas dropcloth or fabric of choice

Jute twine

Scissors
Hot glue gun

Pompoms (optional)
Tip: This tent is designed for cats and small dogs. If you have a larger dog, you'll need to use longer dowels.
Step 1
Line all five dowels up horizontally and thread the twine under the first dowel. Be sure to pull through a long piece of twine, as you'll need to wrap it around all five dowels.
Step 2
Tie a double knot around the first dowel.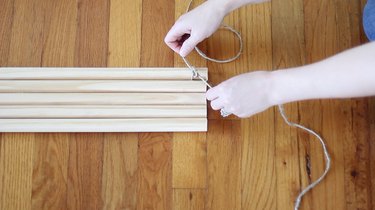 Step 3
Thread the twine under the second dowel and tie a double knot. Continue in this manner tying a double knot around each dowel.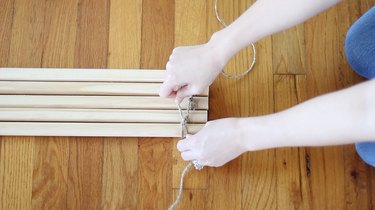 Step 4
Now wrap the twine around all five dowels several times, binding them tightly together.
Be sure to keep pushing the dowels flat and lined up as you wrap.
Step 5
Now wrap the twine in between each dowel several times.
Step 6
Cut off the excess twine and secure it with a double knot.
Step 7
Stand the dowels upright and spread them apart so the back three are evenly spaced and the front two have a wide enough opening for kitty or puppy to pass through.
Step 8
Wrap the fabric around the dowels, centering it so the opening is even on both sides.
Secure the front of the fabric with a clip or clothespin.
Step 9
Cut off the excess fabric around the base of the tent, leaving it long enough to just touch the ground.
Step 10
Fold the raw edges under, and glue them for a cleaner hem.
Step 11
Remove the clip and glue the front seam together at the top of the tent — just about 3 inches or so. Leave the rest of the fabric below that open.
Step 12
Fold the fabric in the front opening inward so that it's wide enough for your pet to enter and exit the tent. And because we really like cute stuff, we suggest you glue some pompoms along the front opening, and also hang a couple of them around the dowels in front.
Now just tuck a cozy rug and some pillows inside, and it's all ready for your furry friends to enjoy.