Adopting a dog is a big commitment and you need to find the right breed that fits your lifestyle. It's important to note traits like size, energy level, and personality when finding the perfect dog for you! Researching different breeds is a great way to start off the adoption process!
The Basics
The Bracco Italiano is a medium to a large-sized dog with an adult weighing 33-88 pounds, according to The American Kennel Club. Bracco Italianos can be up to 26 inches tall. Life expectancy of the Bracco Italiano is 13 years.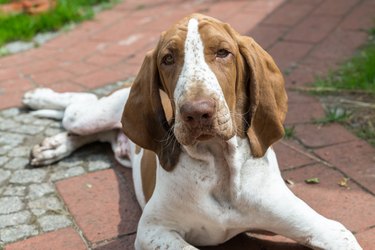 The History
On February 19, 1949, the definitive standard was developed by the Italian Kennel Club.
The Personality
They do have an active personality, so an owner with time and patience to exercise this dog properly will be needed.
The Appearance
The Bracco Italiano is large, strong, and muscular. They also have a fine, short coat. They have a distinctively shaped head, long ears, and well-developed jowls, resembling the bloodhound and basset.
Bracco Italiano essential facts:
Personality: Active, smart, loving
Energy Level: Medium energy
Barking Level: Barks when necessary
Shedding: Occasional
Grooming: Weekly
Good with Children: Yes
Trainability: Responds well
Height: up to 26 inches
Weight: up to 88 pounds
Life Expectancy: 13 years