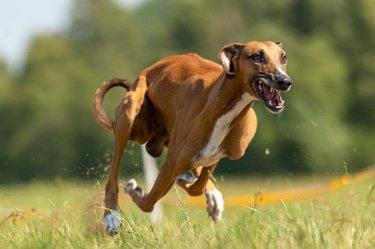 The Azawakh once roamed Africa with nomadic tribes helping them hunt and survive. This is a rare and somewhat shocking breed at first sight, because they are remarkably lean — and fast. But their appearance is understandable, considering their hot climate origins. The Azawakh dog has a short, fine coat that can be any color or any color combinations such as red, sand, brindle, blue, black, and brown.
These dogs have almost comical long necks and legs, and sometimes a large black mask across their face. Azawakhs can have white markings on the legs, bib, and at the tip of their tail. Unlike other purebred dogs, there is no color or color combinations that disqualify the Azawakh from the dog show ring, according to American Kennel Club breed standards.
The Azawakh is a West African sighthound who originates from the countries of Burkina Faso, Mali, and Niger. Specifically, this breed is from the Azawakh Valley in Africa, where nomadic tribes bred the Azawakh as guard dogs for livestock and as hunters. Interestingly, these dogs didn't hunt like other sighthounds. Instead, they work in packs, exhausting the prey, then using their hindquarters to disable it.
This Afro-Asiatic breed made its debut in the U.S. in the mid-1980s. The Azawakh has been recorded in the Foundation Stock Service since 1997 and is part of the AKC's hound group along with the Greyhound, Basset Hound, and Bloodhound — although they have more in common with the Saluki or Sloughi.
The Azawakh breed characteristics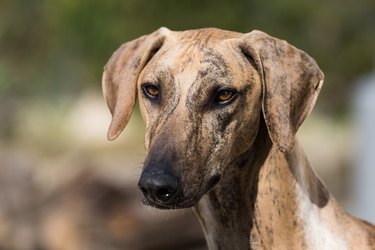 The Azawakh is a small to a medium-sized dog ranging from 33 to 44 pounds for females and 44 to 55 pounds for males, according to the American Kennel Club. The Azawakh can range from 22 to 29 inches in height, although females are usually slightly smaller than males. Like other large dog breeds, the life span of the Azawakh can be up to 15 years.
These dogs were bred to run. According to reports, the Azawakh breed can cover the ground in short bursts of up to forty miles an hour, which makes the Azawakh the cheetah of the dog world.
The Azawakh temperament & training
Azawakhs are gentle and affectionate with their families and are huge lovebugs with their pack, but with strangers, they can be standoffish. Owners have described them as a wonderful combination of loyal and independent. True, breed is no guarantee of temperament. But, generally, the Azawakh is affectionate, gentle, and playful.
However, due to their sighthound background, the Azawakh has an intense prey-drive and is likely to chase animals people on bicycles or skateboards, or even running children. They are a wonderful running buddy but also enjoy snuggling on the couch at home. The Azawakh can be good with young family members but should be supervised. This dog breed is ideal if you're active or moderately active and usually barks only when necessary.
True of all dog breeds, especially those originally trained to be guard dogs, training is important. It's best to start training and socializing them as a puppy, after four months old and the second round of vaccinations are complete. Research trainers who are advocates of positive reinforcement training for long-term success.
Because of their short coat and ultra-fine hair, the Azawakh is a moderate shedder and easy to groom, needing only occasional brushing. A quick wipe-down with a cloth once a week should be enough to keep the Azawakh's coat in good condition.
While it's not specifically a grooming issue, remember that Azawakh's are warm climate dogs originally from West Africa. They will get cold easily so will likely need sweaters and coats in cooler temperatures. It's not a fashion statement, but in some cases a necessity.
The Azawakh exercise & health issues
Remember what this dog was bred to do for thousands of years: run and chase prey. Therefore, this is very athletic dog that requires several walks a dog and even enclosed places to run. Because they have a strong prey drive, taking them off a leash in an unfenced area is not advised because they will likely chase, very quickly, rodents, cats, or wildlife. According to breeders, this is also not a dog that likes being locked up, tied up nor left alone.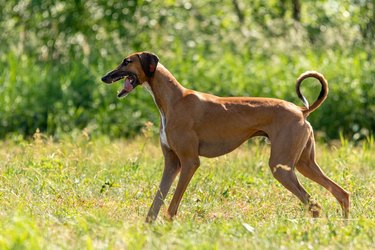 Azawakhs are a slender muscular breed, and a healthy weight dog will have bone structure and muscles visible under their skin. What might look like an underfed dog with health problems is actually the correct sized Azawakh. If exercised regularly, they are overall a healthy dog, though the breed can be prone to hypothyroidism, seizures, bloat, and diseases of the spine.
The Azawakh is considered an exotic breed; however, it is one of the few African dog breeds sold in the United States. Even so, Azawakh puppies will be hard to find because there are few breeders. Puppies will be expensive.
Finding reputable breeders of purebred dogs can be challenging, and the Azawakh is not a common dog breed, so might be even harder to find. In North America, either the American Kennel Club or the Canadian Kennel Club can be excellent sources for finding both kennels and breeders.