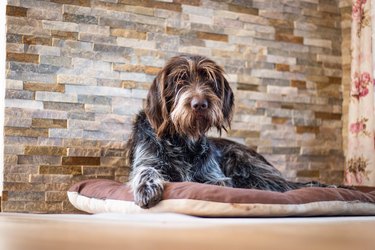 The national dog of the Czech Republic, cesky terriers, also called Czech terriers and Bohemian terriers, are beloved in the United States too even though it is estimated that there are only about 600 of them nationwide. They were officially recognized by the American Kennel Club in 2011 in the terrier group. Though the cesky terrier was bred to be a hunting dog for small animals, like fox, rabbits, ducks, pheasants, vermin, and even wild boar, they are also great family dogs.
Cesky terrier characteristics
The cesky terrier is a purebred, small dog between 10 and 13 inches tall as an adult and weighing 14 to 24 pounds. Their expected life span is 12 to 15 years.
The cesky terrier's head is shaped like a long, blunt wedge, with natural drop ears. The cesky is longer than he is tall, with a slightly arched loin and rump. They sport a soft, long, silky coat in one of two shades: the more common gray-blue, ranging from charcoal to platinum, or a light, coffee brown.
The cesky terrier was developed by Frantisek Horak, a Czech geneticist, beginning in 1949 and was first shown in Czechoslovakia in 1959. Horak crossed a male Sealyham terrier with a female Scottish terrier in hopes of developing a short-legged, light hunting dog who is easy to groom and train.
Cesky terriers were recognized by the Czech Federation Cynologique Internationale in 1963. Since the cesky terrier has been the most successful of the Czech national dog breeds, they have been featured on postage stamps, on television, in books, and even in a movie.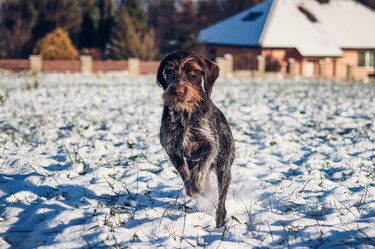 Cesky terrier temperament and training
Although breed alone is not a good indicator of personality, cesky terriers are loyal family members who are good with children and other dogs, and they make decent watchdogs. They are more laid back than other terrier breeds, but due to their reserved nature, cesky terrier owners must help them with socialization to become accustomed to strangers.
Be careful leaving these dogs outside unsupervised, however, as they are earth dogs and love to dig. Adventurous and smart, they will find something to do that may not always be to your liking. They have a typical terrier prey drive and will chase small animals. Happy and curious, cesky terriers are easy to train if positive reinforcement training methods are used and if training begins when they are puppies.
Cesky terriers need to be groomed regularly every six to 10 weeks or so to keep their hair looking silky and unmatted, especially the underarm area. Use scissors or clippers to trim hair, paying attention to areas that are typically trimmed and not trimmed for the dog's traditional look. For example, on the face, hair should be allowed to form brows and a beard and only trimmed to keep it out of the eyes.
The lower legs, the belly, and the area under the chest should not be clipped, but all other areas should be clipped short. The transition between clipped and unclipped areas should be smooth and visually appealing. You may want a groomer to do the clipping with you supplementing when needed.
Cesky terrier exercise and health
Cesky terriers do not have a lot of exercise needs beyond daily walks. They do enjoy supervised outdoor time, perhaps playing with the kids. Exercise helps tame their somewhat high energy level as well.
Good breeders will have tested potential parents for known health problems of the breed, such as dysplasia, luxating patella, eye lens luxation, and Scotty cramp. Overall, cesky terriers are a healthy breed. With good nutrition, exercise, and keeping them at a healthy weight, they should have few health issues and a long life expectancy.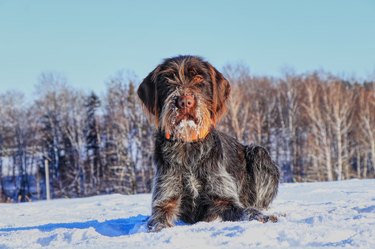 Puppies who will become gray-blue are born black, and those that will become light brown are born chocolate brown. They may have yellow, gray, or white markings or a white collar and white tail tip. The actual color of the adult cesky doesn't appear until around 3 years old.
Are you not sure if the cesky terrier is the right breed for you? Check out Dandie Dinmonts or kees (keyshonds) too.