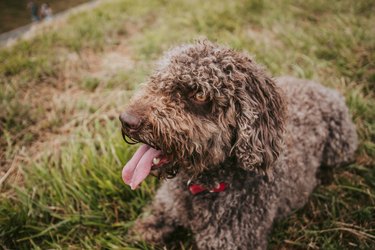 The barbet dog, pronounced "bar-bay," is a water dog who was used as a bird hunting dog in France. The breed was near extinction after the World War II, but breeders have kept the line going, and barbets were recognized by the American Kennel Club in 2020. This medium-size dog makes an excellent addition to your family home.
Barbet dog breed characteristics
Barbet dogs grow to between 19 and 24.5 inches tall and weigh 35 to 65 pounds when they are fully grown. The breed is a member of the American Kennel Club's sporting group.
Barbets are known for their thick, curly or wavy coat. The coat may be black, brown, gray, or fawn. Dogs may have white markings. The white coat color is also accepted under the breed standard, and white dogs may have markings in black, brown, gray, or fawn. The breed got its name from the distinctive beard the dogs sport.
Barbet temperament and training
The barbet dog is described as being bright, friendly, and sweet-natured. While breed is not an indicator of personality, most dogs of this breed tend to be social and cheerful dogs. In addition, they are loyal and have a calm nature, which makes them an excellent choice for a pet.
The breed is intelligent and tends to be eager to please. This makes it fairly easy to train them. The dogs can have a sensitive nature, so make training fun and only use positive reinforcement methods. As with all breeds, it is important to socialize these dogs and teach them basic obedience commands at a minimum.
Barbet grooming requirements
With their medium to long thick and curly coats, you may expect to find dog hair around your home. However, they are nonshedding dogs and rarely drool, which makes them fairly clean dogs to have in your household.
Their coat does need daily grooming to keep it healthy and prevent knots and matting. Make sure you comb the hair all the way to the level of the skin, as mats can easily form if you are only brushing the surface of the coat. If you prefer less grooming, you can always take your pup to a groomer for a haircut. With shorter hair, you may only need to brush your pup a couple of times a week.
In addition, barbets have fast-growing nails. Make sure you check your dog's nails each week and trim them as needed. Check and clean their ears each week.
Barbet exercise and health
Barbets have moderate exercise needs and need some daily activity. They are water dogs, so they will enjoy a swim in a pool or pond if you have access to that in your area. They also enjoy play time in the backyard or at a dog park. Be aware that they have earned the nickname "mud dog," so be prepared for your pup to come back from the park needing a good bath. Consider participating in a sport with your pup to meet his exercise and social needs. Barbets do well in dock diving and agility.
When you are looking at barbet puppies for your family, be aware that the breed does have some genetic health concerns. Some conditions to which barbets are prone include allergies, progressive retinal atrophy, seizures, and hip and elbow dysplasia. Buying from responsible barbet breeders who perform the recommended health testing can help ensure you get a healthy pup.