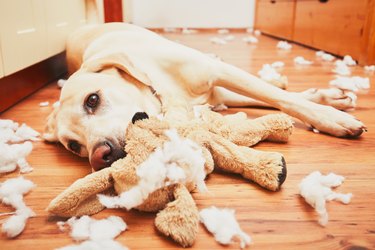 Understanding the signals
Understanding the two major reasons dogs chew up everything while you're away will help you fix their behavior.
Sometimes they miss you and love the strong stench of the objects that smell the most like you. If that scent comes in the form of your smelly leather shoe, that's even better — since, instinctually, leather reminds them of chewing on dead animals.
How to train a puppy not to chew.
Step 1: Keep a puppy in restricted quarters when you are not around. Remove any item that would be unsafe for the puppy to chew, and every item that you don't want chewed. Puppies chew instinctively and in reaction to their growing teeth.
Step 2: Give your puppy one or two sturdy, top-quality chew toys. Play with the puppy using the chew toy to get him interested in it. Consider using a hollow toy that you can fill with peanut butter or treats.
Step 3: If the chewing strays to unacceptable items, say "no" calmly and remove the item. Give your puppy the chew toy instead and give some verbal praise.
Conclusion
If you teach your pup to cherish their toys by making them desirable through constant play, your dog will focus more on their possessions rather than yours.
When you do catch your dog chewing, gently let her know that the behavior isn't okay. Since dogs are like little zen masters, they only live in the present moment. You can't correct behavior in the past because they won't understand the problem. If, however, you stay vigilant and always let them know what they can and cannot chew while they're actually chewing it, they'll catch on in no time.