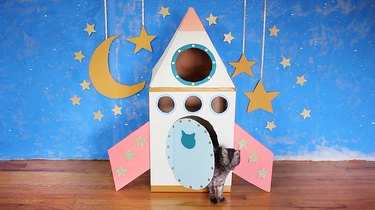 Get ready for blast off because we're pretty sure you're going to find this cardboard rocket ship out of this world. Just a couple of boxes, some paint and a few hours is all it takes to send kitty over the moon about her new digs.
Things you'll need
2 large cardboard boxes
Box cutter
Scissors
Painter's tape
Measuring tape
Non-toxic acrylic craft paint
Paint brushes
Paint dauber
Hot glue
Gold glitter paper

Step 1
Tape the bottom of a large cardboard box shut and cut off all four flaps on top of the box.
Step 2
Break down a second large cardboard box into scraps and use the scraps to cut out four large triangles that are identical in size and have the same width as the box.
Step 3
Tape the four triangles to the top of the box, forming them into a pyramid-shaped roof.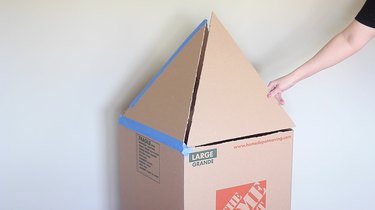 Step 4
Use a box cutter to cut out a door on the front of the box. Make it large enough for kitty to enter and exit. Remember that you'll need to leave one side of the door attached to the box. I went with a long oval-shaped door to give the appearance of a space hatch.
Tip: I freehanded the shape of the door on the box with chalk before cutting since it's easy to erase and paint over.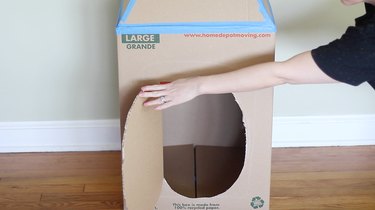 Step 5
Now it's time to give your rocket ship some windows. Before cutting, I used a mug to trace three small circular windows above the door and a salad plate to trace a round window on the top of the ship.
Step 6
Paint your ship using your favorite colors, but be sure to use non-toxic paint since your feline friends will be in close contact with the rocket ship. For reference, I chose an ivory color for the ship, French blue for the door, mallard green and periwinkle for the window trim, peach for the roof tip, coral for the wings, and gold for accent stripes.
If you decide to do stripes, tape off those sections with painter's tape to ensure clean, crisp lines.
Step 7
Use a paint dauber to create rivets around the door and windows in coordinating colors. The rivets definitely add more of a space hatch feel, in my opinion.
Step 8
Use scrap cardboard to cut out two rhombus-shaped rocket wings. Paint them and then hot glue a wing to each side of the ship.
Step 9
You guessed it — it's time to add some cuteness. I glued three glittery stars to each wing and a teal cat head silhouette (printed off the internet and cut out of cardboard) to the front door.
Now, tuck a cozy blanket inside the rocket and grant kitty permission to board the ship!