Pet parents know that their cats can have a sneaky sense of humor. They love to knock cups off of tables, lay across the novel you're attempting to read ,or cozy up for nap on your head. With all of this mischief, one has to wonder if our cats are constantly laughing at our misfortunes (that they usually cause). But can cats laugh? Is laughter even possible for these trouble-causing creatures?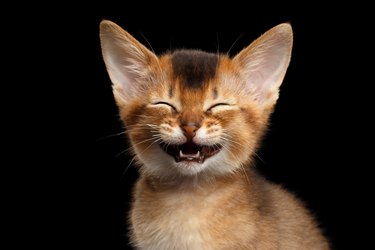 Do cats laugh?
Scientists have yet to prove that cats can laugh and research on the topic is not readily available. But based on observations, it is generally believed that not only are cats unable to smile, they cannot laugh either.
Nicky Trevorrow, behavioral manager of the UK's leading feline welfare charity, explains that cats have evolved to not show emotions in order to survive in the wild. It is possible, however, to get a read on how your cat is feeling through his body language.
Animal behaviorist Patricia Simonet conducted a study that discovered a type of "doggy laughter" that best resembles quick and heavy panting. When it comes to cats, however, the closest sound of joy they make is purring. While it can definitely point to a content kitty, purring really sounds nothing like laughter.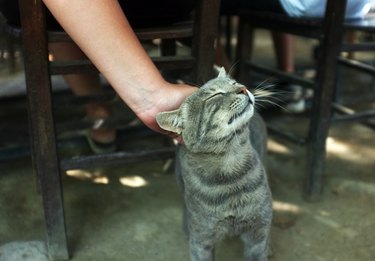 How do I know my cat is happy?
Claiming our cats can laugh is a clear sign of anthropomorphizing, which is an attempt to ascribe a human trait to something that is not human. Cats have their own special way of telling us they are happy, however. They don't need laughter!
Always check with your veterinarian before changing your pet's diet, medication, or physical activity routines. This information is not a substitute for a vet's opinion.
Purring
Perhaps the easiest way to know your cat is content is by listening out for their adorable purr. Purring can also be a sign of self-soothing during distress so the best purrs are paired with other signs of happiness.
Meows
Cats that are "talkative" tend to meow more when happy than sad or stressed. Happy meows usually come in at a higher pitch.
Eyes
Watch out for those slow blinks! A slow blinking cat can be compared to a human on a tropical vacation. When a cat's eyes are dilated, he is indicating arousal or happiness. Combine dilated, slow blinking eyes with a soothing purr, and you've got yourself pure bliss.
Playtime
Although it may include some scratches and bites for you, a playful cat is a happy cat! Cat play can include sudden pouncing, slow-motion invasions, and biting. Their play habits mirror their hunting habits. If your cat is hunting your hand or a stringy toy, this is a clear sign of fulfilling fun and happiness.
Practical Jokes
Last but not least are the practical jokes! If your cat is indeed knocking cups off of counters or sleeping on your face at 3 a.m. it's a safe bet he's laughing on the inside. No way this guy isn't cracking up ... internally.