This Vintage Pet Retirement Home Gives Senior Dogs A New Leash On Life
Cuteness may earn compensation through affiliate links in this story.
When a human gets older and can no longer care for themselves, there are places to provide for them — retirement communities and nursing homes that provide the round-the-clock care that the elderly sometimes need. But what happens when pets age and there's no one around to care for them?
That's where Vintage Pet Rescue comes in. Vintage Pet Rescue is a retirement and hospice home for senior animals based in Rhode Island. The shelter specializes in providing love, attention, and much-needed medical care for pets in the final months or years of their lives.​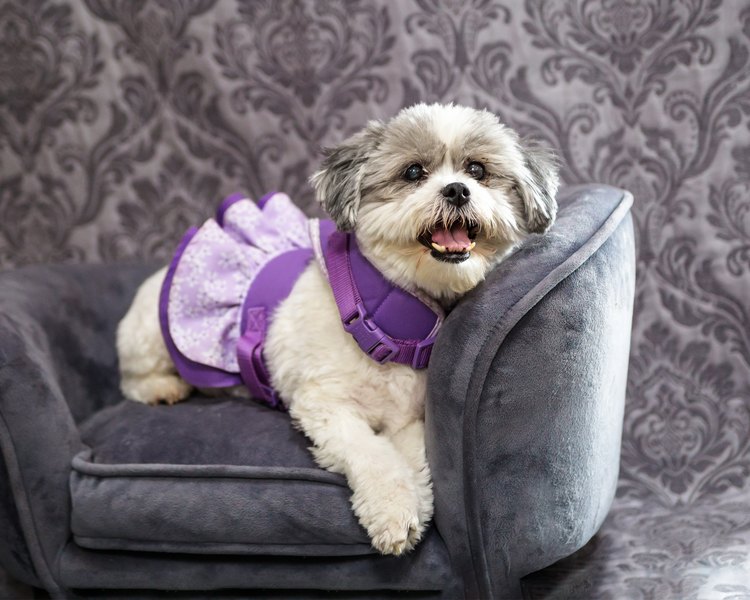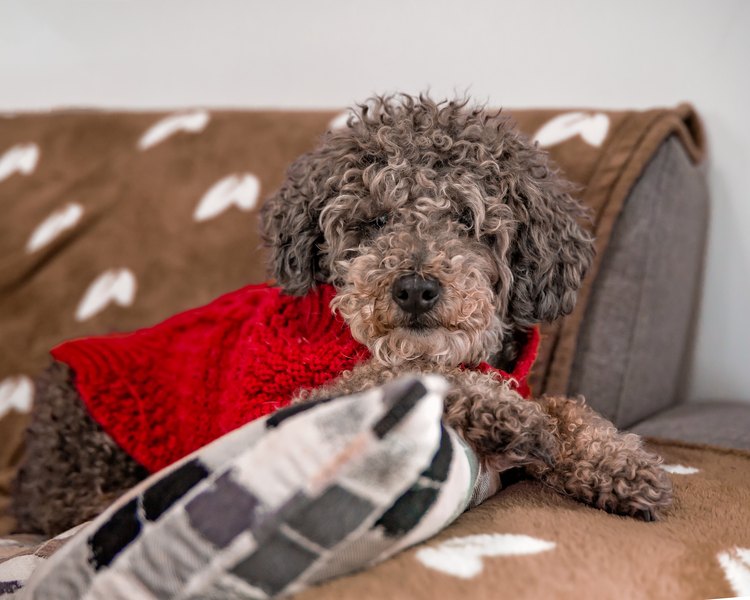 "We wanted to create a space that was bright, colorful, happy, and comfortable for our residents and visitors," co-founder Kristen Peralta explains. "The space is filled with comfy dog beds, couches, colorful artwork, and water dishes. We have a large, fenced-in backyard so the pups can spend their time inside or outside."
Kristen and Marc Peralta, who met at the No-Kill Los Angeles Adoption Center in 2013, founded Vintage Pet Rescue in 2017. The couple moved from California to Rhode Island in August of last year and, within a month, they had launched the pet retirement home and hospice with full support from the local community, including other shelters and rescue groups in the area.
The Peraltas both have been working with animals for years, so it only seemed natural for the couple to take their experience and immense love for animals and start a shelter of their own. Of course, Vintage Pet Rescue fills a very specific niche, providing care for a group of animals who are too often overlooked by individuals looking to rescue or foster.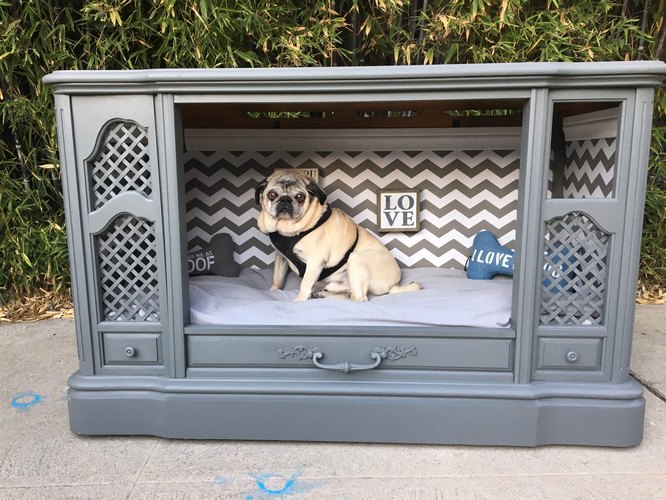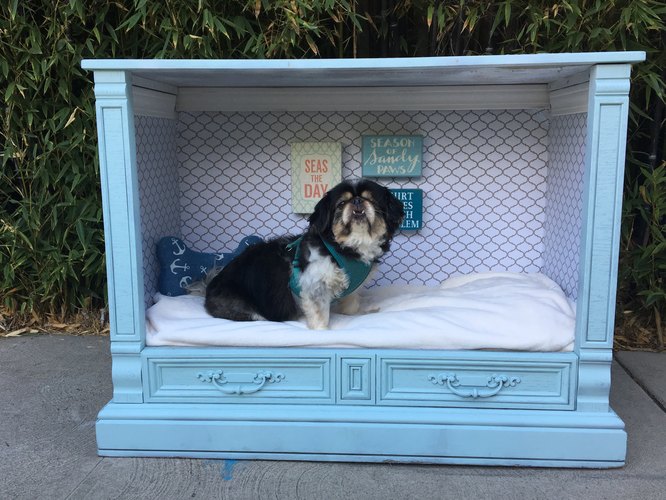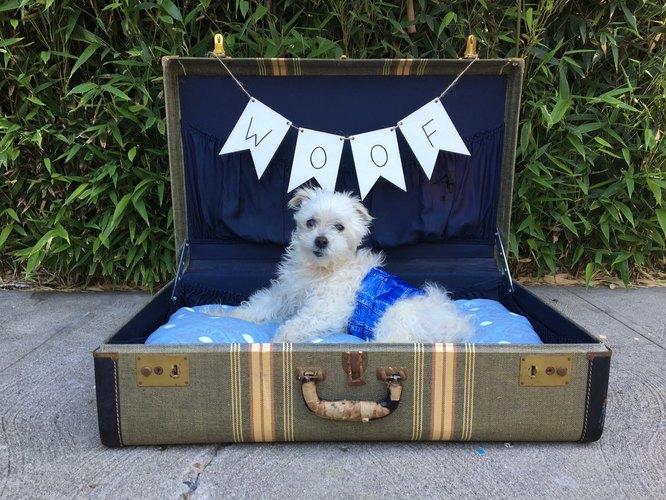 In addition to taking in "vintage" animals, the couple is always on the lookout for vintage furniture in need of some TLC. The rescue is furnished with vintage pieces that Kristen restores and repurposes into pet-friendly beds.
Kristen makes time to do all the furniture restoration herself and says it's her way of relaxing after a busy week of saving senior pups.
"I absolutely love thrift stores, yard sales, and flea markets and I love creating something beautiful and new out of something old," she says. "I also hate seeing things get thrown in the trash when they could be used for something else. Right now, I do all the refurbishing myself. It's how I relax so I try to find the time, even if it's just a few hours a week."
Vintage Pet Rescue welcomes senior pets from all walks of life and with an array of health issues. The only requirements are that potential residents be at least 10 years old and get along well with other dogs. When a senior pet isn't considered a good candidate for adoption or just requires more care than their forever family is able to provide, Vintage Pet Rescue steps in to make sure the dog gets the attention and medical care they need during the last of their time on earth — however long that might be.
The Peraltas first hospice senior, Rue, was a perfect example of how impossible it is to predict how long a dog will stay in their care. Rue, who Kristen describes as "a little, old lady Maltese" was only expected to stay with the couple for a few months, but ended up living with them for more than a year and a half and leaving a lasting impact on their future plans.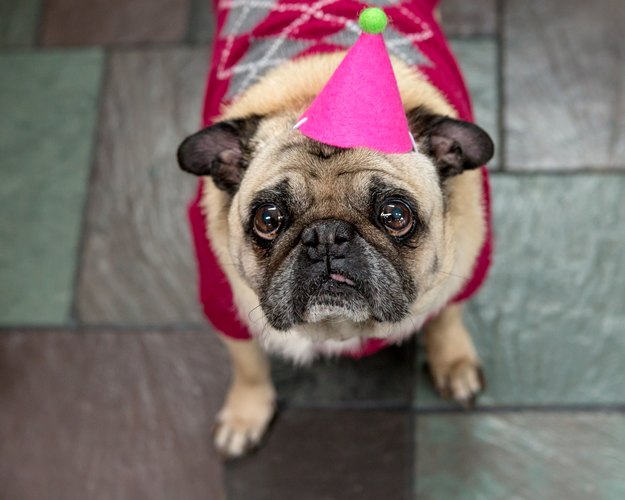 "We don't like to take highly-adoptable dogs — they should have the opportunity to be adopted to a family," Kristen explains. "So most of the dogs we take in have medical conditions that make them harder to adopt out."
As the shelter grows and gains more attention and notoriety, the Peraltas expect to see applications rise. While they can't offer a home to every senior pet in need, they aim to help shelters and owners find a place for their senior dogs, even if Vintage Pet Rescue can't accommodate them.
"Unfortunately, we cannot take in every senior pet, but we always try to offer some guidance to people looking to re-home their pet," Kristen says. "Our goal is to implement a foster program in 2018 that will allow us to care for more senior animals."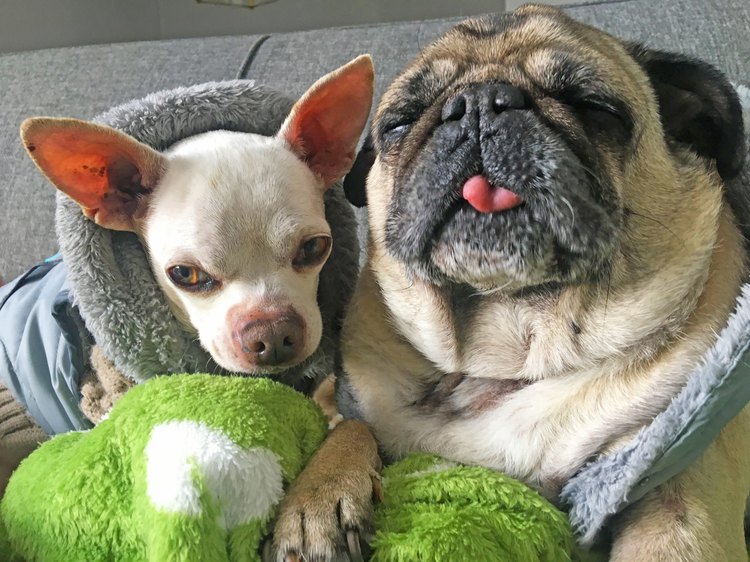 While running Vintage Pet Rescue is a rewarding and worthwhile endeavor, it's not without its challenges. The nature of the work they do means that Kristen and Marc have to deal with a great deal of pain and loss.
"Losing our residents is by far the most challenging aspect of running Vintage Pet Rescue," Kristen explains. "Unfortunately, that's just a fact of life when you take in senior and hospice animals. We just try to make sure that each and every day that they are here is comfortable and filled with love and treats."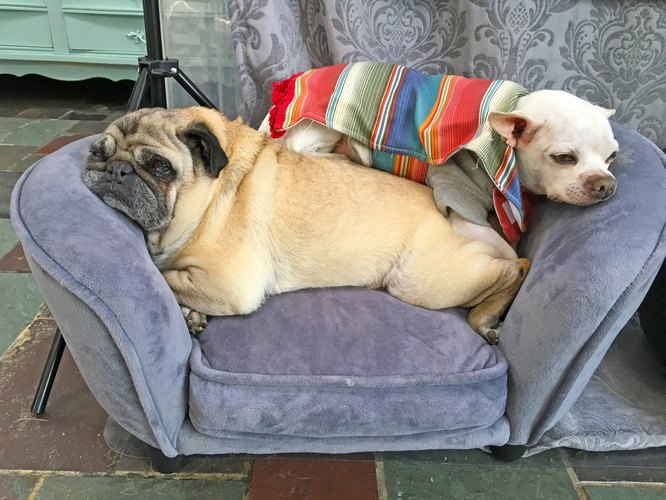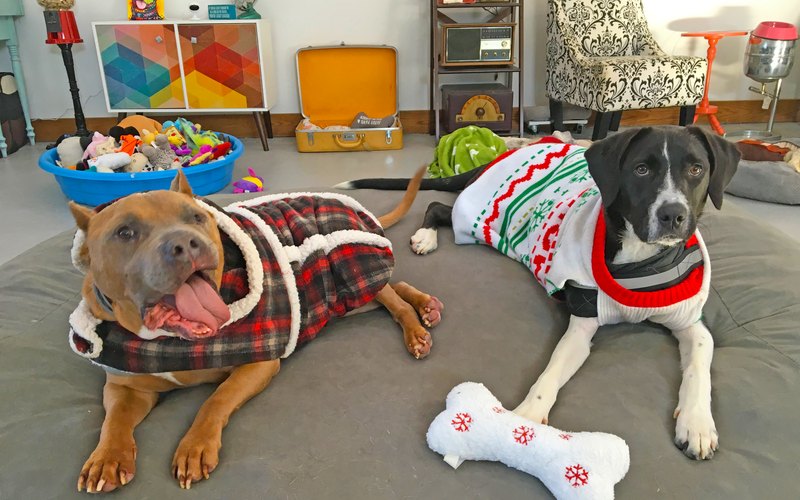 Vintage Pet Rescue depends on the community and other pet lovers to fund its work. The shelter is funded entirely by individual donations. The Peraltas say they're lucky to receive most of their food, supplements, and cleaning supplies as donations, which allows them to dedicate all of their monetary donations to veterinary and hospice care for their canine residents.
"Medical care for senior pets is very, very expensive and we are at the vet at least once a week," Kristen explains. "We do have a wonderful vet who gives us a rescue discount and also helps us with fundraising events at their practice. All of our vet bills are paid for with individual donations from our supporters. We honestly wouldn't be able to do this without those donations. We can easily spend $3,000 at the vet in a month."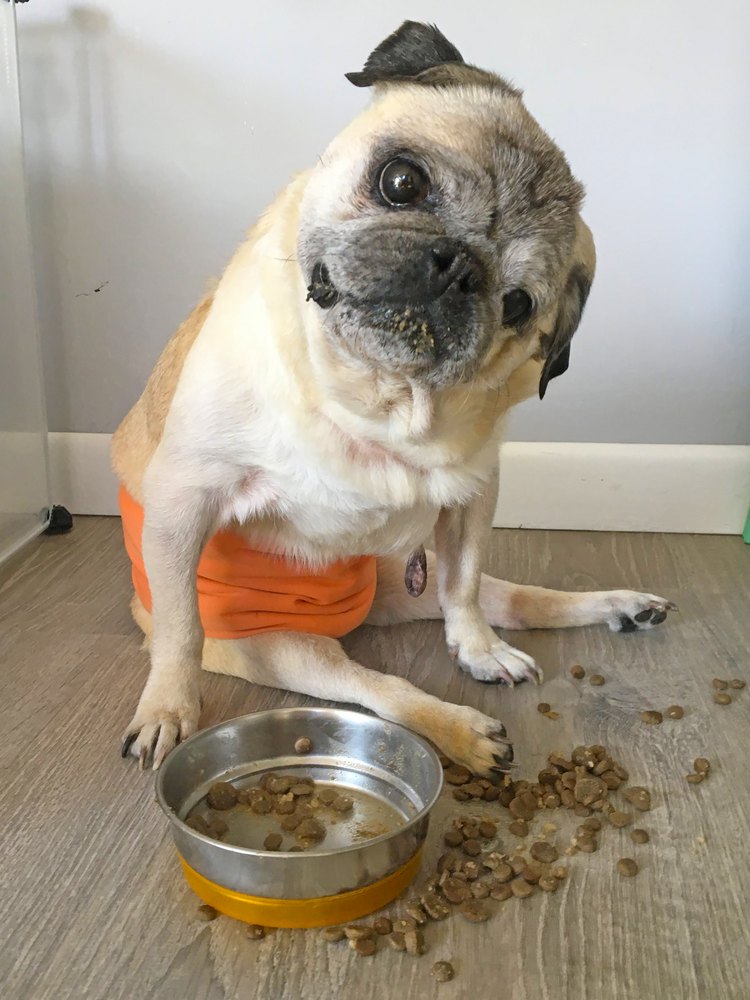 The Peraltas also urge people who support their cause to consider adopting a senior pet themselves, an experience the couple knows firsthand can be rewarding for the dog and owner alike.
"So many people want a puppy, or a younger dog, but I think people would be surprised at how amazing owning a senior pet can be," Kristen says. "They are truly grateful and make wonderful companions."