We love a good photobomb, but when it comes courtesy of a non-human, it's even better (but then, that applies to just about everything — pets > people). Here are 23 dogs whose photobombs deserve actual awards.
1. Best Engagement Photobomb
2. Okay, OTHER Best Engagement Photobomb
3. Best Making-It-Look-Like-Your-Head-Is-the-Human's-Head Photobomb
4. Best Making-It-Look-Like-Your-Ears-Are-the-Baby's-Ears Photobomb
5. Best Making-the-Human-Look-Like-She's-Half-Dog Photobomb
6. Best Teen Selfie Photobomb
7. Best Family Selfie Photobomb
8. Best Posed Family Portrait Photobomb
9. Best Awkward Photobomb
10. Best Romance Photobomb
11. Best Leaping Photobomb
12. Best FaceTime Photobomb (erm, Videobomb?)
13. Best Photobomb of Another Dog's Picture
14. Best Baby Photobomb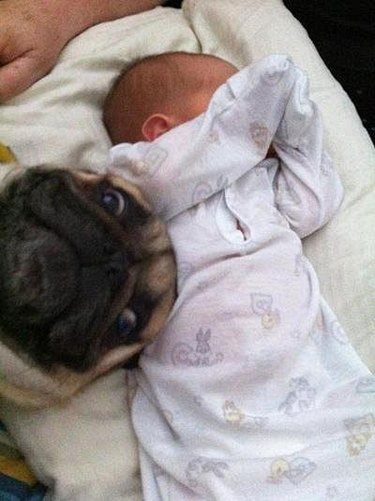 15. Best Inappropriately Excited Photobomb
16. Best Behind-Your-Back Photobomb
17. Most Adorable Photobomb
18. Best Public Event Photobomb
19. Best Photoshoot Photobomb
20. Best Bed Selfie Photobomb
21. Best Wedding Photobomb
22. Best Yoga Photobomb
23. Best Whatever This Is Photobomb
Do you like what you're reading? Awesome! Like us on Facebook for more laughs, join our newsletter for maximum cuteness, and then scroll through these photos of 24 dogs digging very important holes. Your life is about to get 2,000 percent more adorable. Congratulations!