Senior dogs have just as much love to give as they did in their golden years, but their needs are likely different now. When it comes to navigating the aging process, there are a few simple things you can do to provide a helping hand. Here are six hacks to make life easier for your older pups.
Hack 1: Elevate their food & water bowls.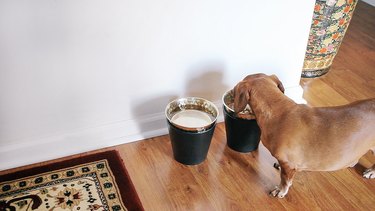 Bending down to eat and drink from dishes on the floor can put unnecessary stress and strain on your pup's joints. Make mealtime more enjoyable by lifting their dishes off the ground. You don't have to spend a fortune on those fancy elevated pet dishes. Simply grab a couple of flower pots that are roughly the same diameter and set the dishes on top.
Hack 2: Make reusable potty pads.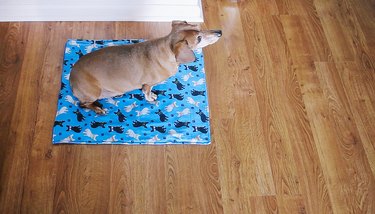 Older dogs tend to have more accidents. Take the stress away by leaving a few potty pads around the house. The expense of disposable ones adds up quickly, so make your own. Simply cut two layers of cotton flannel (aka diaper flannel) and one layer of waterproof fabric (known as PUL) to the desired size. We made ours 21" x 24" for a small dog. Layer the three pieces together, fold the edges 1/4" under, and sew along the seams. Done! Oh, and did we mention these are washable, reusable, economical AND eco-friendly?
Hack 3: Add water to dry food.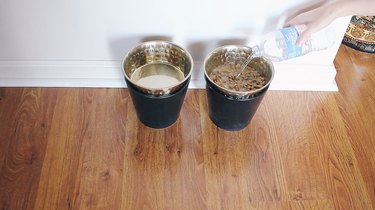 While your pups might have loved the satisfying crunch of kibble in their more youthful days, they may have a hard time chewing it once they get older. To make mealtime a little easier on their teeth and gums, add a bit of water to their dry food and stir. About one to two tablespoons should do it. Let it sit for a few minutes to soften before serving.
Hack 4: Make DIY pill pockets.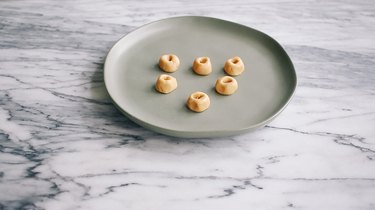 Many older dogs have to take medication to stay healthy. But pill poppers can be tricky for some pet owners, and store-bought pill pockets are rather costly. Make medicine time yummier by whipping up your own pill pockets instead.
Simply mix together 1 tbsp of peanut butter, 2 tbsp of flour, and 1 tbsp of milk. Pinch off 1/2 tsp of dough, roll it into a ball, make a well in the center, place the pill inside and pinch the top closed. Roll the remaining dough into balls and store in a container in the fridge.
Hack 5: Make a dog puzzle.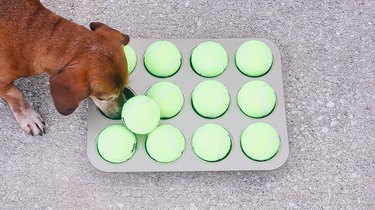 Encourage mental acuity with an easy-to-make dog puzzle. Place one of your dog's favorite treats inside each cutaway of a muffin pan and then set a tennis ball on top of each treat. The alluring scent of food will incentivize them to interact with the puzzle. Watch as they adorably paw and sniff out how to get to their prize.
Hack 6: Make doggy steps.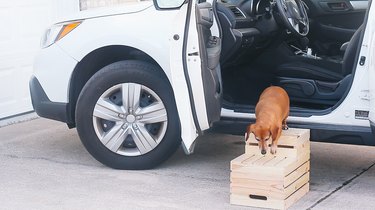 Help dogs get in and out of cars by making them a set of steps. All you need is one large wood crate, one small wood crate, and wood glue (all easily found at your local craft store). Place the larger crate on the ground so that the bottom side is facing up and use wood glue to adhere the smaller crate on top (again with the bottom side facing up). Allow the glue to cure fully before using. These steps totally work for helping pups jump onto beds and couches, too.