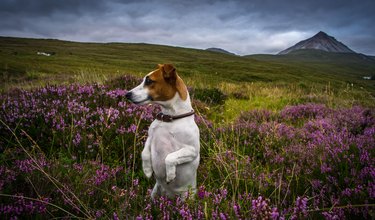 Ireland is a country rich in history and heritage. Plus, there is a lot of cool pop culture references that come from the green country providing dog owners with great material for puppy names! If you're looking for a suitable name for your new dog, young or old, you can look to their personality traits for some insight, then find a name that showcases that. Or, you can always just go random and land on one you just like the sound of—either way, you should love your dog's name as you'll be saying it for (hopefully) years to come.
Bring the luck of the Irish to your precious pup with one of these fun Irish dog names.
Irish male dog names for boy dogs and puppies
Got a good boy in need of a name? These Irish options are filled with choices that can match any pup's personality, from the strong and serious to the silly and playful, and everything in between.
Aidan
Beacan
Bono
Brayden
Brendan
Brian
Cian
Colin
Collins
Conan
Conor/Connor
Cormac
Cullen
Darren
Davey

Desmond
Donnelly
Donovan
Doyle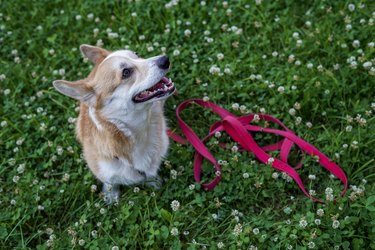 Finnegan
Finnley
Flannery
Grady
Griffin
Kane
Kevin
Kian
Kieran
Killian
Lucky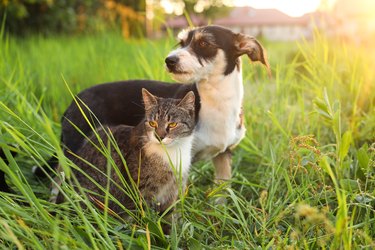 McDougal
McErnie
Patrick
Peterson
Ronan
Roy
Seamus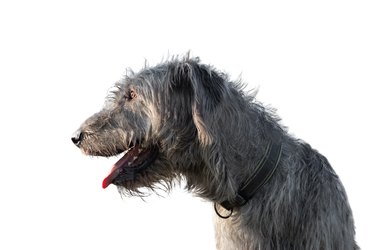 Irish female dog names for girl dogs and lovely lassies
Traditionally feminine Irish names for girls are beautiful, interesting, and command attention, just like your favorite canine companion.
Aednat
Aine
Aisling
Alannah
Aoife
Bevin
Bidelia
Breena
Brianna
Breana
Bridget
Cailin
Cara
Carrigan
Carys
Ciara
Clare
Clodagh
Cordelia
Eimear
Emlyn
Erin
Fiadh
Fiona
Fionnula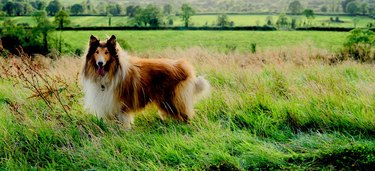 Glenda
Gráinne
Keeva
Keira
Kennedy
Kiara
Kira
Kyla
Lia
Madigan
Maeve
Makenzie
McKenna
Megan
Mirren
Moly
Moira
Muriel
Nessa
Niamh
Orla
Róisín

Rosalyn
Rose
Rosie
Saoirse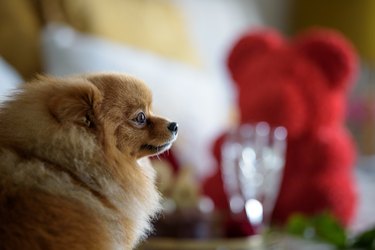 Shanna
Shannon
Sheena
Sheila
Sinead
Sybil
Tamsin
Tara
Úna

Gender-neutral Irish dog names
Looking for a name that could apply to any dog? Check out this list of gender-neutral names that could work for all canines.
Ashlynn
Brady
Braiden
Brennan
Brodie
Casey
Cody
Corey
Delaney
Devin/Devyn
Dillon
Duffy
Dwayne (That's right, this name is available for all in Ireland!)
Emmett
Fallon
Goldie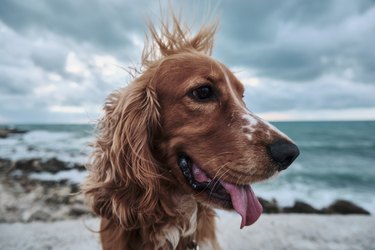 Kelly
Logan
Meyers
Murphy
Nolan
Paddy
Pat
Payton/Peyton
Rory
Rowan/Rowen
Sean
Shane
Shaun
Sloan/Sloane
Teagan
Badass Irish dog names for bold boys and girls
If you need a name with a little edge to match the personality of your pup, these badass options are Irish to the T, and don't hold back.
Bailey
D.B. (Short for Dark Beer)
Guinness
McBadass
McGregor (Named after the ruthless MMA fighter, Conor McGregor)
Shandy (A popular Irish drink that mixes beer with a soft drink)
Whiskey
Creative Irish dog names for the not-so-average pup
Silly, goofy, playful, and quirky — if any of all of these terms describes your dog, you might prefer a name that you don't hear very often, like any of these cute and creative Irish dog name choices!
Beefy (Short for Corn beef)
Boxty (A traditional Irish pancake)
Cabbage
Castle (The island is covered in them!)
Celt
Charm
Clover
Coin
Dagda (A god of Irish mythology)
Emerald
Fin MacCool (We didn't even make this one up. Fin MacCool is a character from Irish legend. Amazing)

Gael (Short for Gaelic)
Greeny
Hilly (Ireland is known for its endless rolling hills)
Ireland
Irish
Lamb
Leprechaun
LOTI (Luck of the Irish)
Lucky
Lush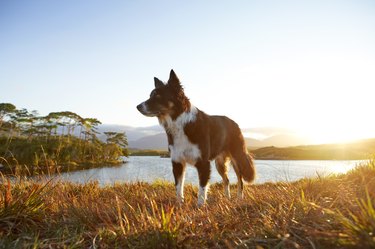 McMarsh (A salute to Ireland's lush landscape and a nod to those tasty cereal marshmallows)
O'Connor
POG (Pot of Gold)
Potato
Puca (A creature of Irish folklore)
Pub
Rainbow
Republic
Saint
Geographic dog names inspired by Irish cities and towns
For lovers of the emerald isle, here is a list of names inspired by the towns, cities, and areas of Ireland that make the place so special.
Blarney
Burren
Connemara
Cork
Donegal
Dublin
Ennis
Galway
Kilkenny
Killarney
Limerick (Or Limmy for short)
Moher
Wexford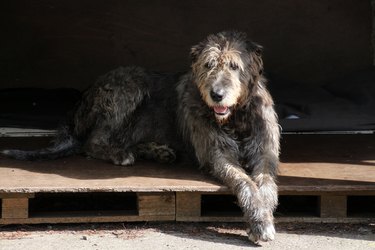 Well-known Irish dog names inspired by pop culture
If you are looking for a name that's easily recognized, check out this list of pop-culture-inspired names for dogs who are destined for fame (or at least, named after someone who was.)
Boondock (Based on the film The Boondock Saints)
Bono
Brosnan (Pierce Brosnan)
Byrne (Gabriel Byrne)
Enya
Farrell (Colin Farrell)
Fassbender (Michael Fassbender)
MacManus (The last name of the infamous Boondock Saints brothers)
Neeson (Liam Neeson)
O'Dowd (Chris O'Dowd)
O'Hara (Maureen O'Hara)
Van or Morrison (Van Morrison)
Wilde (Oscar Wilde, a native Irishman)
Irish dog names and their meanings
Are you reading through all of these lists and wondering what these names mean? If so, check out this short list of popular Irish dog names, along with their meanings to help you find the best name for your pet.
Annabella: Joy
Brigid: Goddess of fire and poetry
Brody: A ditch or muddy place
Cadie: A rhythmic flow of sounds
Cashel: Fortress
Cassidy: Clever; curly-haired
Declan: Full of goodness
Deirdre: Broken-hearted or sorrowful
Duff: Dark
Eamon: Wealthy protector
Eileen: Little bird
Finn: Fair
Flynn: Reddish
Gallagher: Foreign helper
Iona: From the king's island
Kayleigh: Slender
Keegan: Small flame
Kirby: Settlement by a church
Kylee: Lovely
Lana: Little rock
Liam: Guardian
Milligan: Grandson of the bald man
Niall: Champion
Nora: Honor, shining light
Pierce: Peter
Reagan: Nobility
Rhys: Fire
Rylee: Courageous
Sullivan: Dark eyes
Tierney: Lord, master
Troy: Foot soldier
If you're looking for even more creative doggy names, check out these lists below!
Pets are like our children. We love them, care for them, and we get to dress them up in adorable outfits — if that's a thing we feel like doing! So it's extra important that we take time to find the perfect name that reflects our new pet's personality and potential. Naming can be hard, which is why we've gathered nine pet-naming techniques to find the perfect fit, as well as assembled a handful of our most beloved lists of pet names!