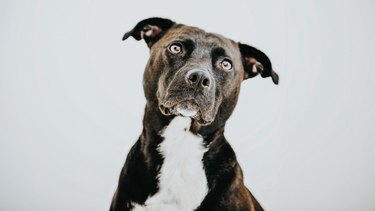 Whether you have a Rottweiler guard dog or a Bolognese that lives in your purse, you want your dog to have a strong name that will carry her through life with pride.
Finding that perfect name for your pup can be a tough process, but do not fear — we're here to help! Here are 245 handpicked identifiers that will make your dog feel like she has the strength of an army.
Strong female names for dogs.
Acadia
Akita
Alaska
Alexis
Ambrosia
Amethyst
Andromeda
Angelina
Astra
Avril
Bey (named after Queen Beyonce herself)
Blaze
Blitz
Blizzard
Brooklyn
Callisto
Codex
Crash
Crusher
Diamond
Diva
Duchess
Ebony
Echo
Elektra
Exene (in honor of the singer of the same name from LA punk icons X)

Frannie
Freya
Frida
Harley
Hecuba
Heroine
Huntress
Indiana (Indy)
J.K. Growling
Jade
Jedi
Jinx
Jojo
Justice
Kaia
Kitana
Koda
Laika
Lakin
Leia
Leisel
Liberty
Lola
Medusa
Mercy
Midnight
Miss Beazley
Mystique
Ninja
Nyx
Olga
Olympia
Pepper
Power
Punky
Pyro
Queen
Queenie
Raven
Rebel
Ripley
Rogue
Rousey (named after Mixed Martial Arts fighter Ronda Rousey)
Roxy
Sable
Samus
Sassy
Shadow
Sheba
Sissy
Sloane
Starbuck
Steel
Steffi
Tackle
Teegan
Tiger
Timber
Ursa
Ursula
Vicious Vicky
Vixen
Willow
Winter
Wonder Woman
Wrigley
Xena
Yuna
Zilla
Strong male names for dogs.
Aragorn (like the character from Tolkien's Lord of The Rings trilogy)
Axel
Bamm-Bamm
Bandit
Bear
Beast
Beefy
Beaux
Bones
Boomer
Brock
Bronson
Bronx
Bruiser
Bruno
Brutus
Bugsy
Buster
Buzz
Commish
Compton
Conan
Deke
Doyle
Duke
Floyd
Herc
Jimbo
Kane
King
Mace
Mack
Meatball
Mick
Murph
Roman

Rooster
Rubbles
Sarge
Sid Vicious
Sonny
Spike
Spinks
Tex
Tyson
Vince
Vlad
Xander
Zeus
Zod
Badass guard dog names.
Bench
Butcher
Cush
Diesel
Dozer
Fang
Fender
Gorilla
Gunner
Knuckles
Kojak
Kong
Nails
O.G.
Pistol
Pusher
Slash
T-Bone
Dog names inspired by strong leaders.
Albright
Ceasar
Charlemagne
Che
Churchill
Cleopatra
Davis (Angela Davis)
Evita
Ginsburg
Grant
Hillary
Huey P.
Joan of Arc
Kennedy
King
Lincoln
Mahatma
Malcolm
Mandela
Milk
Napoleon
Obama
Parks
Princess Di
Roosevelt
Thatcher
Ulysses
Winfrey
X
Strong dog names inspired by sports and athletes.
Beckham
Bolt
Cena (as in John Cena)

Court
Crossfit
Field
Hagler or Hags (like the boxer)
Jordan
Kaepernick
LeBron
Lift
Mayweather
Nadal
Novak
Phelps
Ronaldo
Serena
Touchdown

Track
Venus
Strong dog names inspired by pop culture.
Alien
Andy Warhowl
Bark Ruffalo
Brando
Butch (like the boxer portrayed by Bruce Willis in Pulp Fiction)
Callahan (as in Dirty Harry, the hardboiled cop played by Clint Eastwood)

Chopper (like the junkyard dog from 1986's Stand By Me)

Clubber (Rocky's foil in Rocky III, played by Mr. T)

Corleone

Drax
Durden (as in Tyler Durden, Brad Pitt's character in Fight Club)

Dutch (Arnold Schwarzenegger's character from Predator)

Groot (as in the character from Marvel's Guardians Of The Galaxy franchise)

Hooch (the dog from the 1989 Tom Hanks vehicle of the same name)

Hulk
Indiana Bones
Jaws
Rambo
Joplin
Katniss
L.L. Drool J
Lolita
Luke (as in Luke Cage, the Marvel superhero)
Notorious D.I.G. (or Diggie Smalls)
Quint (the hardscrabble fisherman from Jaws)

Red ( Morgan Freeman's character from the film The Shawshank Redemption)
Riggs (Mel Gibson's character from the Lethal Weapon films)
Rocky
Snake (as in Snake Plissken of the Escape From New York movies)
Snarls Barkley
Strummer (as in Joe, co-founder of the band, The Clash)
Thor
Washington (no one is stronger than Denzel)
For even more inspiration to name your dog.
You want to make sure you give your dog a name that you will love for a lifetime. Take your time and choose carefully; your pup will thank you! For even more doggy naming inspiration, check out these helpful lists below!