The only black cat superstition you should ever believe is that black cats are awesome! If you've decided to prove this superstition with a black cat of your very own, then take a look at this list of 500 black cat names perfect for your beautiful, black feline. Whether you are looking for cute black kitty names, witchy cat names, or names inspired by famous black cats, you've got a lot to choose from here.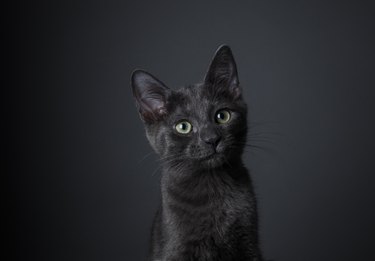 When you're on your cat naming journey, why not start out simply by considering some of the most popular names for black cats? Why not choose a black cat name that is based on something everyone knows like Batman, or something sleek and exotic like Panther?
Batman
Cola
Damien
Domino
Gothic
Gypsy
Ink
Knight
Midnight
Night
Ninja
Onyx
Panther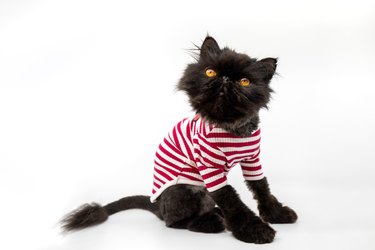 Pepper
Pepsi
Raven
Salem
Sharpie
Spades
Spy
Storm
Wednesday
Wicked
Witchy
Zorro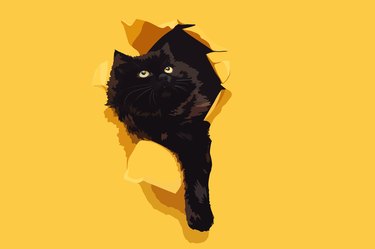 Names of famous black cats
Scat Cat (‌Aristocats‌)
Binx (‌Hocus Pocus‌)
Isis (both Catwoman's cat AND a shapeshifter who appeared in the original ‌Star Trek‌ TV show)
Bagheera (‌The Jungle Book‌)
Salem (‌Sabrina the Teenage Witch‌)
Snowball II (‌The Simpsons‌)
Lucifer (‌Cinderella‌)
Luna (‌Sailor Moon‌)
Jiji (‌Kiki's Delivery Service‌)
Winkie (‌Escape to Witch Mountain‌)
Sylvester (not a completely black cat, but a famous cat from the Looney Tunes cartoons)
Black cat names for male mouse hunters
For the raven-haired boys of the bunch, these black cat names names not only honor their sharp good looks, but might speak to their mysterious, playful, or laid-back personalities as well.
Angus
Antagonist
Arcane
Asher
Ashton
Bagheera
Bandit
Bat
Bear
Betelgeuse
Billy
Binx
Blackjack
Boogie Man
Bow tie
Butler
Cadbury
Chip
Coal (or Cole)
Cooper
Creeper
Crow
Dante
Darth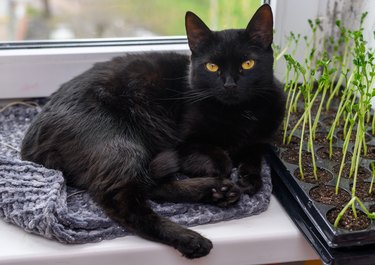 Demetrius
Dice
Draco
Duke
Dusty
Ego
Ernie
Felix
Figaro
Flagg
Fog
Fudge
Gaelic
Gomez
Gotham
Grimm
Hendrix
Hitchcock
Jaguar
Jax
Ju Ju
King
Lovecraft
Lucifer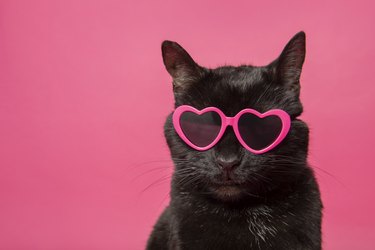 Mac
Merlin
Metal
Mourn
Mr. Black
Mr. Sandman
Mr. Sexy
Nox
Oakland
Obsidian
Pepe
Phantom
Pirate
Poe
Priest
Raider
Richy
Sir Shadow
Skunk
Slick Rick
Sly
Smokey
Stallion
Stone
Sylvester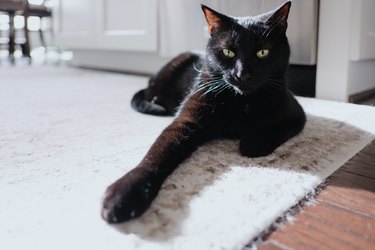 Tar
Thestral
Thunder
Tux
Vader
Warrior
Wizard
Yankee
Zachery
Female names for black cats
For the good girls, this list features a variety of female names for black cats that range from cute to serious to just plain beautiful.
Abbi
Adrianna
Alchemy
Ali
Amy
Annie
Ashley
Astral
Ava
Batty
Beans
Beauty
Bella
Betsy
Bittersweet
Blackberry
Brunette
Chocolate
Coco
Coffee
Dahlia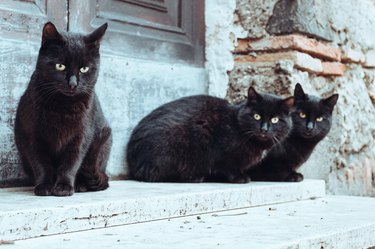 Dani
Dot
Ebony
Elsa
Elvira
Emma
Frankie
Freda
Goddess
Godiva
Grace
Harlem
Harley
Hershey
Indigo
Inky
Isis
Java
Kali
Kiki
Lady
Lady of the Night
Layla
Lexi
Lilith
Magpie
Mary
Matches
Miss Nola
Miss Sin
Mistress
Misty
Morticia
Mrs. Black
Mystic
Mystique
Nelly
Nestle
Nightingale
Olive
Orchid
Oreo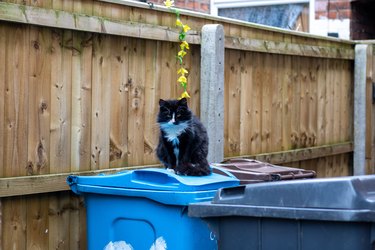 Paige
Pearl
Pheobe
Pheonix
Piper
Prudence
Puma
Queen

Rilla
Sable
Sabrina
Sade
Sarah
Sheba
Sibyl
Silhouette
Starlight
Stormy
Sunset
Taboo
Tootsie
Twilight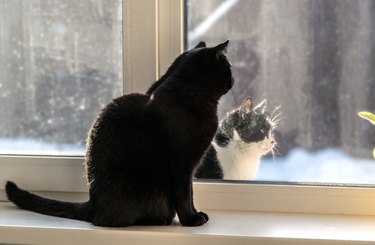 Velvet
Vimpirella
Winona
Zora
Names for black cats inspired by Halloween
Black cats are special for a lot of reasons. We know that black cats really aren't anything to be superstitious about. And although their fur color can be associated with witchy and dark things, black cats are really sweet and need to be protected during times when they might be attacked. For lovers of everything All Hallows Eve and sleek black cats, check out this list of names for black cats inspired by Halloween.
Annabel Lee
Autumn
Boo
Buffy
Carrie
Casper
Chucky
Costume
Crafty
Demon
Ding dong
Doom
Dracula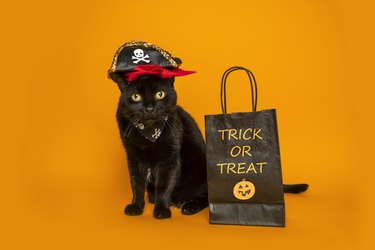 Endora
Eve
Frankenstein
Freddy
Fright
Grave
Halle/Hal
Hallow
Halloween
Halo
Harlow
Jack (o'lantern)
Licorice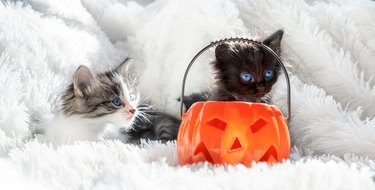 Luna
Mask
Monster
Muertos
Munster
Norman (Bates)
October
Omen
Pumpkin
Rosemary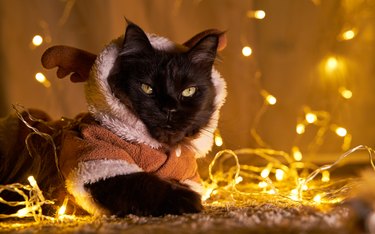 Snickers
Spirit
Spook
Spooky
T.O.T (trick-or-treat)
Tabitha
Thirty-one
Tober
Trixy
Twix
Vampire
Voodoo
Witchcraft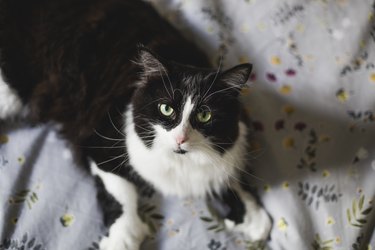 Unique names for black cats with unique personalities
Black cats seldom need help standing out with their striking hair and eyes, but some cats call for a name that might make people stop and think, like any of the choices on this list. Unique names for black cats with unique personalities could range from Abracadabra (cute!) to Zebra (exotic!).
Abracadabra
Absinthe
Ace
Achromatic
Almond Joy
Asphalt
B.C. (black cat)
Blacktop
Bonfire
Boots
Box
Bram
Bullet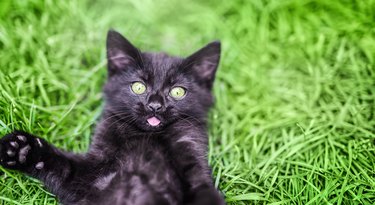 Bullseye
Bump
Burn
Burny
Caps
Carbon
Charcoal
Checkers
Chess
Chip
Cinder
Comedy
Cop
Cross
Crumbs
Crypt (Keeper)
Deadzone
Decker
Deja vu
Detective
Diesel
Eclipse
Eight ball
Fuel
Gloom
Godiva
Goth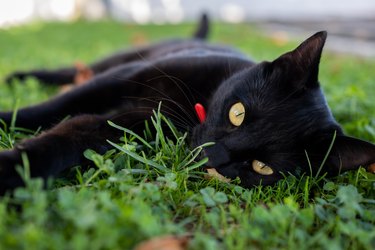 Guiness
Hellraiser
Hissy
Hole
Humbug
Jet
Kettle
Leather
Marbles
Market
Nebulous
Nimbus
Nutella
Penguin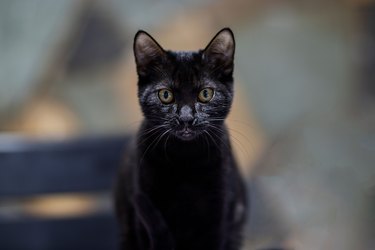 Puma
Serendipity
Soot
Spider
Stoker
Stygian
Styx
Sundown
Tarmac
Tint
Tiptoe
Undertaker
Voltaire
Web
Zebra
Mysterious names for black cats who lurk in the shadows
All cats are mysterious creatures with their own individual quirks, but there's something about black cats that leave people saying "I need to know more."
Alacazam
Armageddon
Ash
Bewitch
Blackamoor
Blacken (the Dutch for "to burn")
Crescent
Dark Matter
Darkness
Darkside
Dead of Night
Dragon
Drusy (a form of quartz)
Dusk
Ghost
Hades
Haze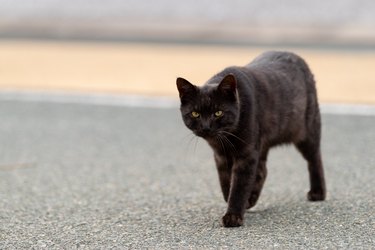 Icy
Jinx
Kizmet
Mystery
Nebula
Nero
Nocturne
Oracle
Phlegein (Ancient Greek for "scorch")
Scortch
Secret
Shade

Shady
Sinister
Sky
Superstiton
Talon
Tarot
Wraith
Yin (black in Yin Yang symbol)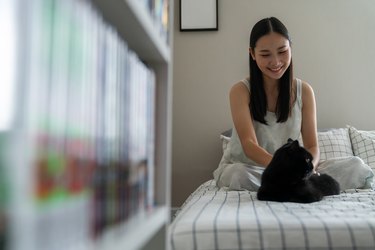 Words that mean "black" in other languages that are perfect for your black cat!
If you love your black cat, you can always choose to name them after their standout feature (that gorgeous coat!) Every language has its own word for "black," so check out these options for words that mean "black" in other languages that are perfect for your black cat!
Beltza (Basque)
Dubh (Irish)
Hitam (Indonesian)
Iswed (Maltese)
Kuro (Japanese)
Madow (Somali)
Musta (Finnish)
Negru (Romanian)
Noir (French)
Nyeusi (Swahili)
Pango (Maori)
Preto (Portuguese)
Schwarz (German)
Siyah (Turkish)
Sort (Danish)
Svart (Icelandic)
Sweart (Old English)
Wakuda (Chichewa)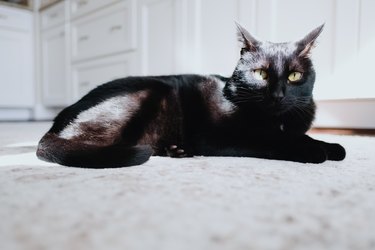 Lesser-known black cat names and their meanings
If you're looking for a cute black cat name that's unique, check out this list of black cat names and their meanings, most of which are directly related to all things dark-hued.
Blake: Black, dark (interestingly, this can also mean "light" or "pale" in Olde English)
Ciar: Black-haired
Ferrer: Blacksmith
Kaveh: Royal
Krishna: Black, dark, the all-attractive
Lonan: Blackbird
Odessa: Wrathful
Corbin: Crow
Donovan: Brown-haired chieftain
Douglas: Black water
Dubhan: Black
Dunstan: Brave warrior, dusty area
Gethin: Dusky, dark
Lamya: Dark complexion
Nila: Blue
Rosaleen: Gentle horse, little rose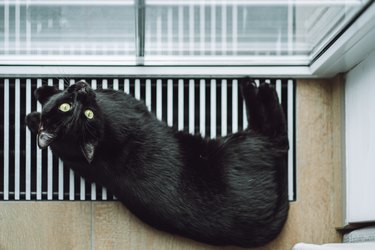 Names that mean "night" which are marvelous for cats!
All cats are natural night dwellers, and black cats are even more associated with the after-hours thanks to their shining coats. You can lean into their nocturnal urges with any of the names for black cats listed below that mean "night."
Aladdin
Florence
Isra
Leander
Nisha
Nyx
Olivia
Puck
Tatania
Viola
These names that mean "moon" will make your cat stand out
If you're a night owl, occult enthusiast, or simply appreciate the passage of time and tides, a moon-themed name for your black cat might be the perfect match for you both.
Aiday
Aiman
Alan
Chandra
Cynthia
Diana
Edwin
Hala
Helen
Portia
Rhiannon
Selene
Tanith
Tara
Theia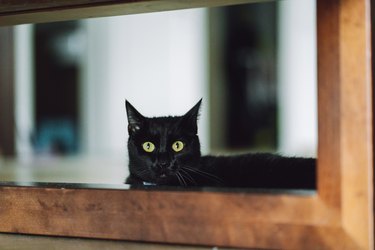 Witchy cat names that are perfect for tricky kitties!
It's a complete superstition that black cats are bad luck, but if you have a great sense of humor, then these witchy cat names might be perfect for tricky kitties!
Bellatrix
Binder
Broom
Cackle
Cauldron
Charm
Cloak
Draco
Dumbledore
Ginny
Granger
Half-Moon
Harry
Hat
Hermione
Hocus Pocus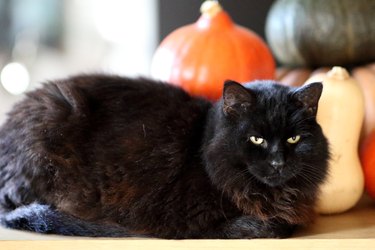 Macbeth
Magic
Malfoy
Nymphadora
Potion
Potter
Sanderson
Sirius
Spell
Spellbound
Stocking
Sweep
Wand
Warlock
Wart
Wayward
Weasley
Wicca
Winifred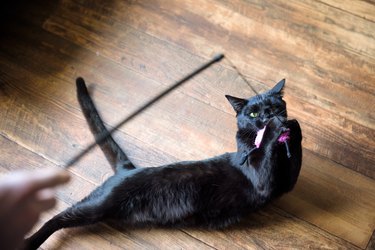 Ironic names for black cats to make you think (and laugh)
Want something really different for your black cat? You can lean in the totally opposite direction by choosing from names for black cats that have a sense of irony, such as something that signifies color, lightness, or blondes.
Alaska
Amethyst
Aqua
Blanche
Blanco
Blizzard
Blue
Brighty
Coral
Cotton ball
Cottontail
Dandelion
Emerald
Ivory
Jade
Lemon drop
Lightbulb
Marshmallow
Milk
Pale Rider
Pinky
Powder puff
Rainbow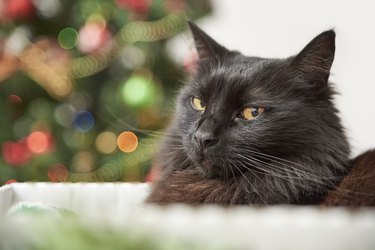 Rosy
Rouge
Ruby
Salty
Sapphire
Scarlet
Snow Princess
Snowball
Snowflake
Snowy
Sugar
Teal
Tic Tac
Tofu
Cute kittens names are the perfect match for your new kitty!
There's not much that's cuter than a tiny black kitten, and if you're looking to name a new friend, take a look at these cute kitten names that any black cat could wear well for years to come.
Chi Chi
Crispy
Daisy
Disney
Fuzzy
Goofy
Max
Mickey
Minnie
Mint Chocolate
Mittens
Lil' Star Gaze
Nighty
Panda
Shiny
Sleepy
Sooty
Za Za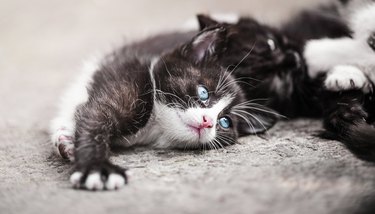 Do you need more inspiration for your new pet's name?
If you don't have a black cat or simply want even more ideas for your pet's moniker, check out these lists below. This is the first big decision you will make for your new furry friend so take your time and choose wisely. The purrfect name is bound to paw at your heart!