Choosing a name from a list of Hawaiian dog names can help you match your pup's laidback, sunny personality. Look no further for that list! Hawaiian names for dogs are rich in meaning, style, and respect, and depending on your dog's characteristics, you can find the perfect moniker to represent them.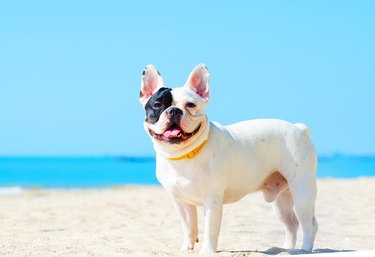 Here are 210 Hawaiian dog names to get your inspiration going.
Hawaiian male dog names for your best bud
For tropical dog names that are fit for boy dogs, check out this list of Hawaiian male dog names filled with so many solid choices. Consider Hawaiian male dogs names chosen from important aspects of Hawaiian culture, like the royal family names. There are some famous Hawaiian surfers, famous Hawaiian musicians, or famous Hawaiian chefs that could help you in picking your name. Think about the aspects of Hawaiian culture that mean something to you, and go from there.
Akamu - means "red earth"

Alemana

Alii

Amoka

Aouli

Bane

Etana

Hae

Haimi

Hanai

Hanale - can mean "lei-making" or "crescent bay"

Hekili

Hilo

Ilio

Inoki

Kai

Kaipo

Kale

Kaliko

Kanoa - a gender-neutral nam meaning "the free one"

Kapena

Kapono

Keanu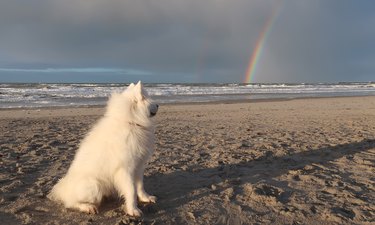 Keiki Kane

Kekipi

Kekoa

Keo

Keoki

Keoni

Kiko or Kikokiko - to pluck something, like fruit
Kilo

Kimo

Kio

Kolohe

Liko

Loke

Lui

Lupo

Makani - means "wind" or "breeze"

Mako

Malo

Mana

Makai - means "toward the ocean" or "oceanside"
Mano

Manu Iki

Mea Kolo

Moho

Nalu - means "wave"

Nohea

Nui

Olulu

Pika

Pilikea

Polua

Puo

Tua

Uliuli

Weuweu - means something like value, assets, or worth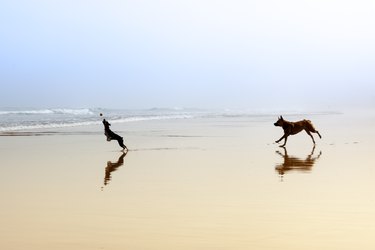 Female dog Hawaiian names for good girls
For the lovely lady in your life, this list of Hawaiian female dog names has so many great ideas that your furry friend will be happy to answer to. Choosing a female Hawaiian name for your dog might be easier because there are many aspects of Hawaiian culture that relate themselves well to female names. Consider something you appreciate about the hula dance form, or flowers, birds, or animals that have feminine-sounding names.
Akela

Akua

Ala Muku

Alamea

Aliikai

Anela

Awapuhi - the name of a ginger plant

Hoala

Hoku

Holoholona

Hula

Ipo

Iune

Kahili

Kahua

Kailana

Kailani

Kala

Kalia

Kamea - means "precious one"

Keala

Keiki

Keola

Kika

Kina

Koa
Kula

Lalama - means "branch"

Lana

Lani

Lanikai - means "heavenly sea"

Loni

Luana

Luana

Mahina

Malana

Malia

Mei

Meka

Meli

Milani

Moana - it's the name of a popular Disney movie and character, and it means "ocean"

Momi

Nahoa

Naia

Nalaorni

Nalani

Nana

Nani

Noe - means "mist" or "fog"

Noe

Okaoka

Olina
Ona

Pepe

Piki

Ula

Wailua - means "two waters"

Waiola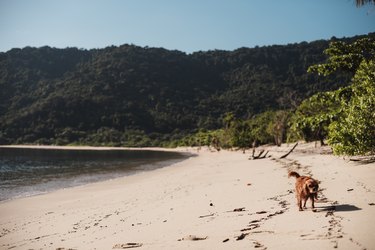 Top Hawaiian names for dogs and their meanings
If you're looking to give your dog a Hawaiian or Hawaiian-inspired name but don't speak Hawaiian, check out this list of top Hawaiian names for dogs along with their meanings to help you find the most appropriate match for your dog.
Aka: Shadow

Coco: Coconut

Hoku: Night of the full moon

Hula: A religious dance performed with instruments

Isla: Island
Kai: Ocean, sea

Keanu: Cool breeze

Lilo: Generous one

Makana: Gift from God
Maui: A trickster god in Polynesian mythology

Moana: Ocean, open sea, lake

Tropical dog names for warm-weather lovers
If you dream of tropical weather and the lifestyle that comes with it, this list of tropical dog names can bring a little sunshine into your life, wherever you are.
Azur

Coral

Isla

Lava
Lei

Leilani

Storm

Summer

Sunny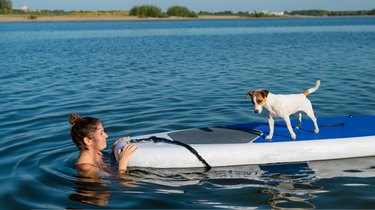 Surf-inspired dog names for water-loving pets
Hawaii is one of the top surfing destinations in the world, and it would only be fitting for pet parents who love and appreciate riding waves to honor their favorite pastime with a name for their dog. These aren't Hawaiian names, they just have that surf vibe and you'll feel good saying them!
Barney

Benny

Billabong

Bomb

Brah

Bro

Choka

Deck

Ding

Dude

Epic

Fade

Froth

Frube

Goober
Grom

Gun

Hodad

Jake

Juice

Keg

Kook

Noah

Nug

Pearl

Quimby

Quiver

Ricos

Shake

Shubie

Wave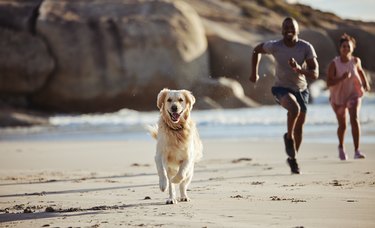 Beach-inspired dog names that honor the outdoors
When most people think of Hawaii, they think of the miles of beaches that boast warm sand, beautiful sunsets, and stunning wildlife. If you, and your dog, love the surf, this list of beach-inspired dog names might be what you need!
Cabana

Dune

Frisbee

Pebble

Rocky

Sandy
Scuba

Sheldon

Shelly

Snorkle

Taffy

Dog names inspired by tasty Hawaiian food
If you love Hawaiian food or ingredients, this list of cuisine-inspired food just might contain your dog's future name.
Ahi

Coco

Coconut
Macadamia

Opah

Pineapple

Poi

Poke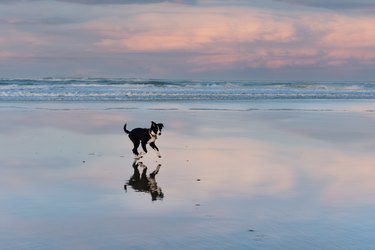 Dog names inspired by gorgeous Hawaiian geography
Hawaii is made up of 137 volcanic islands, many of which are filled with some of the most beautiful geographies in the world. If you're inspired by the surroundings of the Hawaiian islands, this list of Hawaiian names for dogs might be for you!
Diamond

Hawaii

Kahoolawe

Kauai

Koloa

Kona

Lanai

Manele

Manoa

Maui
Molokai

Niihau

Oahu

Pearl

Waikiki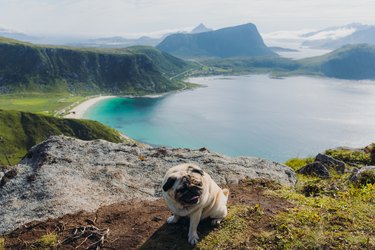 Familiar Hawaiian dog names inspired by pop culture
Some names are of Polynesian origin, and some just make you think of the Hawaiian islands due to their place in pop culture, like many of the familiar names on this list.
Gilligan

Keanu

Lilo
Moana

Nani

Sarah Marshall

Skipper

Stitch

Do you need more inspiration for your new pet's name?