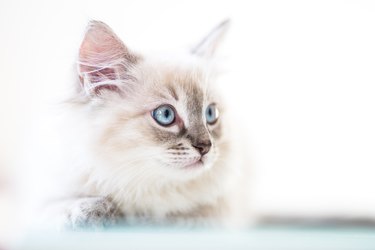 You got yourself a white cat. Hurray! White cats scream sleek sophistication and raging regality. They also remind us of some pretty cool pop culture references. Once you get a sense of your new cat's personality, you can pick out the purrfect name to match that fluffy, white coat. Check out this list of 310 names suitable for any stylish cat.
White cat names for males
Aiden
Abe
Alabaster
Altoid
Beowulf
Bianco
Blanco
Bones
Charlie
Charmin
Coco
Coldin
Cole
Connor
Cringle
Crispin
Dickens
Dogbert
Domino
Downy
Fang
Foam
Fresh
Gabriel
Glint
Glit
Gunn
Ianco
Ice
Ice Cube (you're bound to have good days with this cool cat)
Ice T
Icy
Jack Frost
Jasper
Justin
King
Knight
Marbles
Mozart
Nimbus
Noel
Powder
Puto
Q-Tip
Raja
Razor
Rumi
Sailor
Sands
Santa Claws
Shorty
Sirius
Talcum
Tommy
Trek
Tux
Whitey
Yuki
White cat names for females
Albina
Alba
Angel
Artemis (Greek goddess of the moon)
Ashley
Barbie
Becky
Belle
Bianca
Blanca
Blanche
Blondie
Bubbles
Bunny
Camille
Carnation
China
Clara
Coca
Cottontail
Creamy
Crown
Dove
Fairy
Faith
Fiona
Flossy
Fluffy
Frenchy
Gabrielle
Genvieve
Glitter
Grace
Gwendolyn
Halo
Harmony
Holly
Ice Queen
Icelyn
Icing
Iris
Isa
Isabella
Karen
Kenzie (Scottish for "fair one")
Krissy (short for Krystal)
Lace
Lacy
Leah
Lovie
Lumi
Miley
Missy
Noelle
Octavia
Opal
Osiris
Paris
Patty
Pebble
Persephone
Persia
Porcelain
Powder Puff
Queen
Royal
Sandy
Sasha
Shine
Shiny
Silky
Skipper
Star
Sunny
Tarte
Taylor
Tiara
Tiffany
Zola
Zuri
White cat names from movies
Artoo Cattoo (a pun on the iconic droid of "Star Wars" fame.)
Casper (the friendly ghost)
Bolt (the animated Disney character voiced by John Travolta.)
Dr. Emmett Brown or Emmett (in honor of the wild-haired scientist of from the "Back To The Future" franchise.)

Harvey or Keitel (the actor who played Mr. White in Quentin Tarantino's "Reservoir Dogs.")

Herbie (the talking Volkswagen, also known as The Love Bug.)

Jaws (as in the great white shark.)

Snow White (the Disney princess)
Elsa (from Disney's "Frozen")

Dumbledore (the white-haired wizard from the "Harry Potter" franchise)
Betty (as in the actress and star of "The Golden Girls.")
Barry (as in the late singer Barry White.)
Jaleel (as in Jaleel White the actor that played Steve Urkel on "Family Matters.")

Reggie (as in Reggie White the late NFL player.)

Shaun (as in Shaun White the professional snowboarder and skateboarder.)

Vanna (the letter-turning host of the "Wheel Of Fortune.")

Mystical names for white cats
Fog
Ghost
Misty
Mystique
Phantom
Poof
Siren
Spirit
The White Shadow
Whisper
Apple (as in the tech company, which wraps almost all of its products in a white shell or housing)
Beachy
Boo
Cokey
Colgate
Crest
Einstein
Eskimo
Freeze
Frozen
Furby
Ice Man
Milky Way
Monochrome
Moonshine
Panda
Papier (French for paper)
Paste
Pilly
Ski
Snowboard
T.P. (nickname for Toilet Paper)
Tic Tac
Wizard
White cat names inspired by food
Biscuit
Cashew
Chowder
Clams
Cream Puff
Coconut
Coolwhip
Crackers
Cupcake
Egg Nog
Ginger
Jellybean
Marshmallow
Marzipan or Marzibean
Mayo
Meringue
Noodle
Oreo
Peppermint
Pistachio
Popcorn
Popsicle
Porkchop
Potato Salad
Rice
Salty
Spuds
Sugar
Tofu
Truffle
Vanilla
Yogurt
White cat names inspired by beverages
Champagne
Chardonnay
Creamer
Pinot (as in Pinot Grigio)
Horchata
Milky or Milkshake
Moscato
Sauvignon Blanc (Savvy for short)
Vodka
Whiskey
White cat names inspired by flowers, plants and trees
Anemone
Ash
Birch
Blossom
Calla
Camellia
Cosmo
Cottonball
Daffodil
Dahlia
Daisy
Helio (short for Heliotrope)
Hibiscus
Hydrangea
Ivy
Jasmine
Lily
Lotus
Magnolia
Moonflower
Orchid
Petunias
Scabiosa
Vinca
Wisteria
Yucca
White cat names inspired by places
Alaska
Aspen
Cliff (as in the White Cliffs of Dover, an enduring symbol of the English coastline.)
Denali
Everest
Greenland
Klondike
Tundra
White cat names inspired by weather
Avalanche
Berg (short for Iceberg)
Blizzard or Blizzy
Chilly
Cirrus (a type of cloud)
Cloud
Cloudy
Comet
Frosty
Gelo (Portuguese for "ice")
Icicle
Iggy (short for Igloo)
January
Lightning
Luna
Nova
Polar
Sky
Smoke
Snow
Snowball
Snowflake
Snowy
Super Nova
Vapor
Yeti (as in the mythical ape-like snow creature)
White cat names inspired by rocks, gems and minerals
Chalky
Crystal
Diamond
Ivory
Onyx
Pearl
White cat names inspired by pop culture
Helen Mirren (the actress with gorgeous white hair.)
Jack (guitarist and vocalist in "The White Stripes.")
Khaleesi (the dragon queen from "Game of Thrones.")
Moby Dick
Oprah (included because the media mogul throws an annual white-tie shindig with all the hottest celebs.)

Rabbit (as in the White Rabbit from "Alice in Wonderland.")

Saruman (the wizard from Tolkien's "Fellowship of the Ring" trilogy.)

Snoopy (a dog but still, go for it!)

Storm (based on the X-Men character with white hair.)

Stripe (the leader of the mischievous gremlins, who's signature feature is a white mohawk.)

Walker (as in White Walkers, the murderous humanoid zombies from "Game of Thrones.")

Wimbledon (as in the tennis tournament which enforces an all-white dress code for its players.)

Looking for even more pet names?