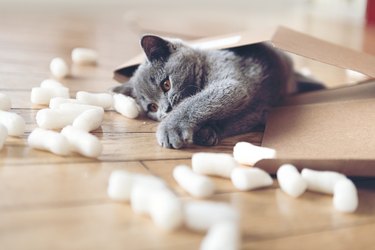 Renowned for its painkilling properties, CBD oil is the hottest trend in pet supplements. And now that the cat's out of the bag, and we know that CBD oil is as safe and effective for cats as it is for dogs, you'll have to decide which brand to choose for your cat. But with the proliferation of CBD oil in the market, there's bound to be a snake oil salesperson or two popping out from behind the hemp bush pushing inferior or unsafe products. So beware! When it comes to CBD oil for your cat, focus on quality — not price. A good rule of thumb is to buy the best CBD oil for your cat that you can afford. Ultimately, the best CBD oil will be the one that works for your cat.
From seizures and anxiety to cancer or old, arthritic bones, CBD oil has a proven track record in alleviating pain, discomfort, distress, and even shrinking tumors. If you decide to give it a try, consider our top-rated CBD oil for cats and check out our recommends. Visit the websites, call the company and ask questions, and consult with your veterinarian. Keep in mind that many vets are not comfortable recommending CBD oil for cats or other pets. You may have better luck getting answers and setting up an effective CBD treatment program if you work with a holistic or integrative veterinarian.
What is CBD oil?
The CBD oil for pets industry has experienced phenomenal growth since 2013 thanks to studies that show CBD oil has exceptional therapeutic value for cats and dogs. Stellar reviews from satisfied customers are exponentially driving the success of the products as well. What is CBD oil? CBD oil is a holistic remedy, a non-psychoactive cannabinoid that's derived from all-natural, full-spectrum hemp. It is extracted from a strain of cannabis plants known as hemp that have high levels of CBC or cannabidiol, a medicinal, non-psychoactive chemical, and zero THC, the psychoactive chemical that makes people "high."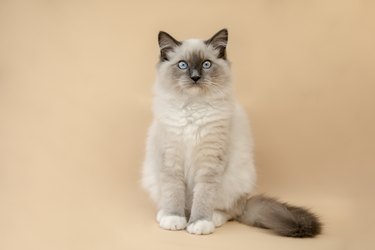 Hemp is legally grown in all 50 states under strict regulations, and the plants must contain less than 0.3 percent THC. To put that THC content in perspective, marijuana plants with high levels of THC contain concentrations of well over 15 percent. It is physically and chemically impossible for your cat to get "high" when taking CBD oil. The only side effect, in some cases, may be drowsiness.
While research is ongoing, a slew of international studies has concluded that CBD oil is not only safe to administer to your cat, it's helping cats with cancer, chronic or acute pain, seizures, muscle spasms, pancreatitis, inflammatory bowel disease, dermatitis, anxiety, depression, arthritis, neurological disorders, anorexia, and behavioral issues. Also, it is an effective supportive therapy in palliative care.
How does CBD oil work?
Cats and all vertebrate animals have a complex endocannabinoid system made up of receptor sites in the brain, nervous system, and peripheral organs such as the immune cells. This bodily system is a relatively recent discovery and not completely understood yet by the scientific community. Ongoing research is exploring its full potential. But what we know so far is that the body releases endocannabinoid chemicals which hook up with these cannabinoid receptors and stimulate the body's natural ability to create serotonin or 5-hydroxytryptamine, dubbed the "happy" chemical because it's a natural mood stabilizer and contributes to happiness and well-being. CBD augments this natural ability of the body, regulating mood and heightening that feeling of well-being. CBD oil is also known to promote homeostasis, the optimum functioning of the body.
Important considerations when choosing CBD oil?
The highest quality CBD oils originate from organically grown hemp that is free of pesticides, chemical fertilizers, and heavy metals. The CBD oil is extracted from the hemp plant with CO2 — the most expensive, but safest and most effective extraction method in the world — that results in a clean, high-quality concentrate free of impurities and toxins.
Look for CBD oil that features a blend of CBD oil with other beneficial compounds and terpenes making the product more effective than CBD alone. Expect to pay at least $50 for high-quality CBD oil for your cat.
A Certificate of Analysis should be available for the product you purchase and third-party lab results available upon request.
Always check the THC content and only consider CBD oil that has zero THC content. Our top-rated list will help you get started on your research, but it's important to check all the options out for yourself. Because it's an unregulated industry, some manufacturers may be cutting corners and using petroleum solvents for extraction, while others may offer a product with so little CBD it has no therapeutic value. Do your homework to find the very best CBD oil for your cat.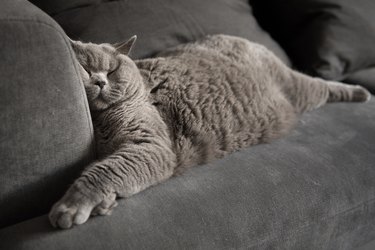 Top-rated CBD oil for cats.
Pet Releaf Hemp Oil 330 —100mg Active CBD
HolistaPet – CBD Pet Tincture 150mg/300mg/600mg
HempRx for Pets – 25 ml (Product sold exclusively through veterinarians.)
Best CBD oil for cats with cancer.
Best CBD oil for cats with arthritis.
Best CBD cat treats.
Always check with your veterinarian before changing your pet's diet, medication, or physical activity routines. This information is not a substitute for a vet's opinion.