So you want to make a difference in the lives of dogs and cats in need of loving homes, but you can't take on the responsibility of being a forever home. Or maybe you just want to open your home to as many needy animals as possible instead of (or in addition to) adopting a pet permanently. Yes, we're talking about fostering. But making the decision to become a foster pet parent isn't to be taken likely. There's a lot that goes into the commitment—including some things you might not expect if you've never worked with a pet fostering program before.
Don't worry though, because we've got you covered. May we present the official Cuteness Beginner's Guide to Fostering. Read thoroughly, and then bookmark for future reference if you decide fostering sounds like it's for you.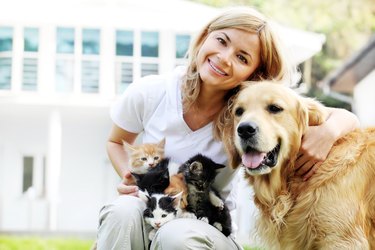 The basics:
What's a pet foster parent?
So let's start with the most basic of basics: What is a pet foster parent, exactly? Pet foster parents provide temporary homes for animals who haven't yet found their forever homes. Essentially, these animals are homeless and looking for loving, caring people to take them in while the shelters working with them look for families that will love them for always.
Is there an age requirement?
In most cases, you'll have to be at least 21 to be a foster parent to a pet.
What animals can you foster?
Dogs and cats are the most frequently fostered animals, for sure, but there are organizations that seek foster parents for other animals, like rabbits, birds, and sometimes even farm animals.
What are the reasons an animal might need to be fostered?
Foster care can help save an animal's life when a shelter is full.
Some animals don't do well in a shelter environment because they are frightened or need a little extra care.
Newborn animals that need to be nursed or bottle-fed usually need foster care.
Some animals need time to recover from an illness or injury before adoption.
What makes a person a good pet foster parent?
Fostering is a volunteer position that's best for people looking for a flexible way to give back. Clearly, being an animal-lover is a must and being a successful foster requires a lot of patience and a lot of love. It's a great volunteer option for people in transitional parts of their lives who can't commit to taking in a pet long-term (like college students) and for people who aren't sure if they're ready to commit to owning a pet and want to take a test run of sorts.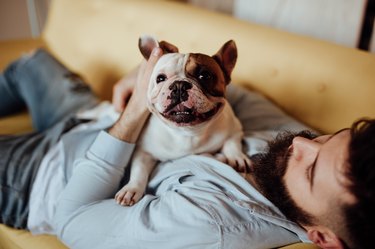 Does fostering save lives?
Yes! Becoming a foster parent for a pet in need is absolutely a chance to save an animal's life.
"Fostering kittens is a short-term commitment, between one to eight weeks, that makes a huge impact on lifesaving, as newborn kittens are often the first to be killed at shelters due to a lack of resources to care for them," Michelle Sathe, who works for Best Friends Animal Society, explains.
Do you need special training or certification to become a pet foster parent?
Sathe says every shelter or rescue has a unique foster program, but Best Friends, where she works, does not require any kind of certification to become a foster. Most shelters, even if they don't require a specific training, will offer an orientation or support of some kind to help prepare new fosters for the experience. You might also need to participate in some hands-on training if you plan to take in an animal with special needs or a newborn kitten who will need to be bottle-fed.
Can you foster animals if you have pets of your own?
Owning pets doesn't automatically disqualify you from fostering an animal in need, but it does complicate things. You'll need to be sure your pets will be okay with the introduction of a new pet to the family (and then to that pet leaving permanently after its stay with you) and that the animal you take in as a foster will be okay around your existing pets. In some cases, the organization you foster through might recommend that you isolate the foster from your pets. This is something you'll definitely need to discuss with the rescue or shelter you foster through. You will also need to show that your pets are up-to-date on all of their vaccinations, as well.
Do you have to go through a shelter to foster, or is it something you can just do on your own?
While you can definitely take on fostering responsibilities on your own (say if you find an abandoned animal that you can't adopt permanently but who you want to help while you look for someone who can), it's a great idea to connect with your local rescue or shelter for advice about fostering, help with getting the animal spayed or neutered and micro-chipped, and, of course, helping the animal get adopted.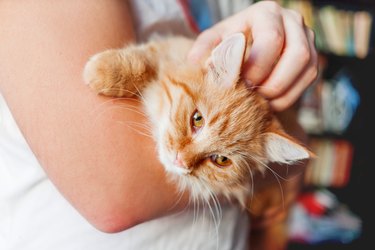 The monetary investment:
Do I get paid for fostering?
No. Fostering an animal is a volunteer position.
Does it cost money to foster an animal?
Many shelters and rescues will require that you have all the necessary supplies to care for the animal you volunteer to foster—things like food, medication, leashes, collars, etc. This is definitely a cost to consider (and something to ask the rescue or shelter you decide to work with) before you commit to fostering.
However, some shelters and rescue groups will provide a portion of—or in some cases, all of—the foster animal's food or supplies for you. So be sure to ask the shelter about their relevant policies!
Will I have to pay for food and medical care if I foster an animal?
According to Best Friends Animal Society's fostering guide, many groups actually provide foster parents with all the food and medication needed to care for the animal they've agreed to take in. "Most foster programs will have you sign a contract that explains what they will cover by way of food and medical care, and they may request that you use a specific veterinary clinic for treatment of your foster animal," the group writes.
Can I write off fostering expenses on my taxes?
Here's the good news: If you do have to spend money to fulfill your duties as a pet foster, you can claim those purchases as deductions on your taxes, assuming the organization you work with can accept tax-deductible donations. Check with the shelter or rescue you work with to make sure they are a non-profit and what you need from them to claim the donations on your taxes.
Are there requirements for my home if I want to become a foster?
Some organizations will require specific things from you, like a fenced yard or a way to isolate the foster animal from your personal pets. In those cases, you might need to live in a house, as opposed to an apartment, or have the extra space to isolate the animals without restricting them too much.
Foster animals tend to have anxiety issues and they might also have behavioral issues or need potty training. This means fostering could lead to some "hidden" costs in the form of damage to your home. Make sure that your house is puppy-proofed and that you're aware of the potential for damage and okay with that before you take in a foster animal.
The time investment:
How much time do you need to be prepared to invest as a pet foster parent?
According to Sathe, the amount of time required for fostering depends on what type of pet you choose to foster. Every animal has their own needs and it's all about finding one that fits with your lifestyle and availability.
"Seniors or special needs pets are often less time intensive in terms of walking or exercise, but they may require medications that take a little extra time," she explains. "A behavior foster may require some extra time to help with teaching basic commands or overcoming shyness."
What animal should you foster if you don't have much time?
If you don't have a ton of time to dedicate, that doesn't necessarily mean you can't be a great foster parent. Sathe says people with time constraints should consider fostering a mother cat with a litter of kittens. That sounds like a lot of work, but hear her out:
"Probably the least time intensive foster situation would be an adult mama cat with a litter of kittens, as Mom does all the feeding and cleaning," she explains.
Do foster parents have to deal with vet visits?
As a foster, you will be expected to help meet the animal's medical needs, at least with a time investment, if not a monetary investment.
"The fosters at our centers come to the center regularly for vaccines and medical checkups, so that's another time factor for fosters to consider," Sathe explains.
How often will you be expected to foster?
There's no minimum requirement to become a foster parent for a pet in need. You can sign on to foster one animal a year or you can take multiple fosters, rotating new pets-in-need into your home as soon as your fosters are adopted out. It's really up to you and how much time you have to give.
"Some fosters get comfortable with the routine and are able to continue fostering many times throughout the year, especially with kittens because they know they're making a huge difference," Sathe says.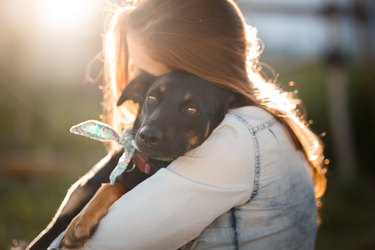 The emotional investment:
What's the most difficult thing about fostering an animal?
Often, the hardest part of fostering is saying goodbye to an animal you've really bonded with. You should make sure you know your limitations when it comes to adopting going into the arrangement and that you're prepared to part with an animal if you have to.
"Sometimes it's hard for first time fosters to bring the pets back," Sathe says. "They often get emotional. So, we explain to them that by doing this, they are creating space at our center and the shelter for more pets to be saved."
What's the most rewarding thing about fostering an animal?
Of course, the rewards outweigh the heartaches for most foster parents. "When your foster finds the right forever home, there's no better feeling," Sathe says.
Is it unfair to the foster animal to move them from your home to their forever home?
Some people who consider fostering worry that moving the foster animal from a foster home, where they've bonded with a person or people, to their adopted home might be bad for the foster animal, but rest assured that's not the case. The foster animal benefits from having positive experiences with humans that help bridge the gap before it finds its forever family.
Can you adopt your foster pet if you fall in love?
In most cases, yes. The whole point of fostering is to provide a temporary home to an animal who isn't yet adopted. Since the ultimate goal is to get that animal adopted, the rescue or shelter will probably love to have you sign on to care for them long-term.
"Some people end up adopting their fosters right away, which we call a foster failure," Sathe says. "In our opinion, it's the best kind of failure to be."
Planning your fostering experience:
How do you get started if you want to foster an animal?
The first place to look is at your local shelter or rescue's website, where you can learn more about their fostering programs. Often, as a prospective foster, you'll have to sign up for an orientation online and then visit the shelter in-person to meet with the available pets, and learn about their needs and if you're a good fit to care for them.
Can I rename my foster pet?
In order to minimize the animal's confusion, re-naming a foster pet is discouraged.
When are fosters most needed?
It depends on the animal you want to foster. According to Sathe, "kitten season" runs May through November, creating a huge need for foster homes for kittens under eight weeks old.
"Fosters can take home bottle babies, weaned kittens, or kittens with their mother—who does most of the work," she says. "Kittens return to our center once they reach two pounds, usually around two months, to be fixed and put up for adoption."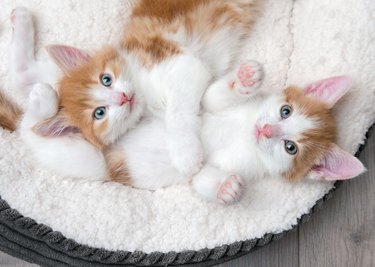 Fostering is definitely a commitment, but it's hugely rewarding—it's a way to save lives by providing a safe home for cats, dogs, puppies or and kittens who need it.