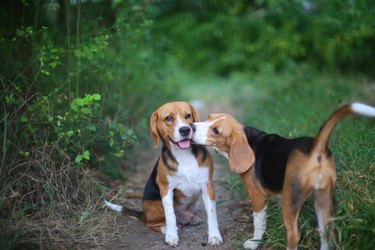 Beagle names for beagle dogs? How do you find a good name that captures the unique personality and appearance of these lovable floops? Beagles have been among the most popular dog breeds for the better part of a century, and for good reason. Look at them! If these hounds' huge brown eyes and soft floppy ears don't win you over, their signature howl and playful disposition surely will.
Picking the perfect name for this pup can leave you feeling (to quote the breed's most famous ambassador, Snoopy) "BLEAH!!!" But fear not, here is a list of becoming beagle names for you to use or use as inspiration for naming your new best friend.
Classic and cute Beagle boys names
Looking for some beagle boy's names to call your new pal? This list is filled with options that are fun, dignified, and everything in between.
Ace
Alex
Archie
Arnold
Banjo
Baxter
Bo
Boomer
Brian
Bruno
Buddy
Buster
Cash
Charlie
Chad
Cooper
Copper
Dale
Dennis
Duckie
Ernie
Goose
Gus
Hank
Howie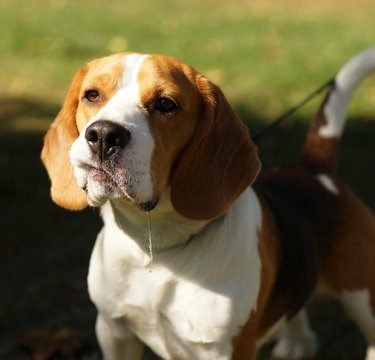 Jack
Jake
Kevin
Louie
Mike
Neal
Oliver
Otis
Rex
Rosco
Sam
Scooter
Toby
Turbo
Utah
Vince
Vinny
Wally
Winston
Yoda
Ziggy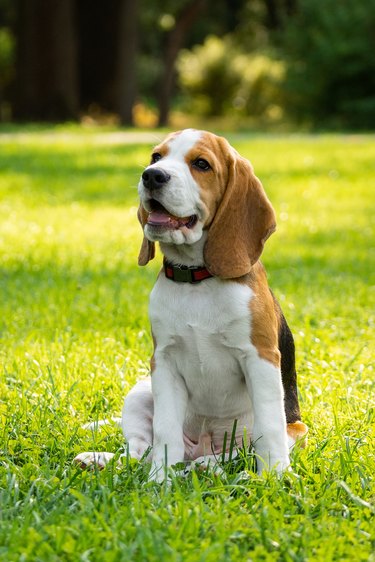 Female beagle names for your favorite girl
Sweet, daring, and everything in between, this list of female beagle names is sure to have something to inspire you.
Abby
Annie
Bailey
Bee

Bridget
Cali
Casey
Charlotte
Clementine
Daisy

Dakota
Dallas
Dixie
Ellie

Emma
Frankie
Freddie
Freckles
Gale
Georgia

Gidget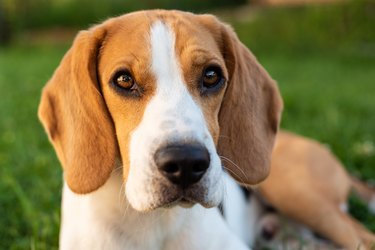 Hannah
Harley
Hazel
Heidi
Holly
Janice

Jazmine
Kate

Koala
Lacy
Lily

Lola
Lucy
Maggie
Penny
Roxy

Ruby
Scout
Food-inspired beagle names to droll over
For anyone whose two loves in life are food and dogs, this food-inspired list is filled with good beagle names for your sweet or spicy companion.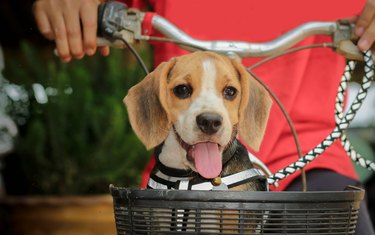 Bagel
Banana
Beans
Biscuit
Cabbage
Cookie
Donut
Garbanzo
Huckleberry
Jellybean
Lamb Chop
Pasta
Peanut
Pesto
Tater Tot
Waffles
Famous beagle names from pop culture
Do you think (or know) that your dog is a star? Consider any of these famous beagle names for your furry friend.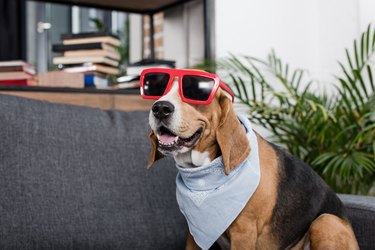 Gromit: A British beagle, Gromit is the loyal companion to Wallace in the stop-motion animated film series, Wallace and Gromit.
Mr. Peabody: Sherman's right-hand man (or perhaps the other way around,) Mr. Peabody was the dignified half of the beloved duo from the classic cartoon, The Adventures of Rocky and Bullwinkle and Friends.
Odie: The high-energy counterpart to the famous orange grump, Garfield, Odie brings silly, playful antics to every comic he's in.
Snoopy: Perhaps the most famous beagle of all time, Snoopy is the resident canine and deep thinker of the Peanuts gang.
Underdog: The cutest superhero of all time, Underdog, AKA Shoeshine Boy, always shows up to save the day.
Need more inspiration for your new pet's name?