When you have cats, shedding is inevitable, and cat hair can end up anywhere — on the furniture, in a meal you're preparing, or on your black pants. The best way to reduce cat shedding is through regular brushing and grooming. Cats clean themselves, but combing their fur daily will make a big difference in their health as well as the amount of fur that falls around your home from your shedding cat.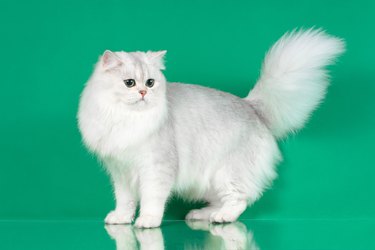 Long-haired cats may need more coat care than shorter-haired felines, but brushing is one of the most important parts of being a cat parent. Brushing not only helps stop shedding amounts but it also prevents fur matting and can lower the incidence of hairballs, which cause your cat discomfort and can also lead to major health issues.
Heavy amounts of shedding happen seasonally when a cat's undercoat falls off in late spring and late fall. The dryness of the winter season in certain climates can also increase shedding. If shedding happens out of season or frequently, it's something to get checked out. While shedding in cats is normal, an increase in stress levels, or chronic stress, can play a big part in excessive shedding of cat fur. You can help your cat by changing the environment and removing or changing the cause of stress if possible.
To give your cat a harmonious living space, always make sure your cat has at least two litter boxes, fresh water, and food. Give him a quiet space to which he can go for time to himself, but also make sure he is getting enough play and bonding time with you.
If stress continues, your veterinarian can test him for an anxiety disorder. Separation anxiety, for example, involves changing eating habits, being very vocal, and not making it to the litter box. If your cat has hair loss and any other symptoms that are out of the ordinary for him, ask your veterinarian for advice. Your cat may have mental health issues or a serious illness, or you just may need to make some changes to his diet and lifestyle.
How to reduce cat shedding
If you're wondering how to stop cats from shedding, the most important step is frequent brushing. This can be done with a grooming brush, cat shedder, or brush glove. Removing loose fur from your cat's coat reduces the amount that falls on the ground and gets on bedding and clothing. There's not a way to completely prevent a cat from shedding loose fur, but regular brushing will make a big impact.
In addition to reducing shedding, brushing your cat frequently can improve her digestive health and keep her coat free from knots and matting by distributing her natural skin oil throughout and removing skin flakes. It can also be a bonding experience between you and your cat and a chance for you to check for other health issues.
Diet also helps stop cat shedding in excess. Seek foods with more oils and fluids to keep a cat's coat healthy. Giving your cat more wet food as well as encouraging hydration and adding moisture through supplements, like pure pumpkin, will give your cat a healthier coat. If you want to know how to stop cat shedding, contact your veterinarian for suggestions on adjustments you can make to your cat's diet for a healthier coat.
Cat shedding fur in clumps
While all cats shed, an excess amount of hair loss throughout the year can be a cause for concern. If you notice your cat shedding fur in clumps, this can be a sign of inflammation, allergies, fleas, or ringworm, all of which need treatment as soon as possible.
Major hair loss in cats can be a sign of alopecia, which is more common in certain breeds but not a common issue for most cats. Sometimes, fur loss happens when your cat overgrooms himself or if he's intolerant to a food he's eating. He may also have a thyroid condition, cancer, or medication side effects. It's best to get your veterinarian's advice if your cat has heavy fur loss. While it may not be something serious, a full exam can rule out causes and help diagnose the issue.