Dessert: It's the best meal of the day! We don't believe anyone in history has uttered the words, "there are just too many cookies!" Just like there can never be too many cookies, there can also never be too many dogs with adorable names. Dogs and sweet names go hand in hand, so how can you resist the urge to honor your best baby by naming them after your most desired decadence? These dessert dog names are great on their own, or can be a good starting point to help inspire you on your canine naming journey!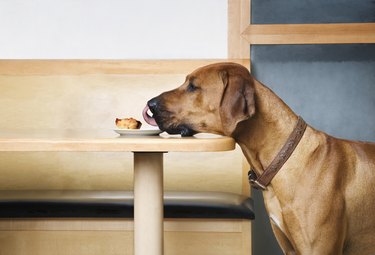 Dog dessert names for good girls and boys
A sweet dessert can be perfectly fitting for the sweet boy or girl you call your best friend. Choosing the best dessert dog name for your pal might involve the look or colors of the finished product, the type of sweetness it offers, or simply, your favorite flavor. Take a peek at our list of decadent dog names to indulge in your (and your dog's) sweet tooth!
Brownie
Pudding
Cupcake

Butterscotch

Granola

Twinkie

Souffle
Nougat: Perfect for a blonde or light brown canine.
Nougat is a French sweet staple made with honey and eggs. Popular American candies that feature nougat include Snickers, Milky Way, and 3 Musketeers bars.
Sundae

Marzipan

Knickerbocker

Mousse

Custard

Muffin

Biscuit
Waffles

Meringue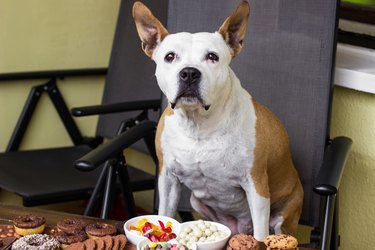 Mochi
Pancake

Toffee

Candy

Snickers

Scraps
Nugget

Biscotti: A great name for a tough doggie. Biscotti are twice-baked almond biscuits from Italy. They're often served with coffee due to their crunch and tough texture.
Challah

Fritter

Graham

Fondue
Flapjack

Hershey

Jello

Fluff

Smores

Strudel

Truffle
Brulee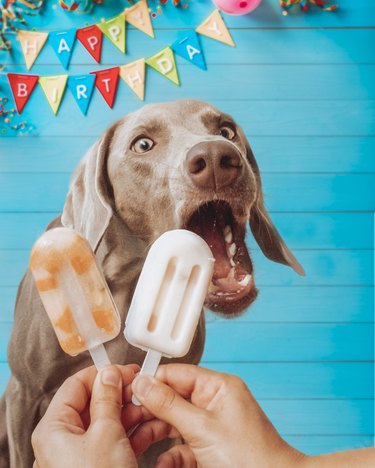 Cannoli: Perfect for the extra-sweet friend. Another Italian pastry, cannoli is made with ricotta that's stuffed inside a crispy shell. If it weren't cute enough on its own, "cannoli" means "little tube" or "little canal" in Sicilian.
If you're thinking about naming your dog after dessert, chances are you have a great sense of humor, and your canine pal likely does too! Any sugar-inspired dog name can be funny out of context, and there are a few that are sure to bring laughs wherever you go. Check out this short list of dessert dog name ideas for the confectionary class clowns out there.
Cheesecake
Flan
Chamoy
Soggy (as in soggy bottom)
Donut
Cream Puff
Sundae
Alaska (as in baked Alaska)
Glaze
Italian Ice
Red Velvet
Whip (as in whipped cream)
Ben and Jerry (if you're naming a pair of pals!)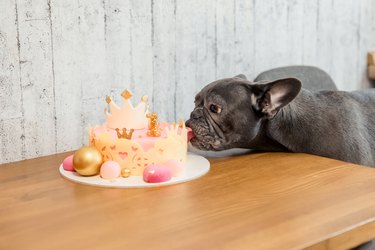 While the finished product is what everyone celebrates, it would be nothing without the delicious ingredients that make a dessert what it is. Many of the ingredients found in our favorite desserts could also make excellent dog names too, like Sprinkles, Honey, or Peanut! If your dessert-inspired dog name makes more sense as an ingredient, check out these contenders!
Cocoa

Cherry

Strawberry

Brandy

Honey

Chocolate

Blueberry

Cinnamon

Peanut

Jasmine

Morsels

Sugar

Apple

Butters

Poppy

Mocha

Marshmallow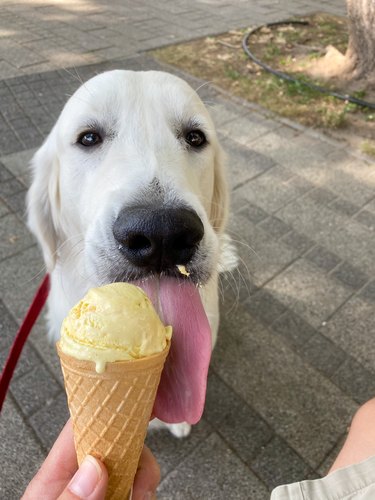 Pumpkin

Nutmeg

Peaches
Berry

Espresso

Ginger

Almond

Cashew

Cranberry

Nutella: An excellent name for a sweet, chocolate pal. Nutella is a spread made of hazelnuts and chocolate. It's very sweet and rich but spreads out smoothly.
Pecan

Raisin

Rosemary

Eggs

Scotch
Maple
Figs
Fudge
Chutney
Chip

Rosie
Oats
Huckleberry
Marmalade
Molasses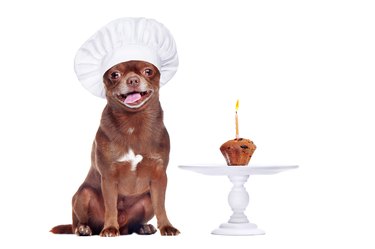 Pistachio: A fun name for a nutty dog! Pistachios are tiny tree nuts that are easy to crack open and packed with protein and flavor.
Walnut
Pecan
Jelly
Jams
Coconut
Port
Dessert dog names and their meanings
Everyone has a favorite dessert, but what about the items you aren't familiar with? Some of these could make a great dessert dog name for your canine pal, and knowing exactly what it is, and what it's made of, can help you narrow down your choices for the perfect name for your pal! Here are a few popular desserts with a little clarification about their meaning, and the ingredients used to make them.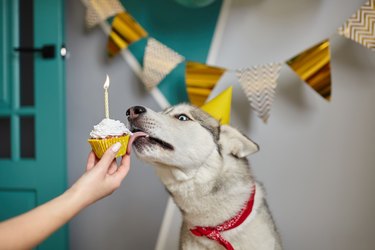 Cookie: A small sweet cake with a chewy or crunchy texture.
Snickerdoodle: A soft cookie made with cinnamon sugar
Oreo: A black and white mass-produced cookie (that's accidentally vegan as well!)
Beignet: For all of the NOLA (New Orleans) lovers, this is a fried dough dessert that's covered in powdered sugar
Ganache: A glaze of chocolate cream
Dumpling: In the sweet context, this is a dough that's filled with something sweet, usually fruit and sugar
Ambrosia: An American fruit salad dessert that's made of canned fruit and marshmallows
Churro: A Mexican and Spanish pastry that's made of fried dough dipped in cinnamon sugar
Krimpet: A sponge cake that's usually topped with butterscotch frosting.

Jimmie: Another word for "sprinkles."
Paleta: A fruit-based frozen treat from Mexico
Bingsu: Korean shaved ice