Few things are less enjoyable than cleaning up after a pet. Pet parents have had to deal with indoor cat poop for as long as people have owned cats, but thanks to increasingly high-tech gadgetry, self-cleaning litter boxes now make keeping a cat more sanitary. Looking into the pros and cons of self-cleaning litter boxes will help you decide if they actually do provide more convenience and benefits for the cost and if you should introduce one to your home.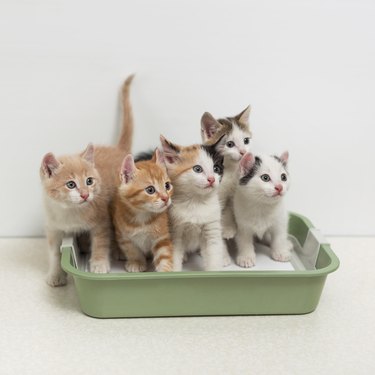 The purpose of cat litter
Kitty litter serves more than just a decorative purpose. The right litter can provide several benefits to both cats and their owners. Litter that appeals to cats because of its smell or texture can persuade them to use the box more often. It can mask odor, making cats more likely to use it and the box less offensive to owners.
Most litter is made from a mix of clay and other materials, which might include natural materials like pine, corn, silica, or wheat. Kitty litter helps absorb some of the moisture from urine and feces. This helps keep more bacteria off the paws of cats when they use the box time after time, and this means less will be tracked through the house and onto carpets, furniture, and bedding. Look for reviews of different types of litter to find the best for your situation.
Traditional cat litter boxes
Traditional litter boxes allow homeowners to keep their house cleaner by providing cats with a place to relieve themselves. By piling absorbent material into a box, they allow cats to relieve themselves multiple times and then let the pet parent rake some of the litter over the droppings to hide them.
The more litter you put in the box, the more you can manually rake it and cover the cat poop, hiding it from family members, guests, and pets. When the cat's leavings can no longer be covered with the litter or the box begins to smell too strong, owners change the litter, usually by dumping it into a bag and then taking the bag to a garbage can.
Self-cleaning litter boxes
A cat litter box that cleans itself does most of the work for humans, sifting feces through the litter and covering it. Depending on the model of the box, a sensor detects when the cat has been in it and starts the cleaning process. First, a timer starts that gives the cat poop time to solidify. Once this happens, the litter box (without the cat in it) begins to rotate, sifting and separating the hardened cat poop from the litter.
The litter is shifted to one compartment in the machine, while the hardened balls of feces are sent into an enclosed tray in the bottom of the machine. Litter is deposited back into the cat's "working" area. When the bottom tray is full, you're notified with a light or other signal, and you empty the feces. Different self-cleaning boxes work differently, but many work like this.
Be aware that some of these machines are noisy. If your cat decides to make a pit stop at 2 a.m., the sound of the cleaning process could wake you or other family members.
How much do self-cleaning liter boxes cost?
The cost of self-cleaning litter boxes varies greatly depending on how many bells and whistles you want and where you buy it. Self-cleaning litter boxes range from $200 to $2,700. No matter what your budget, make sure to look at real owner reviews before you buy any self-cleaning kitty litter box. The more reviews, the better. If possible, post a request for reviewers asking about the noise made by a particular model.
If you post a notice at your workplace reception desk; send a mass email to friends, family, neighbors, or co-workers; or try a Facebook post letting people know you're in the market for one of these gadgets, you might find that a few of your contacts have one they'll give you for free or sell to you inexpensively. You can try looking for used machines on Craigslist, Nextdoor, eBay, or Facebook Marketplace as well.