Whether it's because they're so stealth and quiet or because their eyes glow in the dark, we have to accept that cats are a little spooky. Plus, they're a favorite animal in plenty of our favorite mysterious and creepy stories. So why not lean into your feline's inherent creepiness by giving them a spooky or mysterious name?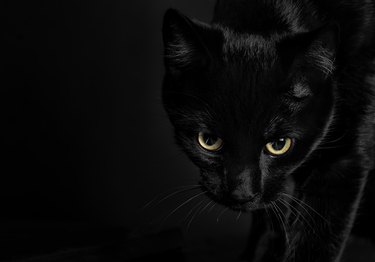 Here we've collected 108 spine-tingling names perfect for your spooky kitty.
Name your cat after one of these spooky creatures.
Ghost
Chupacabra
Ghoul
Spirit
Witchy
Goblin
Vamp
Balrog
Werewolf
Mummy
Zombie
Reaper
Dementor
Warlock
Kikimora
Demon
Orca
Basilisk
Sphynx
Raven
Phantom
Names inspired by spooky fictional cats
Binx
Mrs. Norris
Cheshire
Scar
Greebo
Macavity
Graymalkin
Salem
Meowth
Church
Azrael
Mr. Bigglesworth
Sylvia
Crookshanks
Shere Khan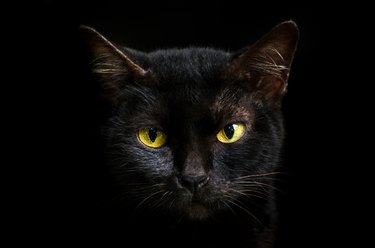 Names inspired by other spooky fictional characters
Beetlejuice
Hannibal
Freddy
Pennywise
Darth Maul
Sauron
Casper
Bellatrix
Medusa
Samara
Elphaba
Gengar
Morgana
Frankenstein
Voldermort
Iago
Names inspired by creepy sounds
Creak
Boo
Growl
Clang
Shriek
Cackle
Hiss
Snarl
Moan
Dirge
Howl
Screech
Names inspired by mysterious places, both real and fictional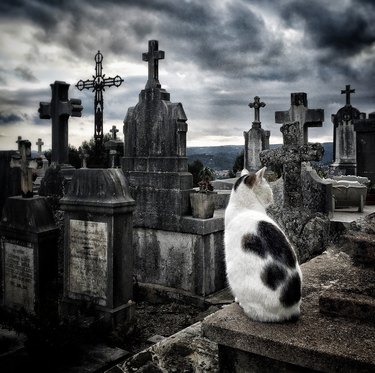 Cemetery

Asylum
Catacombs
Nazca
Azkaban
Labyrinth
Overlook
Arkham
Highgate
Amity
Winchester
Mysterious words that perfectly encapsulate the otherworldly vibe of your kitty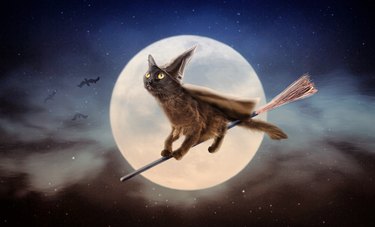 Eerie
Creeper
Spooky
Haunting
Shadow
Horror
Conjure
Blood
Crook
Vortex
Cobweb
Fangs
Morbid
Occult
Wicked
Name your cat after these spooky objects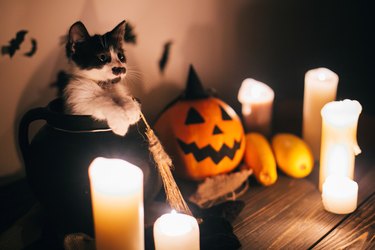 Broomstick
Cauldron
Halo
Tarot
Skull
Veil
Pumpkin
Amulet
Scroll
Dagger
Spectra
Gemstone
Punny names that are both funny and spooky at the same time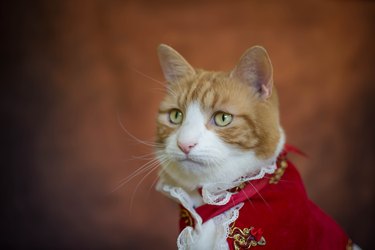 Scaredy Cat
Count Catula
Purranormal
Hocus Purrcus
Lucifurr
Nightmew