Lately, you've noticed that your dog is scratching himself or has flakier skin than usual. Since your poor pup seems to be uncomfortable, you want to help him in any way possible. You've thought about putting lotion on him, but you're not sure whether or not it's safe.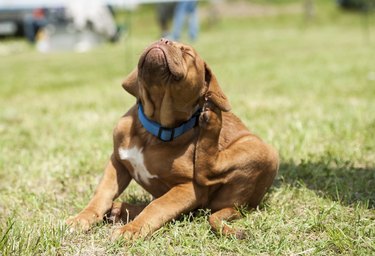 If you're seeing that your dog has a skin problem, the best first step is to take him to his veterinarian. While there, your vet may give you the following information and suggestions to help your dog's dry skin.
Using lotion on dogs
Make sure you never apply the dog lotion to an open wound or sore. This is only going to irritate them and result in a bigger issue. Also, test a small area before applying it all over, since you don't know how your dog's skin will react. Like humans, they have certain allergies that you don't want to trigger.
If you don't want to spring for dog lotion, instead, you can use natural remedies for their skin that are proven to be just as effective.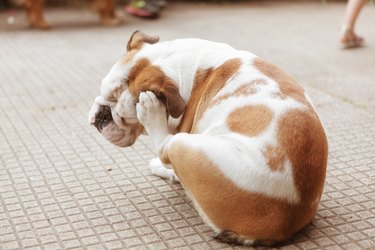 Natural dog skin care
If your pup's skin is irritated, give him an oatmeal bath containing warm water and ground oats. You can also make an oatmeal paste and apply it to problem areas.
If your dog doesn't like baths or will try to lick off the oatmeal paste, give him sugar-free, plain yogurt instead; one teaspoon a week is recommended for small dogs, and two teaspoons a week is recommended for large dogs.
Another option is to massage coconut oil or fish oil into your dog's skin. These oils are made up of healing properties that should alleviate any skin issues in no time.
There are a number of products available on the market for dogs with sensitive skin, including specially formulated shampoos and conditioners with ingredients like oatmeal and argan oil.
Other ways to prevent dry skin
Preventing dry skin from occurring in the first place is easier than treating it after it already appears. Some ways to prevent it include giving your dog high-quality dog food, making sure he gets at least 30 minutes of exercise per day, giving him flea and tick medicine and bathing and grooming him regularly. You should also give your dog supplements if your vet recommends it and go to the vet regularly for checkups. Some breeds are more prone than others to skin issues, so conduct research to see what other owners of your breed do about these problems.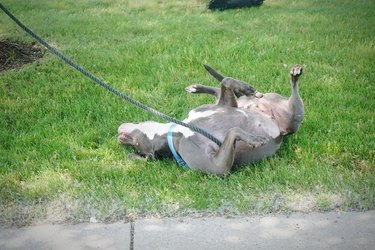 Finding the source of the problem
Often, dog lotions, shampoos and treatments are going to help when it comes to managing a skin issue, but they aren't going to solve it. You should check with your vet about making long-term changes and perhaps giving your dog a medication for his dry skin until it gets better.
Your vet will also be able to tell you exactly what the problem is. Perhaps your dog is sensitive to mold, dust or smoke, or maybe he's being bitten up by parasites. Maybe your dog is running through the woods near your house and having allergic reactions to the plants, or his shampoos are irritating him. Your dog just might have a problem with extremely hot or cold temperatures, or have a bacterial or fungal infection.
You can only find out by heading the vet, and taking the necessary steps to ensure that your pup is comfortable in his skin.
Always check with your veterinarian before changing your pet's diet, medication, or physical activity routines. This information is not a substitute for a vet's opinion.