For decades—more than a century, in fact—activists and animal rights' organizations around the country have worked to save the lives of dogs and cats in shelters. As noble as those efforts have been, however, they've been disjointed and not as effective as they could be.
Now, thanks to the power of the internet and the wonderful humans over at Best Friends Animal Society, that's finally changing.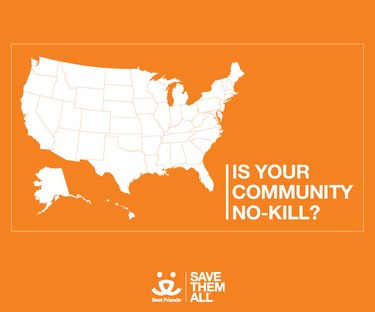 Best Friends Animal Society recently launched the community lifesaving dashboard—a groundbreaking digital tool that provides a consistent, comprehensive, data-driven picture of lifesaving in our nation's animal shelters. The dashboard is part of the #NoKill2025 initiative—a collective effort to achieve no-kill for dogs and cats nationwide by 2025.
Why the community lifesaving dashboard is important:
Last year, about 733,000 dogs and cats were killed in animal shelters across the United States. That's a huge number—the kind that can feel insurmountable even. But, Best Friends Animal Society's dashboard is collecting all of the data about animal shelters in one place, for the first time.
Specifically, the dashboard:
• Showcases the first comprehensive national animal shelter data set
• Allows members of the public an easy way to view and understand that data
• Provides a transparent "apples to apples" view of animal data for all shelters
• Inspires community members to take collective responsibility for pets in need
• Empowers individuals to support their local shelters
In other words: This dashboard puts the power of the data behind animal shelter statistics into the hands of the people across the country who are dedicated to doing something to make a change.
What you'll find on the Community Lifesaving Dashboard:
When you visit the community lifesaving dashboard, you'll find an easy-to-read map that breaks down the data about no-kill status by state and helps you zero in on the places in your community where your time and activism is needed most.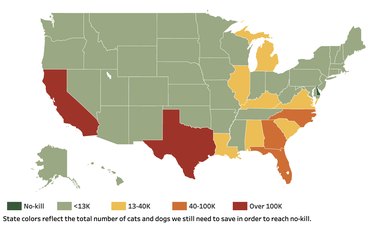 What's more, every single brick-and-mortar shelter in the country has a dedicated page in the community lifesaving dashboard, which gives you the opportunity to engage more people in your community and inspire them to support your local shelters along with any Best Friends Lifesaving Center near you.
The tools is also helpful for rescue and foster-based organizations, which can use the dashboard to educate the public about the lifesaving needs in their communities and further develop essential partnerships with local shelters to save more lives.
When does a community reach "no-kill" status?
For the community lifesaving dashboard's purposes, when every shelter in a community achieves a 90% save rate for all cats and dogs, that community is designated as no-kill. This, according to Best Friends Animal Society, provides a simple, effective benchmark for our lifesaving progress.
What does it mean to be a no-kill community?
Best Friends Animal Society has outlined three criteria for no-kill communities: Collective responsibility, progressive lifesaving, and true euthanasia. Here's a little more about what each of those things mean, in practice:
Collective responsibility:
Collective responsibility means taking accountability for the welfare of the pets in a community and it requires support from not just individual members of the community, but from state and local governments and shelter staffs as well. Working to save the lives of pets in animal shelters is a group effort.
Progressive lifesaving:
Progressive lifesaving is all about taking the full issue of animal welfare into account and making decisions that will help across the board. That means that quality of life is a priority for all pets and that programs that affect pets are designed to save the animals most at risk of being killed and to tackle the root of the problem rather than the symptoms.
True euthanasia:
Finally, true euthanasia gets to the heart of why the no-kill benchmark for the dashboard is 90% and not 100%. Best Friends Animal Society recognizes that, for some animals, euthanasia is the most compassionate choice and supports it only when ending the animal's life will end irremediable suffering or in cases in which the animal is too dangerous to rehabilitate and place in the community safely.