Building an impressive collection of household cleaners, including options such as Simple Green, is just one of the many essentials associated with pet ownership, but is Simple Green safe for pets? Simple Green is non-toxic and safe to use around your family pets and there are formulas available to tackle all your cleaning needs.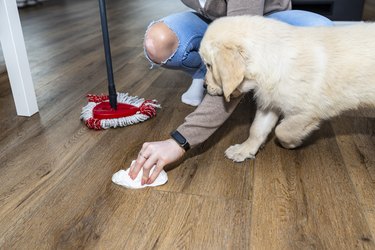 One environmentally friendly product with a proven track record for being safe for humans and pets alike is the Simple Green brand of household cleaners manufactured by Sunshine Makers, Inc. Since its humble beginnings in 1975, the company has grown significantly. The company's claims of Simple Green's efficacy and safety are repeatedly confirmed by independent laboratories and third-party testing facilities.
So glowing are its credentials and environmental test data, that Simple Green was the first cleaner ever to carry the iconic International Red Cross Disaster Relief symbol on its label. What you will not find on its label are hazard statements, hazard symbols, and precautionary statements, as assessed in accordance with Occupational Safety and Health Administration Hazard Communication standards. Today, Simple Green is also part of US EPA Safer Choice, USDA Bio-Based, and Green Seal programs among other endorsements.
Natural and DIY cleaning options
Finding cleaners that are safe is a monumental task since even the growing legion of cleaners that claim to be natural or plant-based often have ominous warnings on the label, along with a laundry list of questionable-sounding ingredients.
For those pet parents who eschew chemicals for environmental reasons and for their pet's safety, choosing to make their own cleaning solutions has become an option to these commercially manufactured "natural" ones that don't exactly inspire confidence.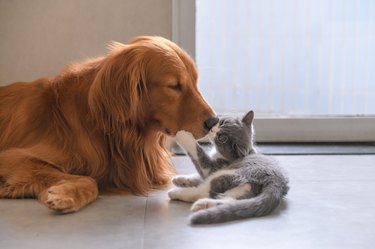 However, even the seemingly simple homemade cleaner recipes plastered all over the internet often include essential oils and other ingredients that while seemingly innocuous can pose risks to your pets if used inappropriately. For example, cats and essential oils don't mix, and tea tree oil, while often listed in recipes, can be toxic and should be used around pets with caution. If you want to make your own cleaners, carefully research any ingredient you use and only glean recipes from reliable sources.
Simple Green's credentials
These days, it's hard to find a grocery store, hardware store, or drugstore that doesn't sell Simple Green products. Orally non-toxic, biodegradable, and safe for humans and pets, this innovative product line has millions of rave reviews on its own website and across the internet. Simple Green all-purpose cleaner alone sells more than $5 million worth of their green liquid per year.
Named Conservator of the Year in 2018 by the Bolsa Chica Conservancy, Bruce FaBrizio, CEO and Chairman of Sunshine Makers, was recognized for his positive impact on coastal conservation by funding The Windows to Our Wetlands program through his non-profit, the Everything's Gonna Be Alright Foundation, which aims to empower youth to make a positive impact on the planet.
In 2013, FaBrizio and his wife Viviana founded Amore for Dogs, a dog support and rescue charity with the primary focus of adopting out dogs stuck in shelters to forever, loving homes. This ambitious project includes plans to build a 5-acre dog haven replete with spa and veterinary clinic, general store, and exercise yard with expert dog trainers, and room for 100 dogs in transition from shelters to loving homes, as well as permanent residents.
Simple Green all-purpose cleaner
For a product composed of nearly 85% water, Simple Green All-Purpose Cleaner certainly packs a wallop on dirt, grease, and stains. Designed for water-tolerant surfaces, the concentrated formula works like magic on counters, carpet, floors, fabric, equipment, vehicles, and more. The safety data sheet indicates it is not expected to cause irritation, although mild gastrointestinal upset may occur if ingested.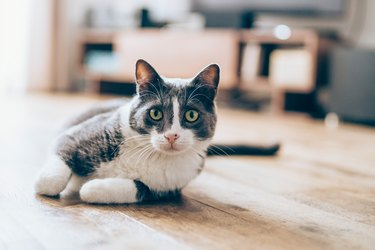 Oxy stain and odor oxidizer
Determined by OSHA to not present any hazards from typical use, Oxy Dog Stain & Odor Oxidizer is a spot treatment for use on porous and non-porous surfaces for pet stains and messes. It contains 95% water and less than 2% each of ethoxylated alcohol and hydrogen peroxide with less than 1% of a proprietary fragrance.
Before using Simple Green on the carpet, test on an inconspicuous area of carpet or fabric for colorfastness, then remove excess pet soil. Spray the Oxy over the soiled area and allow 4 to 5 minutes to sit. Wipe and blot with a paper towel, clean white towel, or cloth, then let dry.
Bio stain and odor remover
Bio Dog Stain Odor Remover is a powerful enzymatic cleaner that permanently eliminates tough odors and stains from vomit, blood, urine, scent markings, and dirt. It can be used on porous surfaces such as your pet's bedding, carpets, upholstery, and clothing. OSHA deems this product non-hazardous.
Simple Green Outdoor Cleaner
If you have a dog or, particularly, multiple dogs, odor build-up outdoors where they eliminate can be a big, smelly issue. Simple Green Outdoor Odor Eliminator to the rescue! This non-toxic product makes for a powerful addition to your dog toolkit and gets a solid thumbs-up from customers who feel safe using it around their dogs and children, too. This product is in a sprayer bottle that connects to your hose for a simple, quick application.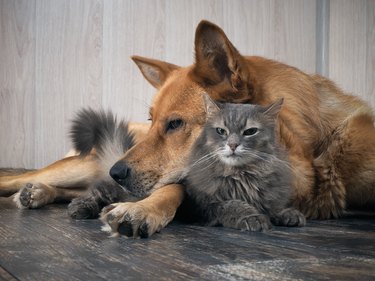 Advanced stain and odor remover
Got a big dog? Simple Green Advanced Dog Bio-Boost Stain & Odor Remover may be just the product to handle those big-dog messes. This fast-acting product uses advanced biotechnology to penetrate and eliminate the biggest and toughest odors and stains. OSHA deems this product non-hazardous, and as such, does not require any hazard warnings, symbols, or statements.
Cat stain and odor remover
If ever there was a product that desperately needed to be invented, it's a cat stain and odor remover. In fact, the most pressing reason for cat surrenders to shelters is the lack of bathroom etiquette, otherwise known as inappropriate urination or scent marking, or litter box avoidance. Whatever it's called, if you are one of the feline diehards who will not give up on your kitty, you most definitely need to have a safe, effective, stain and odor remover on hand.
You have tons of choices, but one you may want to consider is Simple Green Cat Stain & Odor Remover. Why? Because it works and it's safe to use around pets.
Natural enzymes are at the heart of the Simple Green Cat Stain & Odor Remover that quickly and permanently eliminates odors and stains via safe bacteria that break down and digest soils.
Simple Green and founder's mission
The FaBrizios share a deep dedication to dogs and their welfare, and their care for the environment and commitment to making products that are safe for pets and their people is clearly heartfelt.
From Bruce FaBrizio's non-profit EGBAR's mission of "educating children throughout the world about the important role they have in protecting the environment" to his mission for Simple Green to create products that "work better than expected, are safer than thought possible, and are made in the USA" you can sense the depth of the environmental responsibility and care for human and pet safety that fuels the Simple Green machine.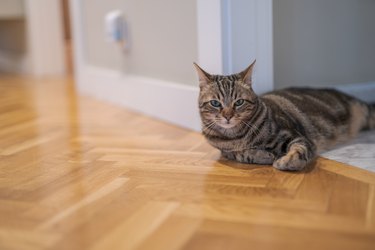 Potential Simple Green concerns
In your quest for cleaners that are safe to use around your pets, always investigate what the detractors of a product have to say. For example, Simple Green contains ingredients that could be problematic if ingested.
Again, carefully research every product you are considering. Read the safety data sheets available on the website thoroughly and call the company or your veterinarian to clarify any gray area of safety for you and your pets. Due diligence in finding pet-safe cleaning products for your home is no different than any important purchase you are considering.
The question of whether Simple Green is safe to use around your pets is a choice that ultimately you must decide for yourself. But based on the OSHA safety assessments of the products and overwhelmingly positive anecdotal evidence from thousands of customers, the consensus is that Simple Green is a safe product to use around pets, and will likely remain a household name among pet owners.