Selecting a vet is one of the most important choices pet parents will ever make, akin to selecting a doctor, dentist, or any other health professional. With the elevation of pets' status to members of the family, particularly in the last 20 years, the veterinarian plays an increasingly key role in the lives of our dogs and cats, and, in fact, the whole family who count on him to keep their cherished pets in tip-top shape.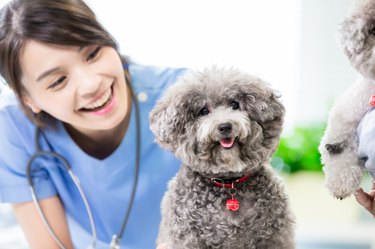 Therefore, it is not only vital that the veterinarian you choose is highly qualified in veterinary medicine, but he also must be someone with whom you and your family feel comfortable discussing everything pertaining to your pet—someone who respects animals, and people, too.
Most importantly, the vet you choose must be able to develop an excellent rapport with your dog or cat to build the trust required to perform even the most routine procedures necessary to maintain your pet's health.
Selecting a vet and veterinary practice
In your quest for the "perfect" vet, it's a good idea to search for local veterinarians online and check out their websites. Gather information by checking the bio or "about" page of the vet or vets, and all the staff from reception to vet techs.
Decide which practices/veterinarians you are interested in meeting with and call to book appointments, explaining you are a prospective client and would like to meet with the vet and tour the facility.
Prepare a written list of your priorities and questions. Some good questions to ask are: are emergencies handled in-house or referred to an emergency animal hospital? Does the practice offer credit arrangements,? And any other questions you have about the vet and their practice. Include detailed information about your pet, including past medical history, age, chronic ailments, and any other pertinent medical information so you can easily answer the vet's questions.
Jolanta Benal, CPDT-KA, CBCC-KA says it's crucial to ask about pain management and ensure your vet is up to speed on the latest pain medications, particularly if you have a senior or chronically ailing pet.
You should also ask which specialists your vet refers to in cases that are outside her area of expertise, for example, advanced dentistry or orthopedics.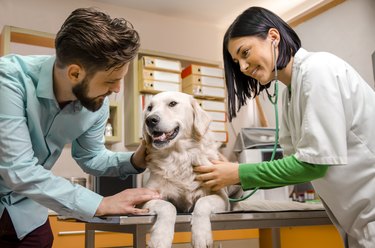 Visiting veterinary practices
When you arrive for your appointment at the veterinary practice, take note of the vet's diplomas and other certificates displayed on the wall showing accreditation in veterinary associations. Astute observation will tell you at first glance whether the practice is up to snuff in terms of cleanliness, modernity, and if the general overall demeanor of the staff meets your expectations.
During your tour, ask to see the surgery room, which should be squeaky clean with full gown, mask, and gloves in full view, says Benal.
Sometimes, you just know when you walk into the veterinary practice that is the place you want to take your pet. From the bustle of the reception area packed with wagging tails and cheerful clients, to the friendly staff who greet you, it's pleasant, clean, and welcoming. This first impression of a veterinary practice is also, in many cases, a reflection of the veterinarian or group of veterinarians who own and work at the clinic. But not always.
When selecting a vet, you will need to look beyond the window dressing of their veterinary practice. Remember, being a veterinarian is a career and most vets today are savvy marketers with social media one of their prime advertising tools. Don't let all the bells and whistles sway you.
Assess the veterinary practice's operation
It's one thing to find the right vet, but the veterinary practice's operation will often make or break the deal. Glean as much information as you can from the clinic website, such as hours of operation and billing details — do they accept checks and credit cards in addition to cash? Are there any credit arrangements available? Any questions you have that are not addressed on the website warrant a phone call during which you can ascertain the level of customer service provided at the veterinary practice and gauge the knowledge and professionalism of the frontline staff.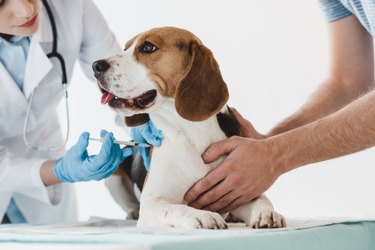 You'll want to know if the practice offers after-hours care and if there is a vet or attendant checking in on your pet should he need an overnight stay. Does the practice offer grooming services? Do they offer laser spaying or neutering? How much do they charge for routine operations, checkups, or vaccinations? Ask about any other services they provide, and do they have any special medical equipment that perhaps other veterinary practices in your area may not.
Personality traits a vet should have
Of course, you will most likely be looking for a host of qualities like kindness, gentleness, and other positive characteristics when selecting a vet. And some character traits are paramount for a vet to have. For example, your vet needs to be an excellent listener and be able to decode "vet speak" for you as she explains in plain language what's going on with your pet should there be a serious medical issue or emergency.
Further, your vet must be compassionate, because one day in the hopefully distant future, she will likely be sharing in your pet's final moments. It's a tall order for one person to fulfill, but professional veterinarians need to be multi-faceted, caring individuals with diverse capabilities.
Given the years of study required for the field, veterinarians are well-trained in all aspects of the animal sciences and veterinary medicine, but they must also possess genuine empathy for their human clients. Vets are inherently animal lovers, and as pet parents, too, they understand how much you love those four-legged family members who are their patients. And like many pet parents, you probably prefer your vet to have at least one pet as well.
Be comfortable with the vet's fee schedule
The relationship your forge with your vet is a long-term partnership whose goal is to keep your pet happy, healthy, and fit throughout his lifetime. And unless you have pet insurance (or even if you do, depending on the plan), every time you step into the vet's office, veterinary fees can be a major consideration.
Consequently, you must have unequivocal faith in your vet and belief in the value you are getting; you must feel comfortable not only with your vet but also his fee schedule.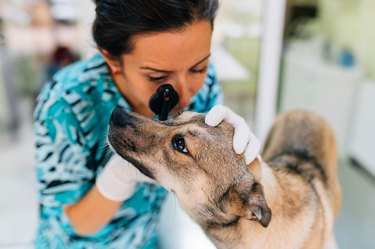 Picking a vet cheat sheet
Handpicking your veterinarian takes patience and diligence, but if you choose wisely, your vet can become a lifelong friend who cares for all the pets you have now and in the future.
You can refer to this handy cheat sheet, summarizing the steps, including some side notes for how to choose a veterinarian:
Consider recommendations from family and friends whose advice you trust.
Search for local veterinary practices online and visit their websites to learn everything you can about the veterinary practice operation, vets, and staff.
Make an appointment to visit in-person those veterinary practices that interest you to meet with the veterinarian and tour the facility.
When you visit veterinary practices, carefully observe everything. Check for cleanliness from floor to ceiling, and reception area furniture.
How does the reception staff treat you? Warm and welcoming or cold and detached?
Upon meeting with a veterinarian, refer to your prepared list of questions and gauge how thoroughly he answers your questions, and how he treats you. Ask yourself, do I feel comfortable with this person?
Conclusion
The most common companion animals or pets are dogs and cats, but if your best friend is a ferret, hamster, guinea pig, budgie, African gray parrot, goldfish, lizard, tarantula, or snake, you will want to ensure that the vet you choose has expertise in that species.
The American Veterinary Medical Association advises you also make sure the veterinary practice you select is compatible with your hours. Furthermore, if you have pet insurance, ensure the veterinary practice accepts that particular insurance plan.
Once you've narrowed your choice of a veterinarian down to one, or maybe two, it's time to make an appointment for your pet to meet the vet for an introductory appointment for a checkup. Although it's normal for a dog or cat to feel a little unsure about a new environment and a new person touching him, it's essential for you to see how the vet interacts with your pet at this initial visit. This trial by fire, so to speak, will seal the deal.