Cuteness may earn compensation through affiliate links in this article.
Hello and welcome to the first installment of Cuteness Picks, our weekly roundup of our favorite pet products from the internet and beyond. We're kicking things off with some of our favorite pet Halloween costumes.
Coming up with a creative Halloween costume for your four-legged friend can be an exercise in frustration. But with the 9 selections assembled below, it doesn't have to be. From food and pop culture to occupations and other critters, here's some easy inspiration for your dog's Halloween costume this year.
1. Garden Gnome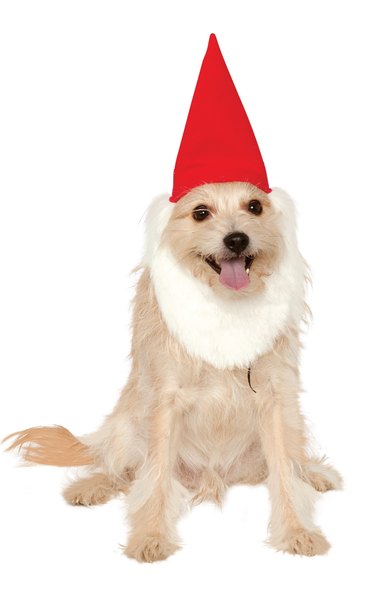 Look, they're always rooting around your garden anyways, so you might as well give them an official job as its official protector and bearded mascot with this garden gnome costume. Bonus: The Garden Gnome costume for dogs doubles as a Santa Claus outfit come Christmastime!!!
2. Horse Jockey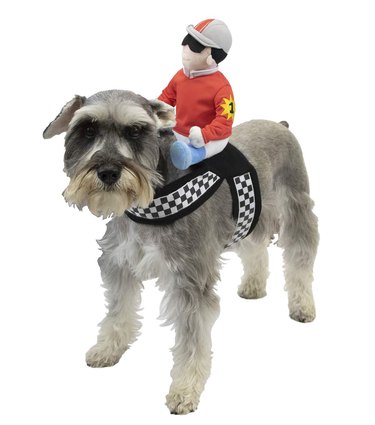 I can't be the only person that's ever thought about throwing a saddle on a dog and riding them like a horse. Until the day comes when we have dogs big enough to accommodate human riders (a boy can dream, amirite or amirite), there's this excellent horse jockey costume that straps a soft plushie garbed in jockey silks and racing regalia around your pup's back. Pair with a second dog and — voila! — you're ready for the big race, no track or gambling required.
3. US Mail Carrier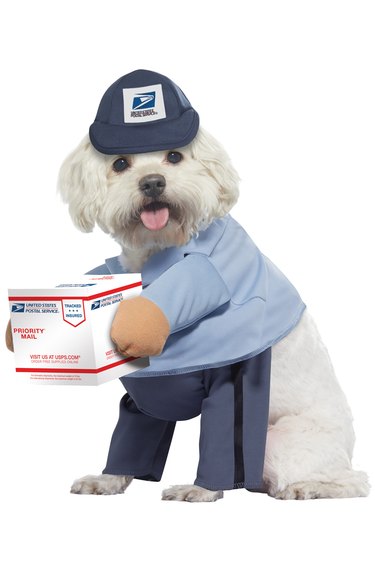 To know your enemy, you must become the enemy. Or maybe you just think doggos look good in a uniform. Either way, this US Mail Carrier costume really delivers (sorry, I'll just show myself out now) on its likeness. Included are hat, striped pants, and a small Priority Box that your cat will almost certainly try to sit in.
4. Beetlejuice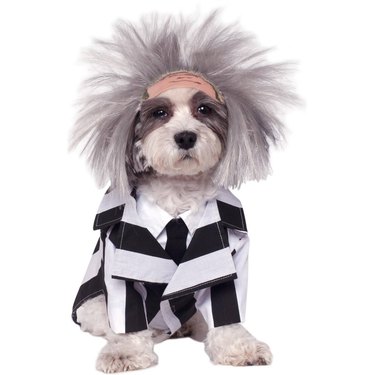 Turn your dog into the ghost with the most with this Beetlejuice costume for dogs. Between the striped suit and wild wig, it'll always be showtime around your house.
5. Triceratops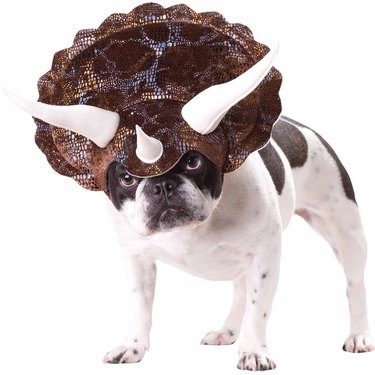 Jurassic Park meets Jurassic Bark with this triceratops costume for dogs. The scale print on the headpiece apes the dino's rough hide while the plush horns turn your pup into a Cretaceous canine. Brace yourself for the cutest paw stomps ever.
6. Lederhosen Hound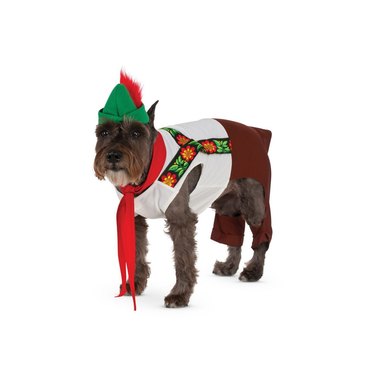 Halloween or Oktoberfest? Why not celebrate both, we say. Coming complete with an adorable jumpsuit, red scarf, and cute green hat flaired out with a red feather, this lederhosen costume is perfect for festive pups — even if they aren't German shepherds.
7. Freddy Krueger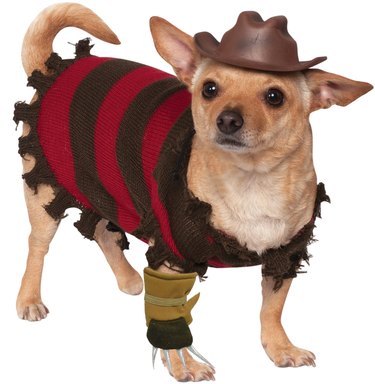 I promised myself I would only include one 80s movie themed costume in this list but my resolve crumbled like a sand castle getting washed away by the tide when I stumbled across this Freddy Krueger costume for dogs. All of the core elements are accounted for: the tiny fedora. The frayed sweater. The glove blades. Keep the nightmare of Elm Street alive, I say.
8. Taco
For too long, cats have monopolized the taco for themselves on the internet. Why? Because everyone knows that tacocat spelled backwards is tacocat. And from this, endless memes, both clever and dumb, have flowed. But tacodog? That reads godocat — and I'm not sure it's even pronounceable in this language or any other. Regardless, if you're ready to undo the feline's hegemony in the Mexican food space, wrap this soft outer taco shell with topping details around your woofer on Tuesday — or any other day of the week — for a taco costume that's adorable as it is mouthwatering.
9. Statue Of Liberty
Put the "pat" back in "patriotic" with this Statue of Liberty costume. Like the towering icon herself, this one nails all the details: The flowing robes, the flaming torch, the crowned headpiece, and tablet inscribed with "In Dog We Trust." As an aside, can we change the real one to match? Asking for a friend (and me).
Join us next week for another installment of Cuteness Picks! In the meantime, what's your pet going to be for Halloween?